Visit a Class at Part-Time MBA Campus in Sacramento or San Ramon
Learn first-hand about our community and campus amenities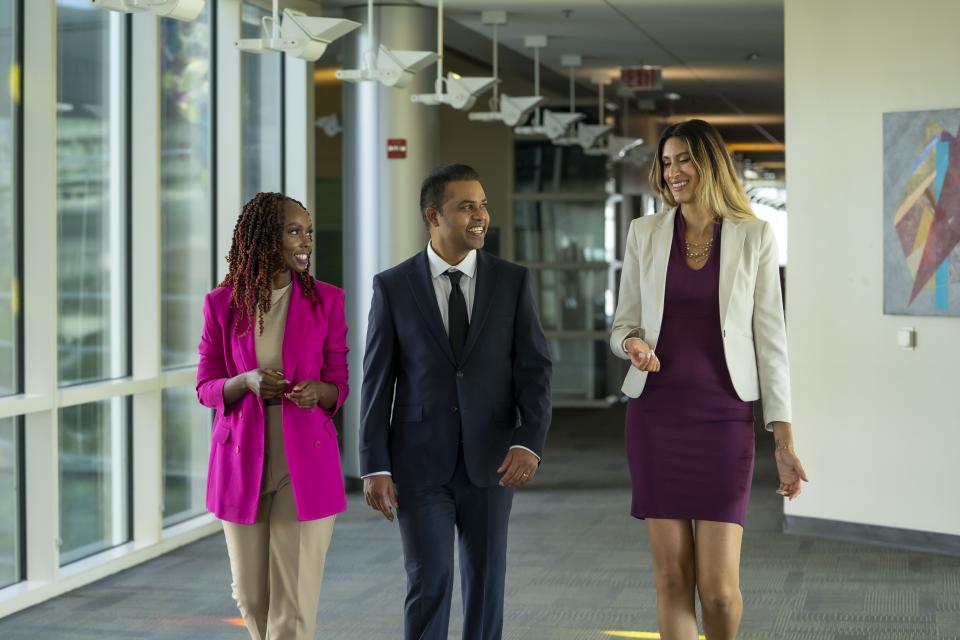 There is no better way to picture yourself going back to school than to do it. We invite you to join us for an upcoming class visit and experience our community and what it's like to earn your MBA in the UC Davis Sacramento Part-Time MBA and Bay Area Part-Time MBA program.
As a student for the day, you'll hear world-class instructors taking you through essential business skills or deep diving into our wide range of elective topics. You'll also be paired with a Sacramento MBA Student Ambassador or a Bay Area Student Ambassador, who will answer your questions and share their insights as a UC Davis MBA student.
As an added bonus for doing your "homework" by researching our part-time MBA programs and visiting a class, you will qualify to have your $125 application fee for the program waived.
With our Round 1 application deadline for fall 2023 right around the corner, now is a great opportunity to explore our classrooms, meet current students and faculty, and check out the amenities and other hidden gems of our campuses.
Before signing up, here are a few basics about our class visits.
Are these class visits in-person?
Yes! We are so excited to welcome you in person to our UC Davis Sacramento MBA campus and Bay Area MBA campus.  
What classes are available?
We offer core MBA classes and electives depending on the term. Check our calendar for the most up-to-date offerings and to sign up.
What will I see and learn on one of these visits?
You'll get a feel for what it is like to be part of our highly collaborative community. Get your questions about the program answered on the spot by our student ambassadors and faculty.
What should I bring to the class visit?
A positive attitude and all your questions.
We won't judge you for getting in the school spirit and taking notes in class either, so remember to bring a small notebook and pen.
Other than that, we have you covered: Breakfast and lunch are provided and optional for you when you attend.
What are the most common questions from prospective students?
What is the workload like for a part-time student?
What concentrations do your offer?
What networking opportunities are there where I can make valuable connections?
How easy is it to get into the classes I want or need?
Join a class visit to find answers to these questions and many more.
What advice do you have on the next steps?
Going back to school after working professionally for a few years can be daunting, but it doesn't have to be! The first step is researching and identifying the right program for you. I recommend checking out a class visit and then connecting with me for a personal consultation about your academic and professional goals.
Our admissions team will be eager to meet you in person.