Alumni Spotlight: Christine Lee MPAc 16
Apercen Partners LLC
Christine Lee MPAc 16 shares why teamwork is one of the most important aspects of building a high-performance accounting firm—and how she honed her skills while a student in the Master of Professional Accountancy program.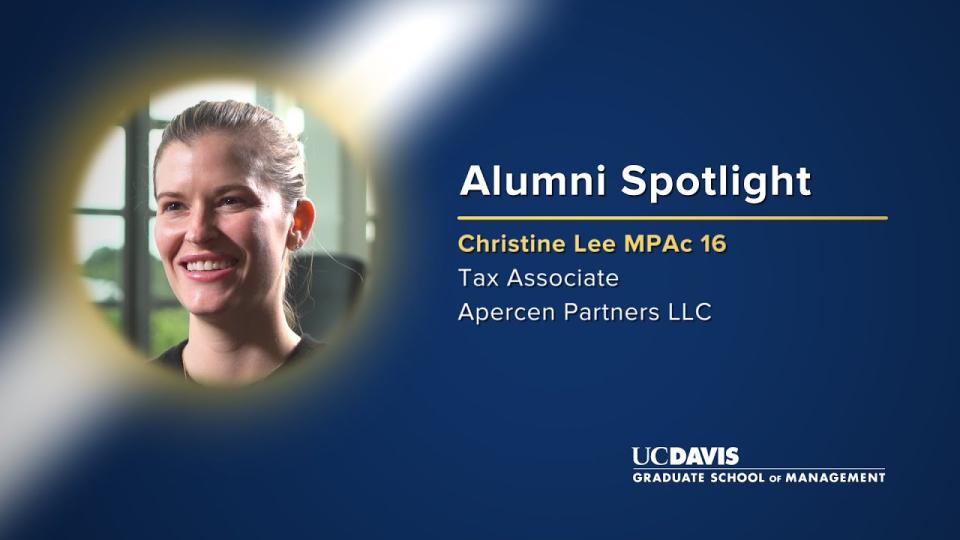 How do you collaborate at work to make an impact?
Everything happens from the ground, up, and starts with the associates and goes all the way through to the partner and if there's one break in that chain the whole thing can fall apart and so, I think that teamwork is really one of the most important aspects of building a good firm.
What are some highlights in your career in the last few years?
I think that communication is something that comes pretty easy to me, and your managers and everyone above you really truly values your input and is really impressed when you bring problems to them early.
What are the biggest challenges in your industry?
I wasn't born with the, like, technical skills for this profession, so for me that development process is ongoing and it's still ongoing.
Is there a professor that stands out to you and why?
The face I saw was Will Snyder obviously going into his class. And knowing that I was going to do tax, I was very involved and very excited to be in his class with him and he definitely made an impression on me and still does to this day. I mean, he's an awesome person.
How did the UC Davis MPAc program help launch your career?
Basically, networking that I get through the program I think is absolutely crucial to career development and here at Apercen, where I am now, and beyond.
What should future MPAc graduates be aware of as they start their careers?
Preparing themselves for what it means to transition from a full-time student into a full-time working professional. These busy seasons, occasionally really, really long hours and it's really important to, at least mentally, kind of prepare yourself for what that's gonna look like.