Boost Your Professional Flexibility—5 Tips for Your Career Search
Prepare your pitch, build momentum and follow-up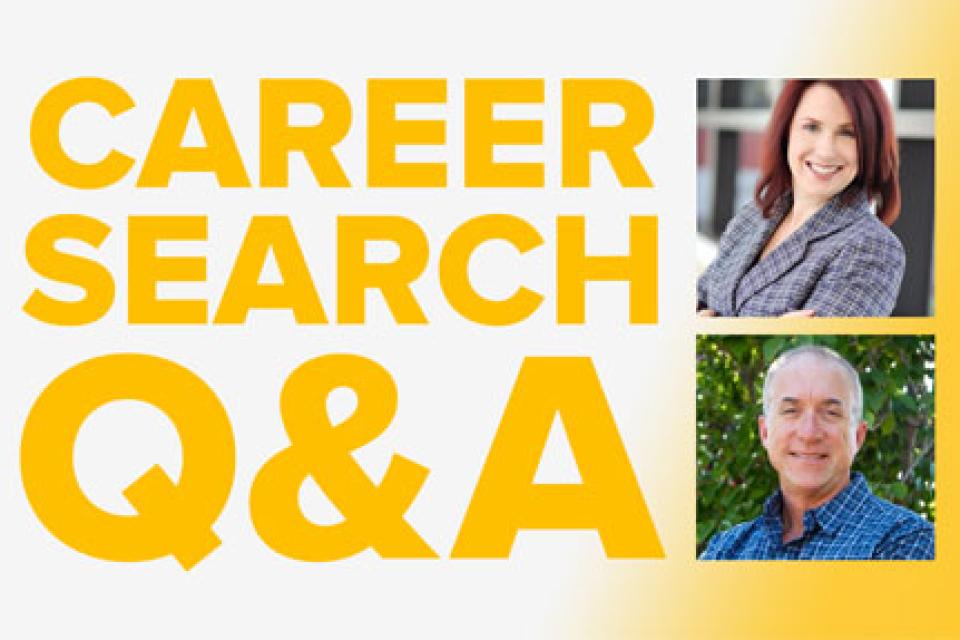 Disruption in the global economy is creating new challenges and opening new avenues of opportunity. These unprecedented times call for innovative career searches.
We partnered with the Career Development team at the UC Davis Graduate School of Management to help students and alumni better manage the uncertainty of today's changing marketplace.
At a virtual town hall, we shared ways to thrive in this environment, and offered career planning tactics drawing on our combined experience, expertise and perspective helping others in top corporations: 
Tracy Regis MBA 14  is a human resources manager for Intel Corporation and former vice president of the GSM's Alumni Association.
 
Executive-in-Residence and UC Davis alumni Paul Bianchi 85 is an experienced and successful human capital executive and consultant with over 25 years of high-technology leadership experience from innovative companies like NeXT, Apple, Ask Jeeves, PeopleSoft and Illumina.
Together, we shared insights with job seekers and answered their top-of-mind questions and concerns, including these top five tips:
1. How can I be productive right now in my job search?
Flesh out your resume: The biggest weakness in most resumes is a lack of data/numbers that illustrate your value. Spend time quantifying your accomplishments such as the number of customers, reports that you ran, or how much money you helped save your employer. If you didn't drive some kind of result, then your resume is not compelling enough.
 
Research and build skills: Take a moment to process what has happened and how it affects your personal goals. Utilize unpaid, contract and volunteer opportunities to increase emotional intelligence, project management and problem-solving skills that you can highlight on your resume. Or learn a technical skill like Python of SQL via online courses. Be prepared to talk about what you did and what you learned from it.
"The best way to gain traction in a new market is to learn new skills. Research interesting industries that are hiring and sign up for classes or trainings to fill in holes in your resume."
Practice good self-care: Stay healthy and do something to stay positive. Whether that's listening to music, practicing mediation, prayer or gratitude, take time for you. If you're able to be optimistic, your skills will shine through when you have a chance to get in front of a hiring manager.
 
Be ready for a video interview: Some recruiters might stick with phone interviews, but to be safe, ensure you have everything set up for a video interview so you aren't caught off guard. This means you should have various platforms loaded and ready to go and your home office is set up so you have a neutral or professional background.
 
Prepare your pitch for when an opportunity arises: For recent MBA graduates, companies look for knowledge, course work and general skill-sets, rather than current experience. Think about how you stand out among your peers, and be able to explain why you're better than the other candidates, whether it's your experience with projects, case studies, or your volunteer work. Prepare to speak to this question: What are three reasons to choose you as the number one candidate? One functional skill (proven experience in Excel), one interpersonal skill (collaboration or public speaking), and a third skill that can highlight your best professional attribute. This prepares you to know your top strengths, gives you confidence and enables you to sell yourself and respond to a number of interview questions like 'Why are you a good fit?' and 'Is there anything else you'd like me to know?'
2. How do I keep active in the job market?
Do something every day to build momentum: Try not to be idle. Set goals to accomplish something every day. Read an article on your target industry, make a new LinkedIn connection, study, take an online class, develop a business plan, or learn new technologies.
 
Network and boost your online presence: Use your contacts, including current and past coworkers, undergrad alumni network and classmates, GSM and UC Davis network, and Linkedin to connect and build an online presence. Blog and comment often on posts to keep your connections flowing. Be mindful of your posts; negatively perceived language can backfire in your career search.
3. How do I find "gem" opportunities in the face of an economic slowdown?
Research trends in appealing industries: Read recent news articles and find out what are they doing to combat the effects of the pandemic. Again, LinkedIn is a tool you can use for research. Figure out the language your target companies use and implement it into your resume. Also search for the most popular job titles, outlining the type of work involved. Including keywords helps in the screening process, and you can determine what topics you need to learn more about.
Create new spaces: Be flexible and ready to follow a parallel plan. Step outside your comfort zone and consider new options, locations and remote opportunities. Continue to search job postings on LinkedIn, Glassdoor and Indeed for new opportunities as you widen your scope. Consider proposing a 'free' consulting arrangement with a start-up to boost your resume. Be ready to accept contractual work, but stay mindful of the contract end dates.
 
Conduct informational interviews: This is a great time to connect with people. Leverage the GSM's alumni network to gather information. LinkedIn is another great place to determine who to connect with. Search through your connections and find someone you haven't talked to in a while and reach out.
4. How do I stay in the minds of hiring managers, even if my offer has been rescinded?
Look out for webcasts and virtual events and stay connected: Companies are still hiring and want to connect. Recruiters aren't visiting campuses, however, they will be conducting virtual outreach. Pay attention to company websites, and follow their Facebook, Instagram or Handshake accounts. If you see an event hosted by one of your target companies, it doesn't matter what the topic is, there will be a name and email of someone from that company and now you have a connection. Reach out and say: "I liked your talk, especially the part about 'XYZ.'" I am interested in 'ABC,' can you direct me to someone hiring for that role?'"
Follow-up: Keep in touch with contacts that you may have previously interviewed with/received an offer from. Highlight any new skills and contributions you can make to lower or increase a company's expenses. Don't stop your job search, even if you have just accepted an offer, in case the status changes.
5. If I still have an offer, or my employment was put on pause, how should I follow-up?
Send a clear, concise email: If you know a contact related to the organization, whether through the GSM or another entity, reach out to check the climate. Maintain regular contact with your recruiter/hiring manager for updated information and ask about appropriate times to check back in with them for the latest.
GSM Career Services Contacts:
Available for personalized job search strategies and interview prep.
UC Davis and GSM Resources:
Top Sources for Remote Work Opportunities: