Brian Gage MPAc 15 Finds Renewal at UC Davis
Perseverance Propels Him Toward Long-held Career Dream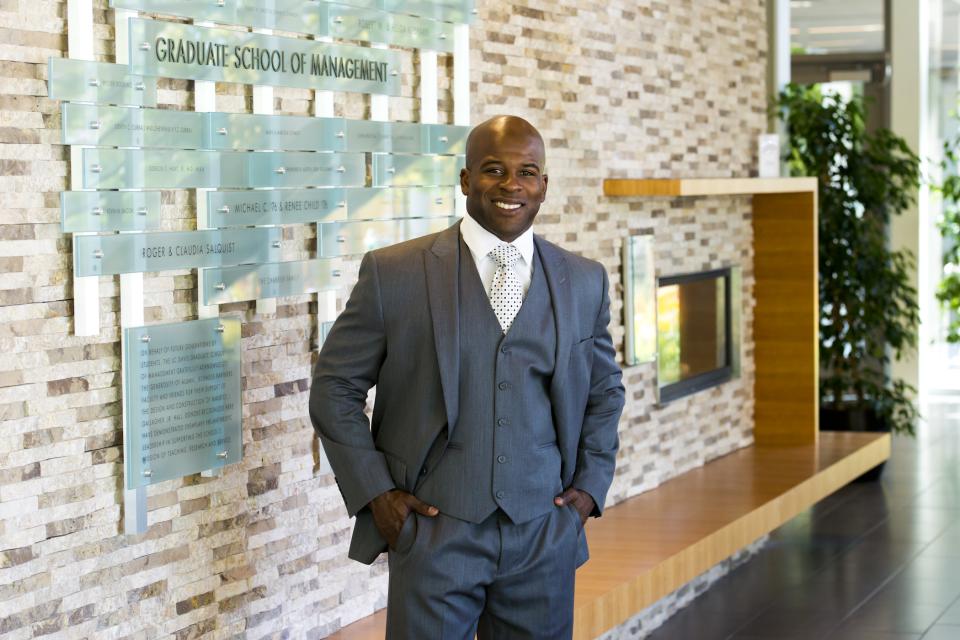 By Joanna Corman
The word "no" doesn't resonate with Brian Gage MPAc 15. In high school, he dreamed of graduating from UC Davis.
As an undergraduate biochemistry major at Davis, he enrolled in pre-pharmacy while working at his family's initially flourishing restaurant in Folsom. Gage's dad, a computer engineer, bought the restaurant between jobs, investing his life savings into it. But he had no restaurant experience.
When a computer position in the Bay Area came through, Gage's dad delegated his son and stepson to run the restaurant during the week. For the first two years, Yager's Tap House & Grille thrived. But in 2008, when the recession hit, it began to falter and Gage's dad pulled out.
"I'm finally going to break through and get to that upper echelon of a business career that I've always wanted."
The experience, Gage says, was a "great benefit and a curse." Work ended at 4:00 a.m. Then he would commute to his morning classes. He thought he could handle a full-time job and full-time school. "You can imagine why it was difficult to keep my grades up," he says. UC Davis put him on academic probation and ultimately had to dismiss him.
"It's amazing how I didn't let the dismissal get me down," Gage says. He went on to earn a bachelor of science in business administration from Sacramento State, and an MBA from the University of Phoenix, and Series 7 and Series 66 financial securities licenses.
He launched a successful consultative sales career. He worked in the finance industry, selling retirement investments for Pathway Strategic Advisors in Folsom. At Bisco Industries, a Roseville-based international electronic parts distributor, he was promoted six months ahead of schedule.
A few years after the restaurant closed, Gage had an epiphany. He realized that a lack of accounting knowledge, especially keeping tabs on food and liquor waste, and whether employees might be stealing, contributed to the business failing. He wanted to help businesses make good decisions.
Through running the restaurant, he says, "I found a passion for helping people improve. I think accounting is a great way to do that."
When he decided to pursue an accounting degree, Gage's first choice was UC Davis—and it has worked out well. After graduation, he began his accounting career in Ernst & Young's assurance department. Fast forward a few years, and he's enjoyed moving into a Tax and CFO Coaching Manager role at Measured Results in Roseville. 
What led you to the Master of Professional Accountancy program?
At Davis, they produce professionals who push the envelope. I knew if I came here, that's what I would get. I want to be an accountant who can change the game for a company and implement controls that bring value.
Image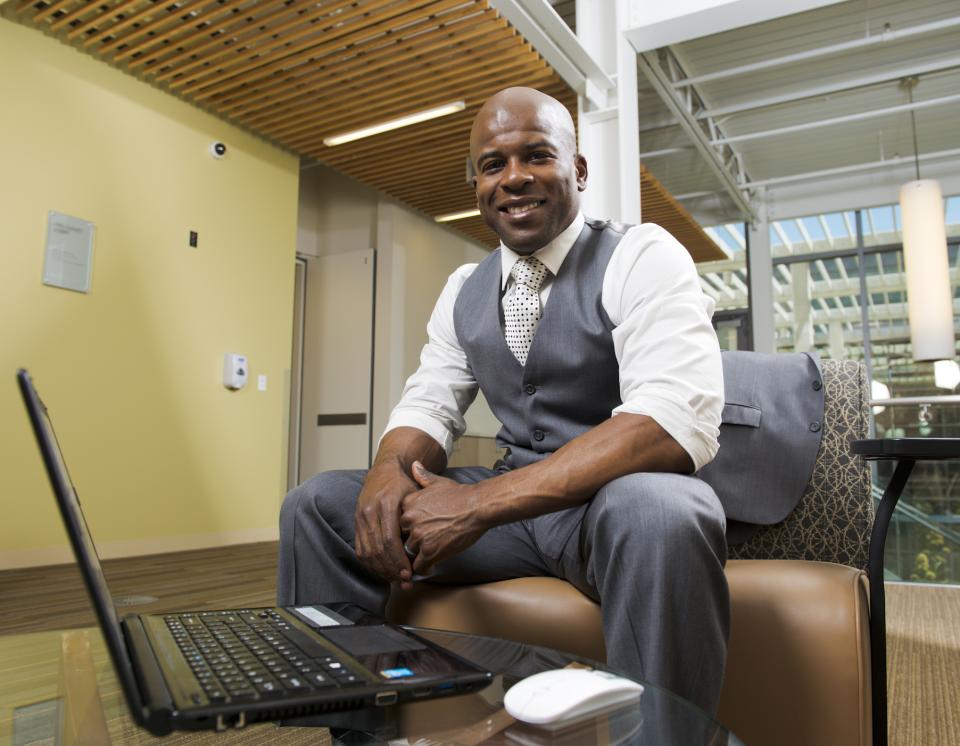 Why did you want to work for Ernst & Young?
When I met with the managers, I got a sense of a place that's going to push me to grow. I grew up an athlete. That shapes the way I do business. I'm always looking for chinks in the armor, ways I can improve. At Ernst & Young, everyone is always pushing each other to get better.
What are you passionate about in your future career?
One thing I'm passionate about is never staying stagnant. Even if I'm in the same role, I always want to challenge myself to grow—to push myself to the limits to find where my limits are. I often find that I'm capable of a lot more than I thought.
It takes a lot of guts to apply to the university that previously dismissed you.
It was scary. However, past failures are not moments that should be hidden; rather they are opportunities to build endurance and character. Where some saw failure, I saw an opportunity to practice humility, gratitude and perseverance, all of which are qualities that I hold dear.
And my wife encouraged me, saying: 'You worked so hard. Why not shoot for the stars?' The worst thing they could tell me is, 'No.' I've heard that before. The beauty about Davis is that the professors look beyond a piece of paper. They look at the student and his body of work, and not just a year on a transcript.
How does it feel to have come full circle and graduate from UC Davis?
It's a surreal, amazing experience. I honestly still can't believe I'm here. I feel very fortunate, very blessed and also motivated because I know not to waste another opportunity like this.
How do you unwind?
I've always been an athlete, and I'm still an athlete today. I have to get an hour, hour-and-a-half of exercise every day. I do a lot of traditional weight training in the gym. I also do a lot of running. I do a little CrossFit, a little soccer. There's really not a sport I don't play.
What values are important to you?
One thing my parents taught me early was a work ethic. I always try to be the hardest working person in the room. At the end of the day, the driving value that fuels my determination is the realization that it's not about me but others. My success, whether big or small, monetary or professional, will always come from serving my clients, my company and the public.
Updated: 3/30/2022