From Energy to Education, Lavender Whitaker Leads with Empathy and Insight
Bay Area MBA Student Focuses on Innovation at PG&E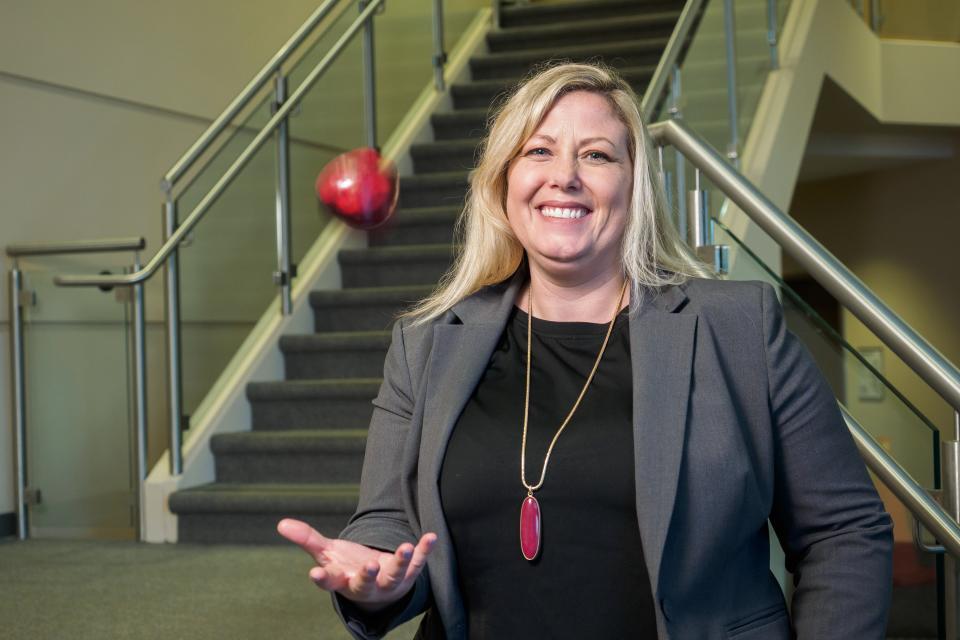 Growing up in a communal community, Lavender Whitaker's parents stressed "the importance of thinking about the effects of your actions on others and the environment."
Those words of advice stuck with her. Although she dabbled in several majors as an undergraduate at UC Davis, Whitaker's childhood experience brought her back full circle as she earned a bachelor of science in environmental policy analysis and planning in 2010.
Whitaker went on to become an environmental protection specialist at the U.S. Department of Energy and over the last six years, she's been an environmental supervisor and an environmental field specialist at PG&E. She recently changed careers at PG&E and is now an expert product manager, focusing on innovation and employee engagement.
While at PG&E, Whitaker has been a student in the School's Part-Time Bay Area MBA program—and made a successful run for political office. She'll complete classes in March of 2018 to earn her second UC Davis degree. She shared her educational and professional journeys—and how her family inspired her to win a seat on her local school board.
What sparked your interest in the environment and ultimately determined your career?
I grew up in an environment where sustainability and environmental protection were just a part of life. I was born on an intentional community near Santa Barbara. We grew our own food, made our own clothes and raised our own meat. Even though my family left when I was five, my parents continued to ingrain the importance of thinking about the effects of your actions on others and the environment.
Environmental was not my intended career path. I started college as a fine art major and changed my major seven times before it stuck. There were just too many things I wanted to do. As an undergraduate, I was fortunate to be offered a Student Career Employment (SCEP) position at the Department of Energy, Western Area Power Administration (WAPA). While in the SCEP program, I learned about the departments and careers at WAPA. Environmental seemed to be the most natural fit, given my background. It came naturally, and I was already really passionate about helping others and protecting the environment.
What keeps you energized and engaged on the job?
While in Environmental at PG&E, my typical week included working with my staff, line of business partners and management. We coordinated the review of operation and maintenance activities throughout the service territory for environmental impacts, worked on initiatives to continually improve our processes, and helped my team develop and provide them with the tools they need to do their job. 
I feel privileged to have led a team of highly motivated and smart scientists and watch them grow and succeed.
In my new role, I get to engage with employees to encourage them to help enhance the culture of innovation and ensure that good ideas are heard, evaluated, and adopted from across our employee base. As part of this, my role is to create and modify marketing, communications, and outreach plans. I'm also creating, developing, and tracking a diverse set of metrics to help provide visibility into the success of the program and drive continuous improvement.
What are the most critical roles and responsibilities of utilities and energy providers?
As a public utility and energy company, the most critical role we can play is delivering safe, clean, and reliable power in a manner that honors our commitment to the environment and the communities we serve.
What led you to pursue an MBA, and where do you hope it will take you professionally?
I have always been drawn to leading and helping others, and I feel very comfortable making decisions and working in crisis situations. When I started to look at degrees that would help lead me further down this path, I felt that an MBA would be the best fit. 
I hope to continue to advance in management, expand my level of influence and responsibility. I want to affect efficient and positive change, and help motivate and coach others along the way. My new position is the next natural step along this path.
What's the biggest advantage of earning your MBA while working? The most challenging?
I immediately get to use what I learn in class at work. This has helped me be a better leader, be more productive with my time and how I process information and communication. It has helped me bring better ideas for improvement to the table, and in a more productive way.
It has been a challenge balancing all of my priorities and determining what level of effort to give where and when. This has also been a learning opportunity. Now I understand that it is good to set healthy boundaries, and it is okay to say "no," and ask for help.
What's the most unexpected insight or personal growth you've experienced because your MBA studies?
I have learned to take a hard look in the mirror, recognize and accept my faults, and take action to make improvements where I have control to make them. This insight came from organizational development classes where I learned that self-awareness makes better managers: you can't lead others if you are not willing to accept your faults. I also now recognize that perfection is not real. I've learned to forgive myself more often when I can't do it all. 
Your late husband, Nick "Dubb" Whitaker, was a teacher and Castro Valley High School's student activities director. Your daughter, Kylie, is now a ninth grader at that school. How has your family influenced your commitment to have a direct impact on local public education?
Nick's passion was to help kids see their potential and feel safe, help people be kind to one another and be part of a community. This commitment lead him to put in many extra hours, from taking the kids to volunteer on the weekends, showing his support at games, to staying longer in the classroom to have a safe space for kids to go when they had nowhere else. He included my daughter and me during events, and his students and peers became our extended family.
Nick loved the people he worked with and had a giant heart. He had enrolled in the UC Berkeley administrative credentialing program to continue his role in education in Castro Valley. Because of his commitment to the community and to show my support for my daughter, I felt a huge need to give back and to finish what he started.
In November you were elected to the Castro Valley Unified Board of Education. What are your priorities and goals in this role?
I ran for this office to finish what Nick started by bringing people together and building bridges of understanding. I want to be a voice for those who don't feel comfortable speaking up—or can't—and to help others understand different people's perspectives. 
I also want to bring what I have learned in the environmental and energy sector—and at UC Davis—to make smarter choices based on the best available information for the betterment of the school district. 
In these first few months, my heart has been warmed meeting and getting to know the great people in this diverse district. They are passionate and hard-working teachers, involved parents, dedicated employees and happy kids. 
You have a full and very busy life. How do you unwind?
I like to spend time with close family and friends watching movies, playing games, eating good food and taking the occasional walk. I cherish the moments I get with each and every one of them. 
What is most important to you, personally?
After my husband's death, I had to take stock into what was really important in my life. Tragedy provides you with a whole new perspective. I learned to appreciate all the good and bad that life comes with, and to take chances because we only have one life to live. I am lucky to have great people in my life at home, at work, at school and, more recently, at the Castro Valley Unified School District. Honest human connections and living life the way I want to with my loved ones in mind has become the most import thing to me.
My daughter is the most influential person in my life. Having her caused me to look beyond myself. Knowing that how you raise your child can affect their entire life changed the way I view the world. I didn't want to affect her life in a negative way and wanted to provide her the opportunities I did not have. Every step of the way she has humbled me, made me want to be a better person, and filled my world with love and laughter.