Student Spotlight: Prayas Tiwari
Full-Time MBA
UC Davis MBA student Prayas Tiwari shares his story as a student leader, his thoughts on the power of collaborative leadership, and his advice to prospective students and the community.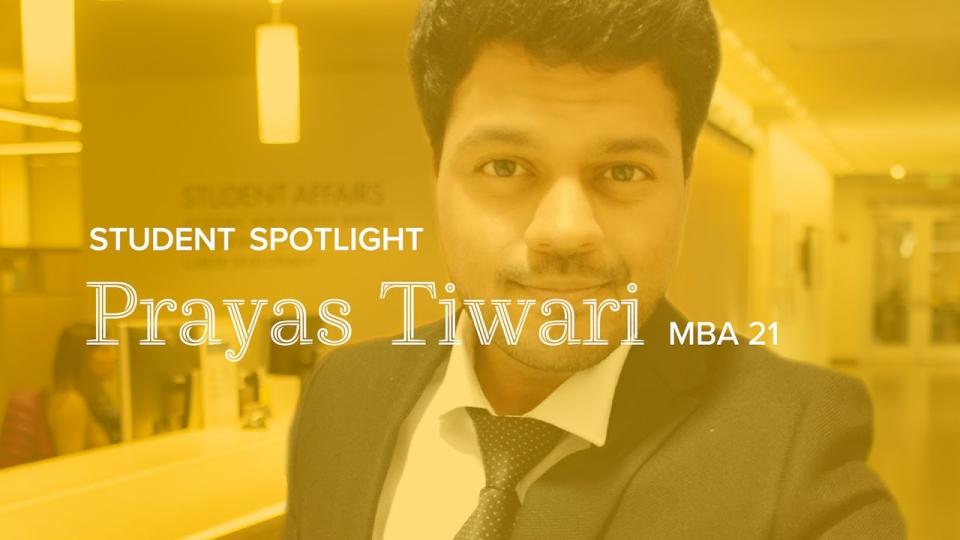 Why the UC Davis Graduate School of Management?
There were three main factors. The first one was the entrepreneurship culture. I have an entrepreneurial background, and I wanted a school that regards these ideas as such. 
The second thing was faculty. Since we are a smaller cohort at UC Davis GSM, the faculty's one-to-one communication and interaction is way higher than in a school where the classes are of like 200 people. So, you get to connect with the faculty on a better level, on a next level. 
The third and last thing is alumni feedback. So, my uncle is also alumni of UC Davis GSM, and he always talks really highly about UC Davis and the faculty.
What leadership activities are you involved in?
I just took a new position in the EIC, that is the Entrepreneurship and Innovation Club, as the director of entrepreneurship and collaboration. We are trying to plan new activities for the next year. We are actually focusing on this collaborative leadership theme.
What does collaborative leadership mean to you?
Breaking down the personal walls and silos of each other. I mean, just getting to know your co-workers and the students, your cohort a little bit better than anything else. So, if you connect with someone on a personal level, you know, you can have a better working relationship too in the end. So, letting your classmates know that you miss seeing them around makes a very positive impact on each other, and it takes your relationship on another level actually.
Which professor has stood out to you while learning online?
In my personal experience it's Marc Lowe. So, this is a Product Management class. It's really amazing. He's really interactive, and the class is comparatively smaller so there is more of one-on-one interaction, even on Zoom. So, it's more of a discussion in the classroom, it's amazing. And the classes are actually based on a simulation, so whatever you are learning in the classroom, you have to implement on your own company in the simulation, so it's really amazing. It's a competitive class actually, so it's really nice.
What are you doing to stay busy?
What we generally do is we do a lot of bike rides, so me and other a few friends of mine and like other colleagues, so we just go on bike rides around the campus. I think like last evening we were out biking around. We biked around 20 miles around the campus.
What advice do you have for students?
I think since you're getting more time with yourself just explore a little bit about yourself, just get a hobby. What I do is I cook a lot and it's really fun, it's a de-stressing thing for me. I cook, I go out biking, just do something fun and just keep calm, wash your hands, and just remember it's gonna be all right.