UC Davis MBA Grad Pledges to Support Economic Growth in Liberia
Amazon manager dedicates education and network to supporting the rebuild of his homeland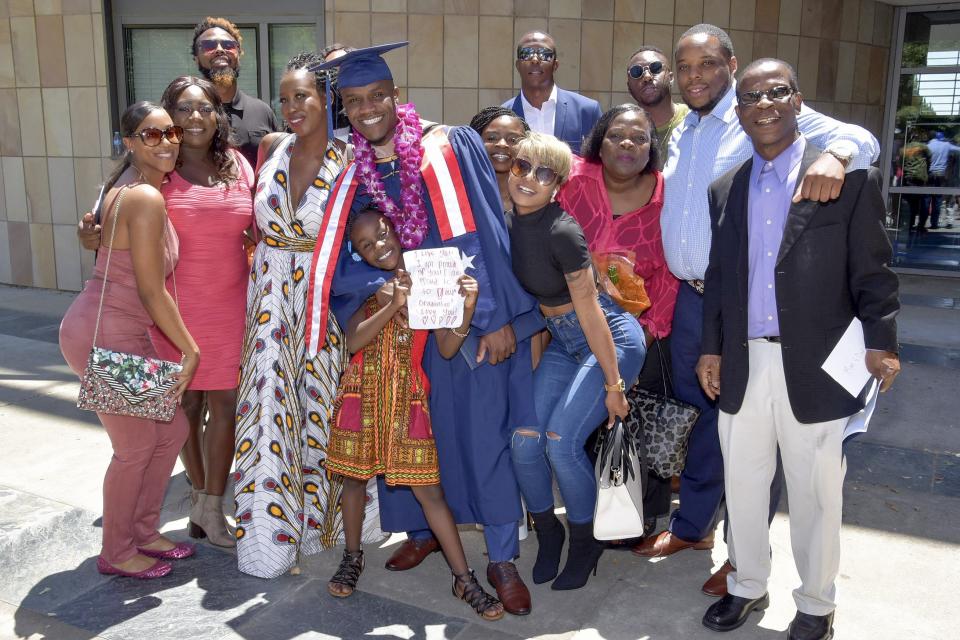 Siah Gaye MBA 18 chose the Bay Area Part-Time MBA program for its reputation—and to stay close to his mother. The last time they were separated, he was just learning to walk, his country was at war, and his mother was hiding him from the men who killed his father.
He was seven when he learned later that his mother had escaped the slums of Monrovia, the capital of Liberia. She left the West African country, with intentions of bringing her son at a later time.
"Hey. You know. Where's my mom?" he asked his aunt. She was raising him in a district of the Liberian capital that they believed was free from the increasing violence.
"Well, your mom's living in the U.S. and she's working on sending for you," she said. "One day she's going to be able to call for you and you'll be able to go where she is."
Gaye was too young to remember his mom. But he dreamed of the moment they would be reunited. As he was walking home from school one day, he was thinking of her when some friends told him that nearby a few men from a militia were hanging out on the street. They had guns.
Gaye darted onto a new path home. He hid among Monrovia's once bustling markets, the industrial rubble and the buildings still intact. He was bound by a terror he had never felt before and wished that somehow his mom could save him.
"I imagined her coming in with a helicopter and landing in Liberia and catching me on the helicopter and we just take off," says Gaye. "I was just a boy and that was my vision of how that was going to go."
He was seven when he learned that his mother had escaped the slums of Monrovia.
She didn't come that day. Gaye did make it home safe, but was more vigilant about staying home after dark, when the militia soldiers tended to hunt down their opponents in the streets.
Two years later, after several interviews with government officials and stacks of paperwork from his mother and his aunt, Gaye boarded a plane with a few family members and left Liberia. His first steps in the U.S. introduced him to New York City, a world wrapped in advertisements, as he saw it then.
A New Life and Help for Liberia
After the murder of Gaye's father, his mother slowly reconnected online and over the phone with an old boyfriend from high school who was now living in the U.S. Over the years that relationship turned into a romance and then marriage, bringing her—and eventually her son—to a suburb of Sacramento, California.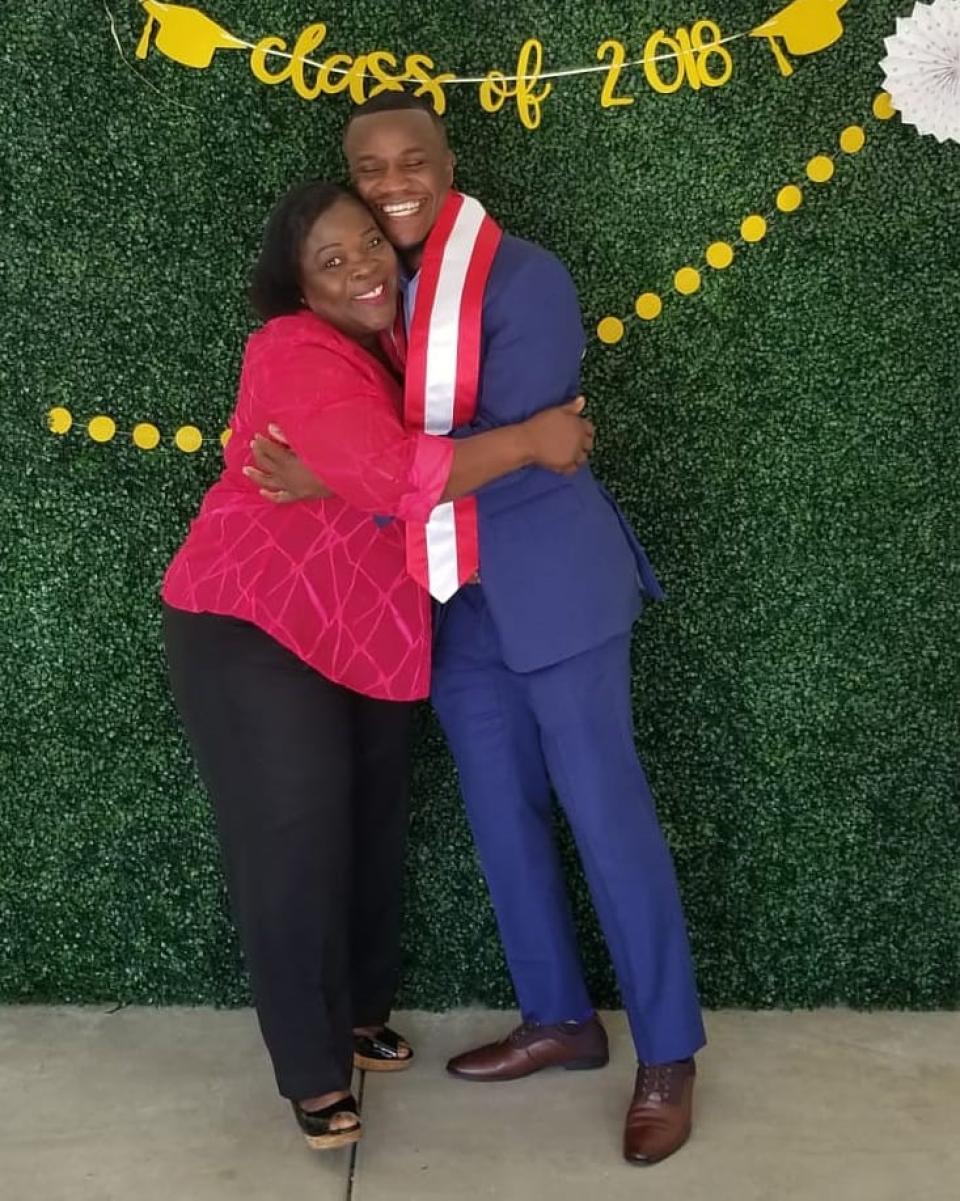 In the early years, Gaye knew little of what was happening in his home country. Millions were fleeing the country for refugee camps in neighboring countries. As an undergraduate at Sacramento State University, Gaye connected through Facebook with family members he had never met.
He heard about the recovery effort after the civil war. Then his country was thrown in chaos yet again. 
"Learning of the sudden outbreak of the Ebola virus triggered my yearning to obtain my Masters in Business and aid my country," he wrote in his application essay for the MBA program.
He outlined a plan to apply his MBA skills and a background in supply chain management toward reforming health education in Liberia and managing the materials needed for building new medical clinics.
"It was motivating for me to go back to school to get in a position where I could make a bigger contribution," he says.
Then his country was thrown in chaos yet again.
The day he got the call from the Graduate School of Management with news that he had been accepted into the program, he also had his final interview for an operations manager position at a new Amazon hub. The MBA program was in San Ramon, but the job would be in Sacramento. 
This idea of a sudden career leap left him anxious and conflicted: Now that he's a graduate student, should he take the job, too?
"How could I do both?" he asked Michael Crutchfield, his supervisor and mentor at the Frito Lay plant in Modesto who was also the first person to encourage Gaye to pursue his MBA.
"You better take it!" he told Gaye, laughing as he encouraged one of his top employees to leave for another company.
 "I want to take care of people"
Sunday through Wednesday, Gaye leaves his newly built suburban home, takes a car he never imagined owning as a kid and commutes up California's I-5 to his office at a new distribution hub for Amazon, the world's largest internet company.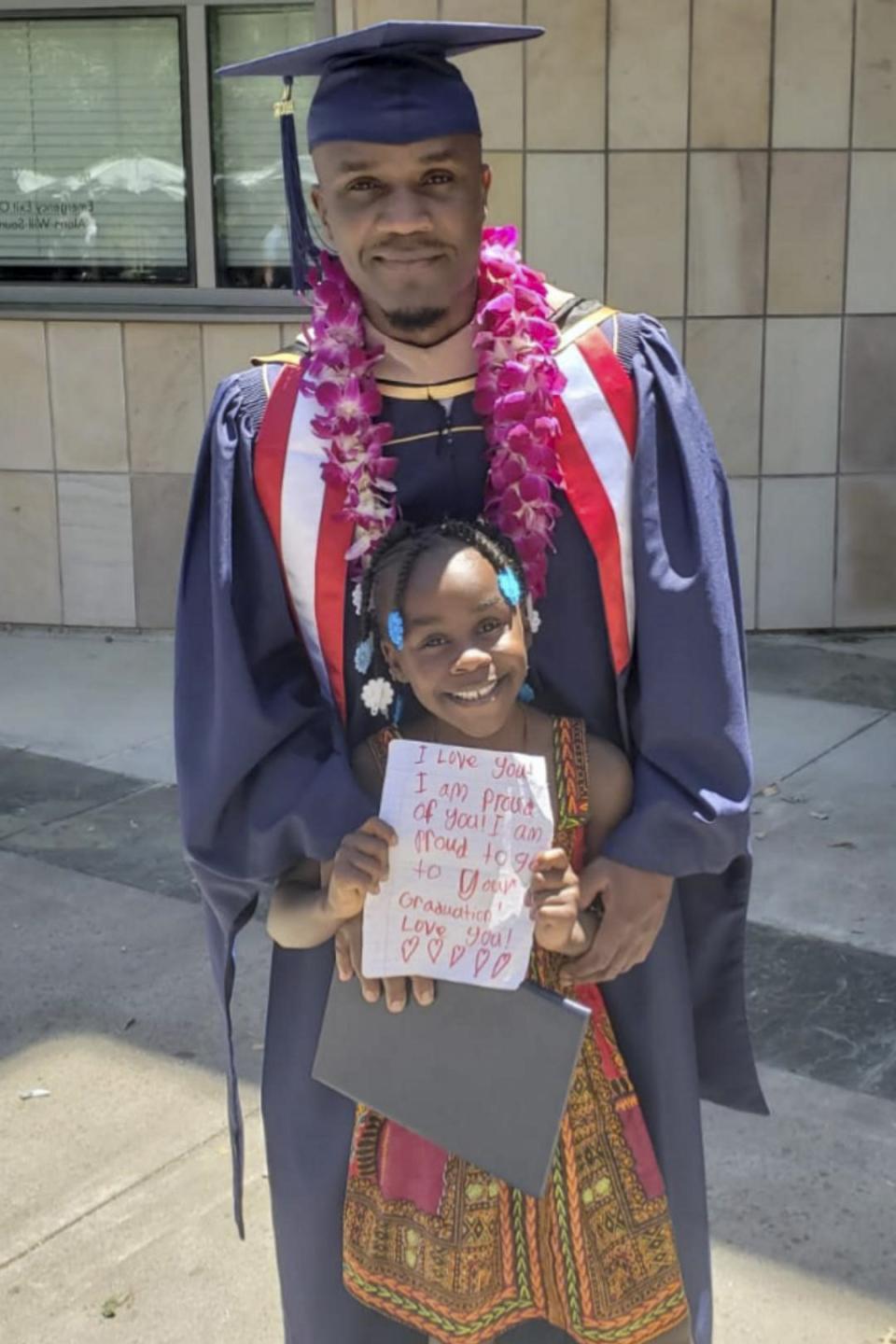 On the weekends, he spends time with his seven-year-old daughter. She's excited about toys and when dad gives her five bucks for finishing her homework. But she's not interested in the house chores he assigns her.
Gaye teaches her to "remember to always be thankful and that nothing is ever just given to you in the world." She's not ready yet to hear about his struggles, he says. For now, he shares those stories with high school students, as he is now getting into motivational speaking.
"When I talk to her, I'm very appreciative of what I have," he says. "It's challenging to explain to her that this is nowhere close to how I grew up."
In one way, however, she is already following in her father's footsteps.
"I want to be a doctor," she recently told him. 
"Oh, so you want to do, like, nursing or something?" he said.
"No," she insisted. "I said I want to be a doctor, not a nurse. I don't want to be a vet either. I want to take care of people."
"Why?"
"Well, I just feel like, you know, a doctor can stop someone from dying. That's what I want to do."
Gaye was stunned by her sudden declaration. She had somehow tapped into the same source of motivation driving him to pursue an MBA.
The Commencement
To sporadic cheers and hollers ringing through a packed auditorium at the Mondavi Center, Siah Gaye's mom reaches over his cap and places a brightly colored graduation lei over his shoulders, a complement to the Liberian sash he's donned for the ceremony. A smile bursting across his face, Gaye gives his daughter a high five and a kiss, and hugs his stepfather and mother.
As Gaye walks across the now silent stage to accept his diploma, he stops, taps out a two-step shuffle like Mohammed Ali after a winning fight and strides forward as the crowd explodes in cheers.
Returning Home
Gaye will officially complete the MBA program in September. He's booked a flight for the following weekend to travel back to his home country, after an absence of 20 years. It's the first of what he hopes to be many future visits to Liberia.
He still has family there, who are all eager for his return. He doesn't know if he'll remember them or recognize any of the places from his boyhood. He's read and heard about the reconstruction taking place with the roads, freeways and schools following Liberia's declaration in 2016 that it was Ebola-free. He wants to learn more about where the country is in the rebuilding process.
"I just want to get my boots on the ground," he says, "to see where things are at and where I fit in."
"It's challenging to explain to her that this is nowhere close to how I grew up."
The irony of returning from the U.S. to a country once colonized and founded by freed American slaves hasn't been lost on Gaye. He points out that his hometown of Monrovia is named after President James Monroe and the city's hospital honors President John F. Kennedy. He hopes to find a way to help nurture those ties to the U.S. that grew so strained through the political turmoil of the last century.
Gaye has been reaching out for help from his employer, through the Amazon Cares program, to find out how its mission might align with what he hopes to accomplish in helping Liberia rebuild.
He has also been running a non-profit organization for scholarships, which he funds from his own pocket. High school students compete for the $200 award by sharing their stories of what they hope to do with their education after college.
"When I was about to go to school, I really didn't want to go too far from home," he says. "Now I challenge students to not limit themselves. The sky's open to where you want to go and who you want to be."
The story that has stood out most for him from this project is from a Guatemalan student interested in medicine. Like Gaye, she is determined to use her education to return home and find a way to give back to her country.
Her essay triggered a sudden, revealing sensation in him. Reading it, he says, he was struck for the first time by the impact he is already making for others facing such similar struggles as he did along his own path.
"Wow, that's really fascinating," he thought, "to come full circle, and to be able to contribute to sending kids where they want to go."