"We Are GSM" - Meet Associate Professor Elizabeth Pontikes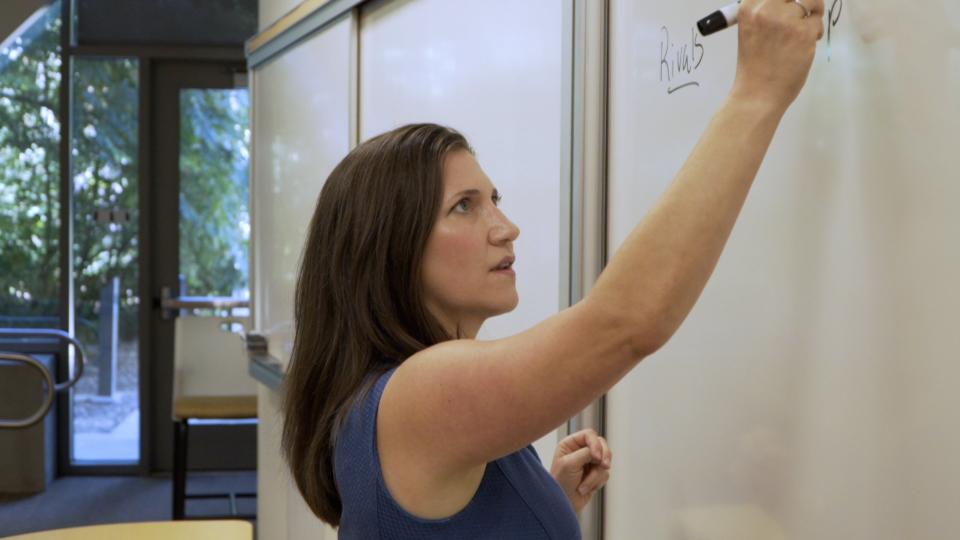 Associate Professor Pontikes' experiences at Silicon Valley software startups paved her academic pathway from Yale, Stanford, Chicago Booth, Kellogg and to UC Davis, where she researches market categorization, innovation and technological change. She brings that research into the MBA classroom in courses in Strategy, Strategic Change and Strategic Leadership. She's also been a marathoner and practices yoga.
---
It was during the dot.com boom, and I ended up at a software company, and I was really interested in that. And then, I moved to a startup to California and to Silicon Valley, and I really liked what I was doing in business.
I liked the academic side of understanding what was going on, the business strategy, and how people were reacting.
And so, I started to look at Ph.D. programs in business school, and when I entered Stanford, people were studying about categories and categorization.
And looking back, I realized that I was always interested in social categories and how people think and group people into types and our minds create a mental map of categories and that really affects how business is run and how people evaluate businesses.
Salesforce: A New Paradigm 
Salesforce was a company that did customer relationship management and sales management. And at the time when they were coming up, the most successful company was called Siebel.
What Salesforce did was when they pitched their product, they didn't pitch it as the same kind of product, but easier. They pitched it as an entirely new type of product. And some tactics they used was software is evil. They buried the DVD install for the software. 
They were able to get people to understand that they weren't just an alternative. They were the prototype of an entirely different concept of how an organization would run its sales CRM. And they ended up being successful.
Bringing Research to Class
I teach three classes. I teach Core Strategy. I teach Strategic Change and Strategic Leadership. So Core Strategy is a class that's been around for a long time where we teach the foundational principles of the strategy. Category Strategy and what I've been researching also form a large basis for my Strategic Change class.
One of the things that I always loved about Davis is, that there is such a high-quality faculty that's also very small and very interconnected and that works well together.
I'd completed one marathon in 2005 that was in the middle of grad school, and I will say that running the marathon was very therapeutic for all of those hours where you're focused and alone and working on a dissertation.
And that segued really into my yoga practice and I probably didn't run for two months. I only did yoga and when I came back to running, I was actually faster, having just done yoga.
And that was a big lesson for me that sometimes taking time off, and doing something else can actually help you with what you're training.

We Are GSM.