Celebrating the milestone years of 86, 91, 96, 01, 06, 11, 16 and 20
October 16, 2021 3:30pm - 7:00pm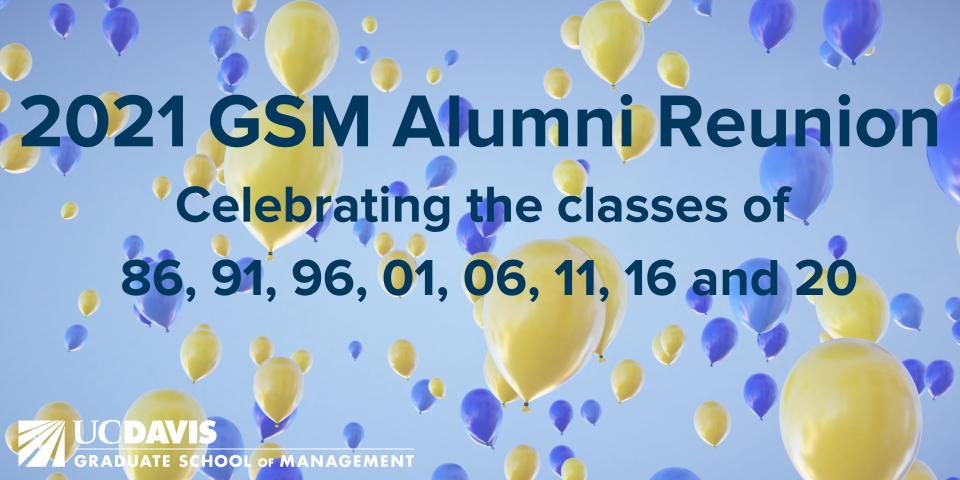 We look forward to celebrating all alums at GSM's Alumni Reunion with a special highlight on milestone years: 86, 91, 96, 01, 06, 11, 16, 20.
The in-person event will start at Gallagher Hall at 3:30 p.m. where you can catch up with your fellow alumni and favorite faculty. Then, as a group, we will stroll over to the Robert Mondavi Institute for Wine and Food TASTE event. Boasting an array of local and regional wineries, breweries, eateries and live music TASTE is the perfect setting to celebrate you!
Family and pets are welcome to join us at Gallagher Hall but the TASTE event is for guests 21-years-old and over only.
Note: The GSM Alumni Reunion will follow UC Davis protocol for in-person events following federal, state, county and university COVID health and safety guidelines. As of July 28th that includes mask wearing indoors by all individuals regardless of vaccination status. Up-to-date guidelines and requirements will be shared closer to the event.