2022 GSM Bay Area Signature Event
June 04, 2022 6:00pm - 9:00pm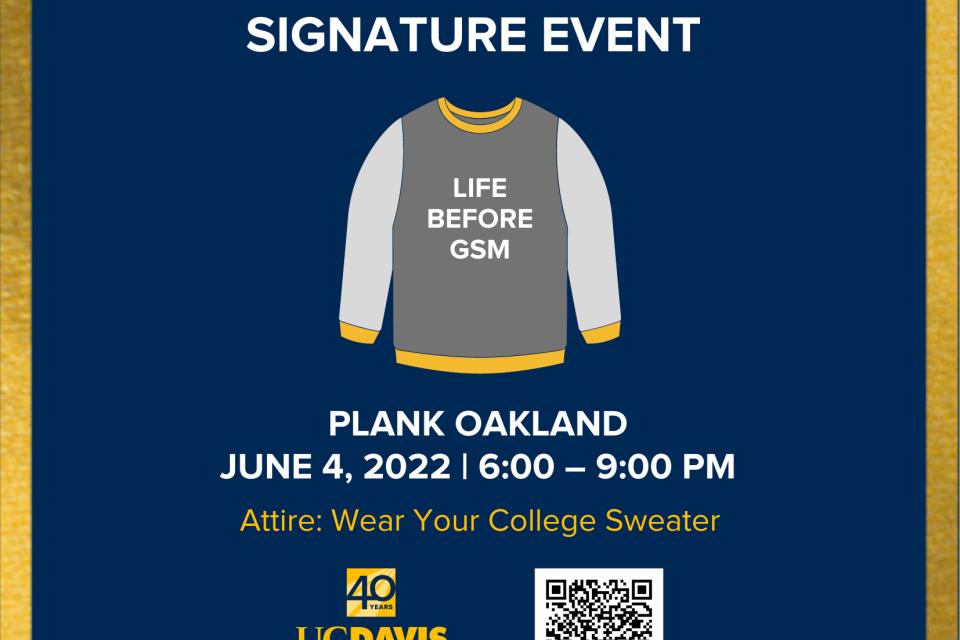 You (and a guest) are cordially invited to the 2022 UC Davis Graduate School of Management Signature Event, an evening of celebration and networking opportunities with your fellow GSM students, faculty, staff, and alumni.
This year's event, hosted by the GSM Student Association Bay Area, will be held at Plank, Oakland on June 4, 2022. The theme is "Wear your college sweater (AKA life before GSM)."
Note: If you don't have a college sweater, feel free to wear anything that represents your life before GSM
A limited 40 early bird tickets ($35) are on sale now.
General admission tickets ($45.00) are on sale until May 28, 2022. 
This event is for 21+ only. 
All attendees will be required to present proof of photo ID, vaccination or a negative COVID test result in order to enter the venue. Please review the Campus Public Healthy Policy Requirements for more details.