Women in Leadership Bay Area Club Hosts Virtual Women in Entrepreneurship Panel
October 03, 2022 7:00pm - 8:00pm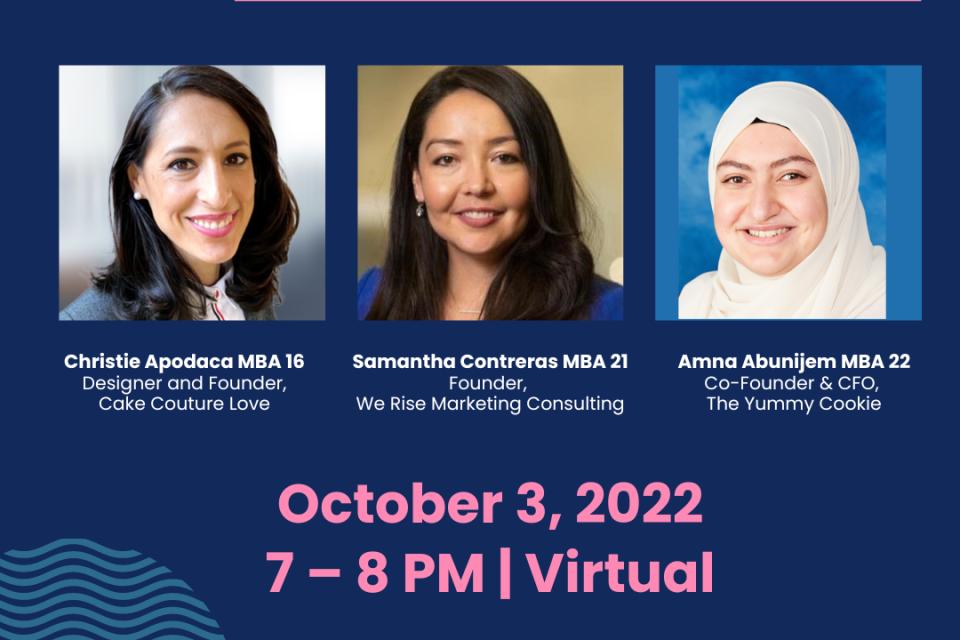 Join the Graduate School of Management's Women in Leadership Bay Area (WiLBA) club for a virtual discussion with women entrepreneurs—all GSM alumni—to learn about their journey of starting their own businesses and what advice they have for future entrepreneurs. 
Panelists:
Christie Apodaca MBA 16, Designer & Founder, Cake Couture Love
Apodaca is the designer and founder of Cake Couture Love, creating the start-up to help make ends meet while earning her UC Davis MBA (in 2016). Evolving from a local cake artist to a global e-commerce brand, Apodaca achieved 40% year-over-year growth in the company's first three years, penetrated a global marketplace of 30+ countries, and captured millions of monthly views across online platforms. During her MBA program, Apodaca led the development of a business plan for Cake Couture Love that achieved a $1M investment offer. However, despite this, she continues to grow and manage Cake Couture Love while working full time.
 
---
Samantha Contreras MBA 21, Marketing & Business Consultant, We Rise Marketing Consulting
Samantha Contreras is the owner of We Rise Marketing Consulting. Contreras has implemented marketing strategies to drive growth for start-ups and strategic business transformations for six different companies in the healthcare, wellness, wine and public policy industries. As a GSM student, she was the president of GSMSA Sacramento and was the Food & Ag Innovation Award winner in the 2019 UC Davis Big Bang Business Competition.
 
---
Amna Abunijem MBA 22, Co-Founder and CFO, The Yummy Cookie
Amna Abunijem is one of the owners of The Yummy Cookie, which she started with her mom in 2017. She has done everything at The Yummy Cookie, from interior design and photography to customer service and mopping the floor. Abunijem is excited to be graduating with her UC Davis MBA in December 2022. She is passionate about education, entrepreneurship and building things that have the potential to change the world. During her free time, you'll find her strength training, running, water coloring, discovering local and national parks, or reading a book.