The Economist Ranks MBA Faculty Quality No. 4 Worldwide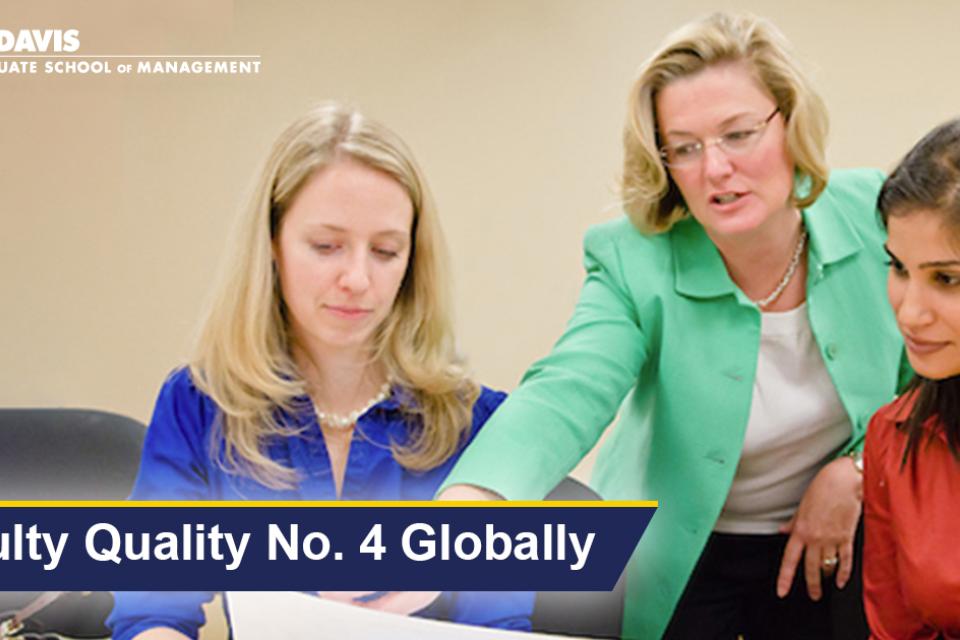 (Davis, Calif.) — The Economist's 2019 Which MBA? survey ranks the UC Davis Full-Time MBA program and professors among the best in the world.
Overall, the UC Davis Full-Time MBA program is ranked No. 61 globally and No. 42 in the U.S.
The Graduate School of Management's faculty quality is ranked No. 4 globally, up from No. 8 last year and a steady rise of 11 spots over the past four years.
The Economist's faculty quality rating is based on the ratio of faculty members to students, the percentage of full-time faculty members with doctoral degrees and faculty rating by our students.
"I am delighted to see this recognition," said Dean H. Rao Unnava. "It reflects the quality of our faculty both in terms of their research and the educational experience they bring to the classroom that continues to inspire and draw high praise from our students and alumni."
The Economist Which MBA? rankings are based on various components of importance among current business students and alumni who have graduated within the last three years.
The UC Davis Full-Time MBA program rose significantly in several of the ranking categories, for example:
Up 26 places for Education Experience (No. 48 worldwide)
Up 11 places for Potential to Network (No. 76 worldwide)
Up 6 places for Overall Personal Development/Education Experience (No. 36 worldwide)
Up 4 places for Breadth of Alumni Network (No. 48 worldwide)
Up 3 places for Alumnus Rating of Alumni Effectiveness (No. 48 worldwide)
METHODOLOGY
The Economist solicited input from more than 160 business schools and students/alumni and then measured and weighted the data to calculate the overall rankings. The Economist only publishes a list of the top 100 schools.
Data were collected during spring 2019, using two surveys. The first was completed by schools with eligible programs and covers quantitative matters such as the salary of graduates, the average GMAT scores of students and the number of registered alumni. This accounts for around 80 percent of the ranking. The remaining 20 percent comes from a qualitative survey filled out by current MBA students and each school's most recent graduating MBA class. 
Memory has been built into the rankings by taking a weighted average of data from 2019 (50 percent), 2018 (30 percent) and 2017 (20 percent) to provide a rounded picture of the school over a period of time.
In addition to the UC Davis Graduate School of Management's consistent rank among elite MBA programs in the U.S., the global reach of The Economist's results helps raise the visibility of UC Davis among the world's top business schools and MBA candidates, especially in Europe and Asia.
Media contacts