MBA Alumnus Randy Lee Honored with Rising Star Award
Global tech innovator named GSM Alumni Association's second Rising Star recipient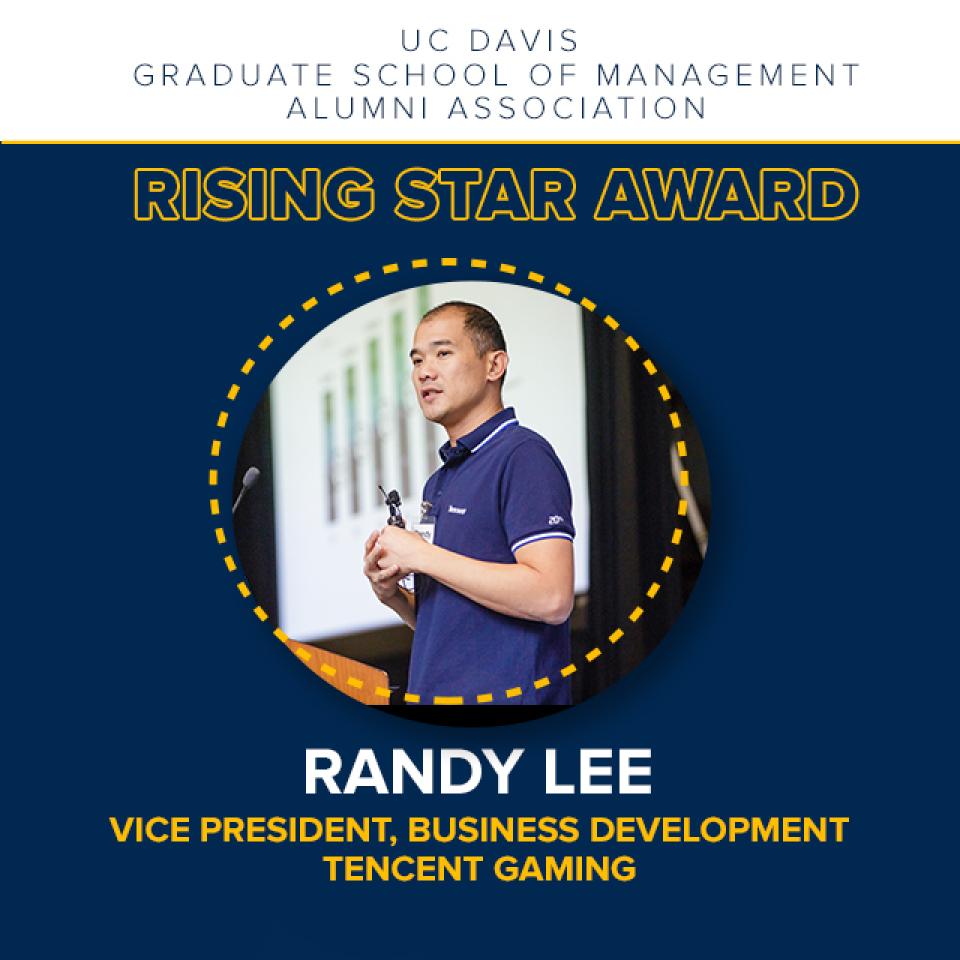 An Aggie innovator and changemaker in Silicon Valley for more than two decades, Randy Lee MBA 00 has been named the Alumni Association's second recipient of the Rising Star Award.
The Rising Star Award honors a recipient who has contributed to their profession or to the Graduate School of Management and larger UC Davis community during the early or mid-portion of their careers.
Most recently, Lee has found his passion in mobile web gaming as vice president of business development in the Americas at Tencent Gaming.
Tencent is the Chinese multinational technology conglomerate with stakes in more than 600 companies and the world's largest video game vendor, making it one the world's most valuable tech companies.
Lee has brought more than two decades of experience to his role.
He earned his engineering degree from Santa Clara in 1995, and joined Read-Rite Corporation shortly after, where he designed hard drive tooling at a prototyping facility. He then joined our Full-Time MBA program and graduated in 2000.
Global Tech Leadership
After earning his MBA, Lee became director of strategic alliance for iAsiaWorks, one of the largest pan Asian telecom service providers. He raised over $200 million from both Tier 1 venture capital firms and the public market. He successfully facilitated some of his firm's largest telecom and biotech venture debt deals.
All of this experience set Randy up for a unique entrepreneurial opportunity. He co-founded Sparktech Corporation in 2004 and created consumer electronic devices for tech journalist Walt Mossberg and Oprah Winfrey.
Lee is a leader and active member of several boards across the globe, including China, the U.S., Canada, and the U.K. including:
Board Director, Asian America Multi-Technology Association—Silicon Valley's largest and most established non-profit dedicated to the Asia American high-tech community (2010–2012)
Board Director, Lockwood Publishing Ltd. (2020–present)
Board Director, Offwood Industries (2019-present)
Board Director, Wonderstorm (2019-present)
Board Director, Roblox China (2019-present)
Head Partnerships, TedxBangalore (2014–present)
Mentor Student Entrepreneurs, BMSIT (2014–present)