QS Ranks MSBA No. 1 Globally for Return on Investment
Plus, top 10 worldwide for "Value for the Money" for fourth consecutive year
Image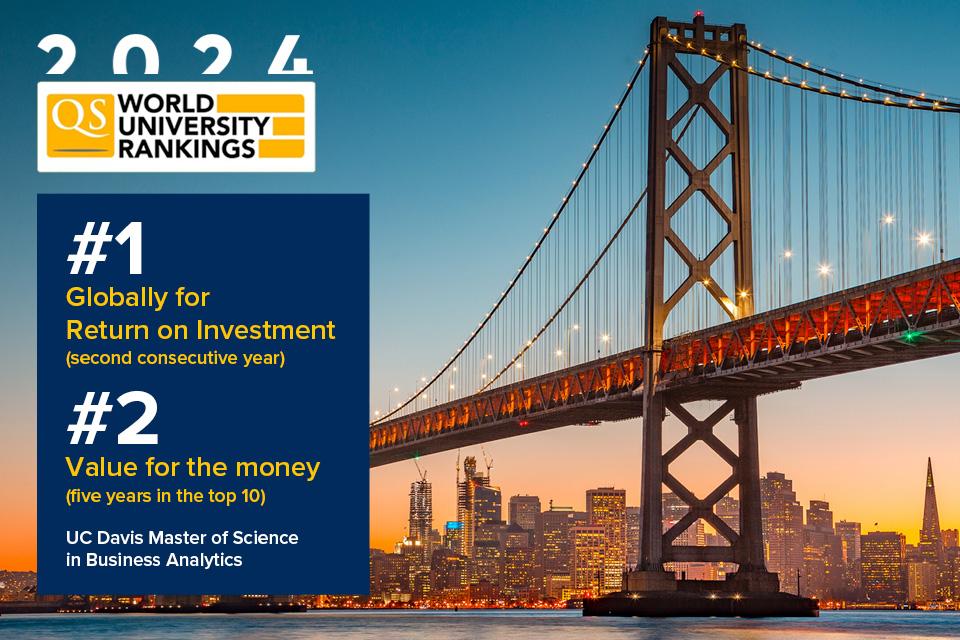 Quacquarelli Symonds, which specializes in the analysis of higher education institutions worldwide, scores the UC Davis M.S. in Business Analytics (MSBA) program No. 1 in the world for return on investment of the degree.
In the 2023 QS rankings of more than 130 master's in business analytics programs across 26 countries, the UC Davis MSBA posted the highest 10-year return on investment (ROI) for graduates—just over $1 million. The program received 100% of the points available on this important metric calculated by QS.
According to QS, the 10-year return on investment metric maps "average post-graduation salaries, taking into account forgone salary as well as tuition and cost of living (using Mercer Quality of City Living Ranking) and taking into account the percentage of graduates accepting employment within six months of finishing their studies."
Value for the Money
In addition, the return on investment metric is one of several indicators that  placed the UC Davis MSBA at No. 7 worldwide for "Value for the Money"—the fourth consecutive year the program is among the top 10 globally and among the top 5 in the U.S. The UC Davis MSBA tallied 97.1 out of 100 points in QS's "Value for the Money" category.
QS's "Value for the Money" ranking calculation includes Class of 2021 students' tuition and cost of living, average pre-program salary of students, percentage of graduates accepting employment within six months, post-program salary and the time it takes to pay back the cost.
One of the key results: The UC Davis MSBA  has an estimated payback period of 16 months, two months shorter than last year.
"We are honored to be recognized as one of the top global programs by QS for the fourth time in as many years," said UC Davis MSBA Executive Director Amy Russell.
"These students took a big leap during the pandemic to study with us," Russell said. "We're thrilled to help them maximize their investment in their futures in such a significant way. This is a rigorous program that stretches students academically and professionally to set them up for career success."
High Demand: Proven Job Placement Track Record
In addition, early placement data for the UC Davis MSBA Class of 2022 (which won't be ranked until fall of 2023) shows record-breaking success as strong demand continues for business-savvy data analysts:
Three months after graduation, our newest alumni report an average starting salary of $135,821—the highest ever and $26,000 more than last year's class.
The UC Davis Class of 2022's average reported bonus is $18,983, double that of the previous class.
The program's location in San Francisco and deep connections in Silicon Valley open many opportunities in the Bay Area and beyond.
Amazon continues to be the top employer with 12 new graduates starting in 2022, reflecting the success of a strong alumni network within the company and a newly launched mentorship program.
Other key employers include Apple, Google, Microsoft, Meta, Pinterest, TikTok, Boston Consulting Group, McKinsey & Company, AMEX, and the Federal Reserve Bank, in addition to other tech, biotech, finance and retail corporations as well as startups.
Learn More