Terry Exner MBA 09 Receives GSMAA Outstanding Service Award 2019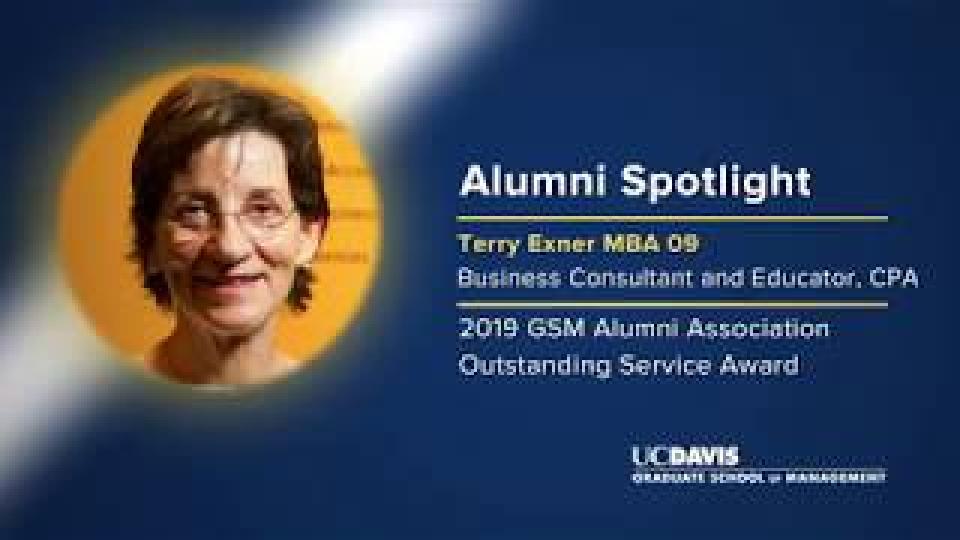 "We're here at Monroe's and I am just amazed and honored to be a part of the GSM and this award that I'm receiving tonight. I've just have met so many great people at the GSM and I feel very fortunate to be in this position."
How do you collaborate at work to make an impact?
Both in the retail food industry and in education, collaboration is really important. I look at it as maximizing cross-functional teams, so if you put together people in one room they all come together and they can give you the best product possible.
What does being a collaborative leader mean to you?
The one thing about collaboration is that not everybody is going to be happy by the end result but they are gonna feel very grateful that they had a voice and they had a chance to be heard.
What are the highlights of your career in the last few years?
All the networking that I've done over the years and all the folks that I've met have come back to be guest speakers in my class. If they're all positive relationships, they all want to give back in some way, shape, or form.
What are the biggest challenges in your industry?
Biggest challenges today whether it's in education or whether it's in business, is the scarcity of resources in the Bay Area. The Bay Area is such a high cost-of-living area and trying to find really good quality people that are willing to live in the Bay Area is a super challenge.
What professor had the biggest impact on you?
Michael Maher, that Planning and Control class was fantastic. In fact some of the Healthcare industry trends that we're doing today, he was very instrumental in helping me think through what we would
do at Safeway from a healthcare standpoint in terms of lowering cost and incentivizing people from a healthcare perspective.
Any advice for future business school graduates?
I have found too often that people that are just starting out in the industry want to get promoted to the next best thing, when they haven't really got comfortable with where they're at today. So, I say be patient, listen, you're going to learn a ton and that next promotion opportunity is going to come when you least suspect it.