UC Davis Full-Time MBA Ranked among Best in U.S. for 23rd Year
Full-Time MBA Moves Up to No. 37 and Part-Time MBA Rises to No. 32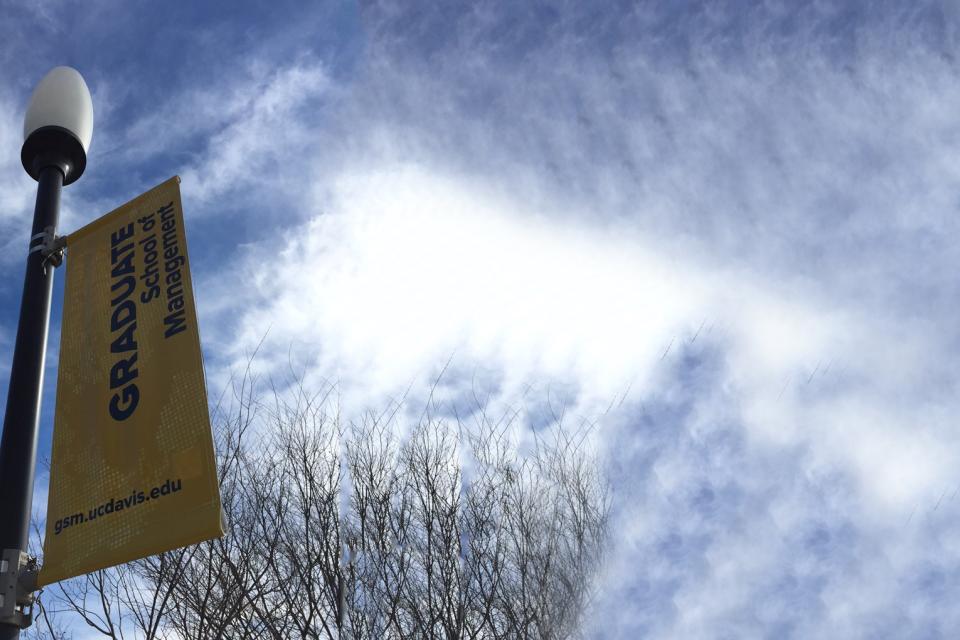 (Davis, CA) — The UC Davis Graduate School of Management's Full-Time MBA is ranked among the premier programs in the nation for the 23rd consecutive year, according to U.S. News & World Report's latest graduate business school rankings released March 19, 2018.
U.S. News' latest ranking places the Full-Time MBA program at No. 37, up five positions from last year, and now among the top 8 percent of the 480 MBA programs accredited by the Association to Advance Collegiate Schools of Business International (AACSB) that were surveyed.
Over the past three years, the UC Davis Full-Time MBA program has moved up 11 places in the U.S. News rankings.
Key Statistics of Full-Time MBA Program
$97,325 UC Davis MBA average starting salary and bonus
91.4% placement rate three months after graduation
669 average GMAT score
"Our remarkable consistency and the rise in this year's ranking reflect the quality of our community and the collaboration that drives our shared successes," said Dean H. Rao Unnava.
"We have made great strides in enhancing our MBA experience, including innovative new industry immersions in the areas of food and agriculture, biotechnology, technology finance and sustainable energy. We are thankful for the support we receive from our corporate partners and supporters as we continue to build distinction into all our programs."
PART-TIME MBA RANKING
The UC Davis Part-Time MBA program offered in Sacramento and the San Francisco Bay Area is ranked among the nation's best for the seventh consecutive year, moving up to nine slots to No. 32.
The Part-Time MBA program is among the top 11 percent of AACSB International-accredited part-time MBA programs and among the top 25 public part-time MBA programs in the U.S. This year, 301 part-time MBA programs were surveyed by U.S. News. View the part-time MBA rankings.
U.S. NEWS RANKING METHODOLOGIES
U.S. News' full-time MBA ranking is based on several key metrics: student selectivity (average undergraduate grade point average, average GMAT and GRE scores, and percentage of applicants accepted by the school); quality assessment surveys from recruiters and peers (business school deans and MBA program directors); and job placement success for graduates based on average starting salary and bonus, and employment rates at graduation and three months later.
U.S. News' part-time MBA ranking is based on five factors: peer assessment by business school deans and MBA program directors; average undergraduate GPA of fall 2017 entering part-time MBA students; average GMAT and average GRE quantitative and verbal scores; work experience; and the percentage of the business school's fall 2017 MBA enrollment that is part time.
ABOUT US
The UC Davis Graduate School of Management is focused on preparing the next generation of inspired, results-driven and innovative leaders who are committed to making a positive impact. The School's faculty members are globally renowned for their teaching excellence and pioneering research in advancing management thinking and best practices. At four locations across Northern California, the School offers Full-Time MBA and Master of Professional Accountancy programs at the UC Davis campus, and part-time MBA programs in Sacramento and the San Francisco Bay Area. A new, 12-month Master of Science in Business Analytics program launched last fall in San Francisco. The School also offers an Undergraduate Accounting minor, a specialized Undergraduate Technology Management minor program, and custom and open-enrollment executive education programs.
CONTACT