UC Davis Full-Time MBA Ranked in Top 50 by Bloomberg Businessweek
Top 20 among public full-time MBA programs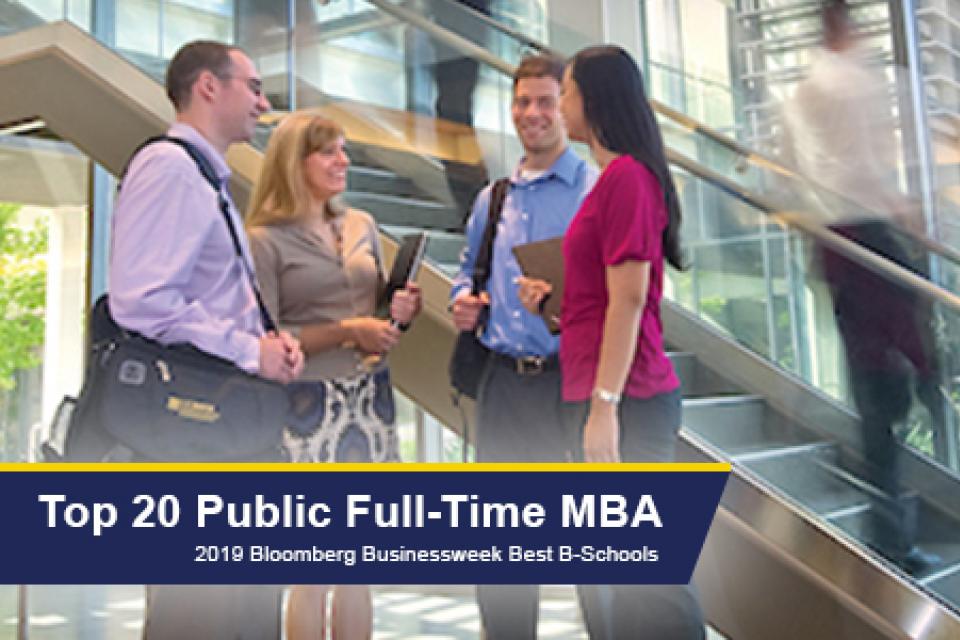 (Davis, Calif.) — Bloomberg Businessweek's 2019 Best Business Schools ranks the UC Davis Full-Time MBA among the top programs in the U.S.
Overall, the UC Davis Full-Time MBA program is No. 42 in the U.S. As recently as 2014, the program ranked No. 60.
UC Davis ranks No. 20 among full-time MBA programs at public universities.
Among the comments from students and alumni to Bloomberg Businessweek on what's best about the UC Davis Full-Time MBA program:
"Geographically located in the capital and policy center of one of the world's largest economies."

"The intimate relationships we developed with faculty."

"Small class size, close relationships."
The Bloomberg Businessweek 2019—20 Best B-Schools ranking is based on data compiled from more than 9,000 students, 14,920 alumni, 900 corporate recruiters, and compensation and job-placement data from each school. The data collected includes extensive interviews at business schools to form the foundation for the rankings.
The complete 2019-20 rankings include 94 full-time U.S. MBA programs.
Prospective students can compare schools by MBA graduates' salaries and by which industries hired alumni and they can filter schools by geography. Every MBA program has a page highlighting the school-specific data collected by Bloomberg Businessweek, including the climate for women and traditionally underrepresented groups.
COMPONENT INDEXES
In addition to the overall ranking, schools are separately ranked on four component indexes — compensation, networking, learning, and entrepreneurship — providing students more ways to evaluate what schools have to offer them.
UC Davis MBA Ranking in the Four Indexes
Compensation         No. 43
Learning                   No. 56
Networking              No. 50
Entrepreneurship    No. 37
Overall                     No. 42
RECENT RANKINGS
The Bloomberg Businessweek Best B-Schools comes a week after The Economist's 2019 Which MBA? ranked the UC Davis Full-Time MBA also at No. 42 in the U.S. The Economist also ranked the UC Davis MBA faculty quality at No. 4 in the world.
MORE INFORMATION
MEDIA CONTACT