UC Davis Full-Time MBA in Top 40 in U.S. and Top 50 Globally in Businessweek Ranking
Top 10 in U.S. for Curriculum/Teaching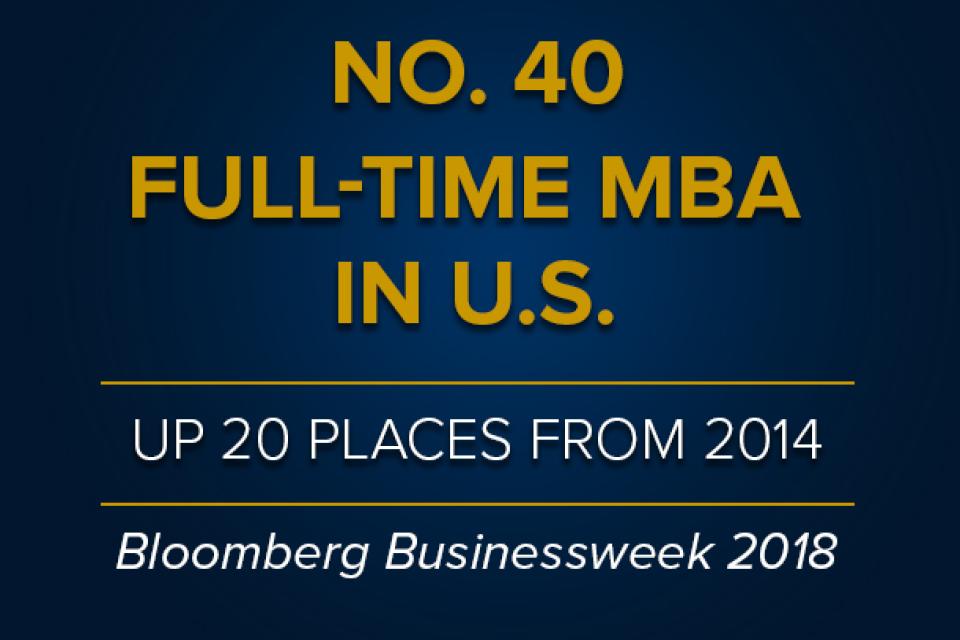 (Davis, Calif.) — Bloomberg Businessweek's 2018 Best Business Schools ranks the UC Davis Full-Time MBA among the top programs in the U.S. and globally.
Overall, the UC Davis Full-Time MBA program is No. 40 in the nation, up 20 spots from No. 60 the last time the program was ranked in 2014. And, the UC Davis program ranks No. 47 globally in Bloomberg Businessweek's international MBA ranking.
UC Davis ranks among the top 20 full-time MBA programs at public universities, at No. 19.
"This Bloomberg Businessweek ranking comes on the heels of our substantial move up in the recent Economist Which MBA? global list. Together the recognition reflects the quality of our MBA experience, alumni success and our collaborative community spirit," said Dean H. Rao Unnava.
Based on input from participating business schools, Bloomberg Businessweek's newly designed methodology created four weighted indexes that make up the heart of the 2018 rankings: Compensation (38.5 percent), Learning (23.1 percent), Networking (27.9 percent) and Entrepreneurship (10.5 percent). Each school is ranked in order for each index, as well as in the overall rankings.
Top 10 in U.S. for Curriculum/Teaching
The UC Davis MBA is ranked No. 9 in Bloomberg Businessweek's "Learning" category, which reflects our curriculum and teaching environment.
Bloomberg Businessweek describes the Learning ranking as: "For the schools' core mission, we explore the quality, depth and range of instruction. We focus on whether the curriculum is applicable to real-world business situations; the degree of emphasis on innovation, problem-solving, and strategic thinking; the level of inspiration and support from instructors; class size; and collaboration."
UC Davis MBA Ranking in the Four Indexes:
| | |
| --- | --- |
| Compensation | No. 46 |
| Learning | No. 9 |
| Networking  | No. 46 |
| Entrepreneurship | No. 30 |
| Overall | No. 40 |

Bloomberg Businessweek surveyed 10,473 students, up 11 percent from 2017. A total of 15,050 alumni took its survey, an increase of more than 50 percent. And the number of surveys completed by participating employers who recruit at business schools surged more than fivefold, to 3,698.
Bloomberg ranked 124 business schools around the world, 93 in the U.S., based on self-reported employment reports and surveys sent to three key stakeholders: graduating students, relatively recent alumni and employers. Programs can be located anywhere in the world, but classes must be taught primarily in English.
As part of the new design, meant to make customization easy, prospective students can compare schools by MBA graduates' salaries and by which industries hired alumni and to filter school choices by geography. Every MBA program has a page highlighting the school-specific data collected by Bloomberg Businessweek, including the climate for women and traditionally underrepresented groups.
Bloomberg Businessweek also provides on-the-ground commentary for each school from 25,503 student and alumni responses, applying an algorithm to deliver the most representative comments — a supplement to the metric-based rankings.
In addition to the ranking of U.S. schools, Bloomberg Businessweek will publish a global ranking on Dec. 11, 2018, that will be sortable by region.
The Bloomberg Businessweek Best B-Schools comes two weeks after The Economist's 2018 Which MBA? ranked the UC Davis Full-Time MBA at No. 54 globally, a jump of nearly 30 spots versus the previous year. The Economist also ranked the UC Davis MBA faculty quality at No. 8 in the world.
More Information
Media Contact