UC Davis Graduate School of Management Extends Accreditation from AACSB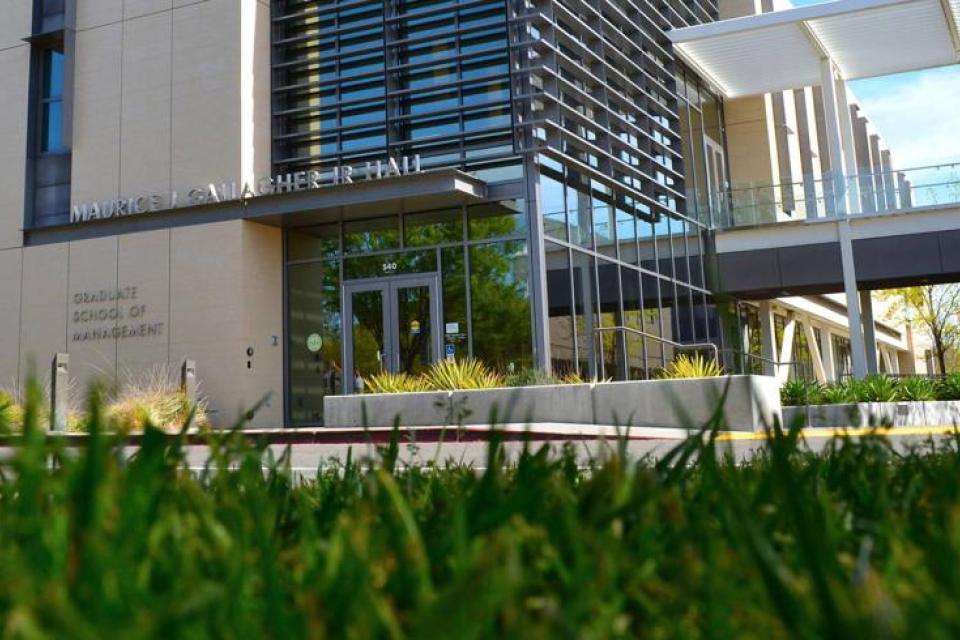 AACSB International reaffirms the high quality, pursuit of excellence and continuous improvement of our business programs.
The UC Davis Graduate School of Management has extended its accreditation in business from AACSB International, the world's largest business education alliance.
Synonymous with the highest standards of excellence since 1916, AACSB provides quality assurance, business education intelligence, and learning and development services to over 1,700 member organizations and more than 840 accredited business schools worldwide.

AACSB-accredited schools have the highest-caliber instructors, and offer the leading-edge courses and programs that businesses look for when hiring the leaders they need.
 The AACSB International Board of Directors on April 15 ratified the Graduate School of Management's extended accreditation. AACSB member schools are reevaluated every five years based on a set of rigorous criteria and standards and coordinating peer reviews and consultation.
"We're pleased to receive news of our re-accreditation from AACSB," said Dean H. Rao Unnava. "It reflects the quality of our staff and faculty both in terms of our research and the educational experience. Throughout the review process, the AACSB team was very complimentary of several things happening at each of our locations."
"AACSB congratulates each institution on their achievement," said Stephanie M. Bryant, executive vice president and chief accreditation officer of AACSB. "Every AACSB-accredited school has demonstrated a focus on excellence in all areas, including teaching, research, curriculum development, and student learning. The intense peer-review process exemplifies their commitment to quality business education."
About the UC Davis Graduate School of Management
The Graduate School of Management is consistently ranked among the premier business schools in the United States and internationally. U.S. News & World Report's most recent ranking places UC Davis among the top 50 full-time M.B.A. programs for the 25th consecutive year.
The School's interactive and collaborative learning environment is distinguished by globally-visible faculty members—ranked No. 4 in quality worldwide by the Economist—renowned for their research and teaching, entrepreneurial students and a bold and innovative MBA curriculum that integrates teamwork, responsible business leadership and sustainability.
Full-Time MBA alumni rate the program among the best in the world for their "education emphasizing innovation and creativity," according to a 2019 Bloomberg Businessweek's global survey.
With prime locations in Northern California's economic hubs, the school offers Full-Time MBA and Master of Professional Accountancy programs at the UC Davis campus, and Part-Time programs in Sacramento and the San Francisco Bay Area, and a Master of Science in Business Analytics program in San Francisco. The School also offers undergraduate minors in Accounting and Technology Management.
Media Contacts
Tim Akin, Graduate School of Management, (530) 752-7362, tmakin@ucdavis.edu