Steps to Living in the Quintessential College Town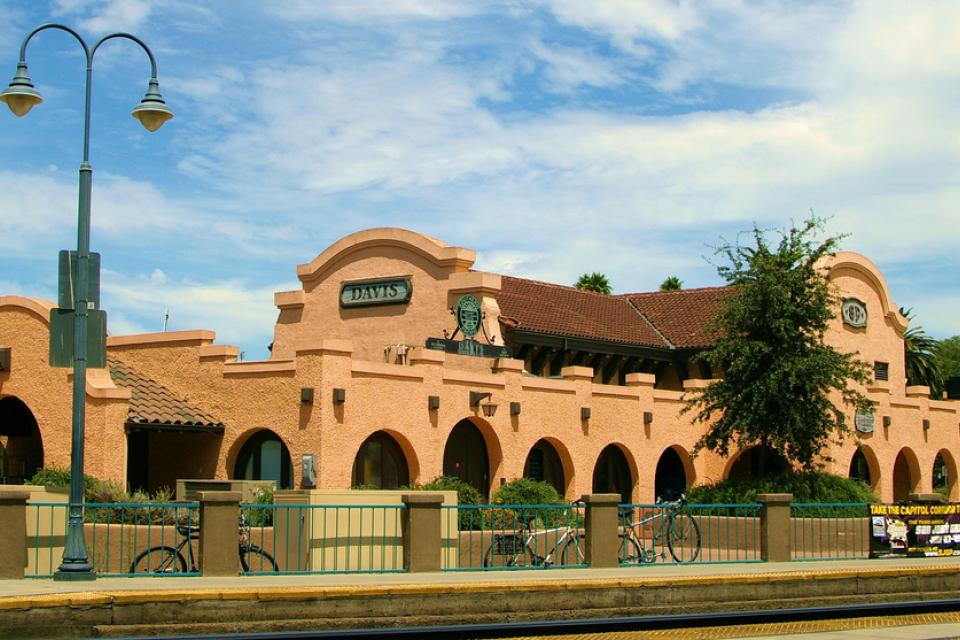 Few places match UC Davis' central location, lifestyle and opportunities in the economic and entrepreneurial heart of California.
UC Davis' prime location on the corridor linking Sacramento, the state capital, and the San Francisco Bay Area creates endless opportunities. You'll have quick access to established Fortune 500 firms, the global technology industry, Pacific Rim trade, new startups and a financial ecosystem of venture capital and international banking. You'll benefit from our connections and networks in Silicon Valley—and in the Sacramento region, where progressive energy and climate change policy is rippling well beyond the world's fifth-largest economy and home to one of the nation's top clean-tech hubs.
Transportation
From the Airport
From San Francisco International Airport to Davis
Davis Airporter Service will meet your flight, deliver you to the address in Davis that you request, and allow extra baggage. To make a reservation click here or call (530) 756-6715. When you arrive at the airport, call the Davis Airporter toll-free number (800) 565-5153.
SuperShuttle provides service from airports in Sacramento, San Francisco and Oakland, among other locations.
Amtrak provides bus and train transportation between the San Francisco Airport and Davis. You may take the Bay Area Rapid Transit (BART) to get from the San Francisco airport to the Amtrak station. Contact BART at (510) 465-2278.
Transportation Network Companies
From Sacramento International Airport to Davis
Yolobus Line #42 leaves the Sacramento Airport every hour at 20 minutes after the hour between 5 a.m. and 10 p.m. It arrives at the Memorial Union on the UC Davis Campus about 45 minutes later. No reservations are required. Although inexpensive ($2.25 per person), this bus will not deliver you to a specific address in Davis and may not have space for extra luggage .It has four stops in Davis at various locations, on campus.
Davis Airporter Service will meet your flight, deliver you to the address in Davis that you request, and allow extra baggage. To make a reservation click here or call (530) 756-6715. When you arrive at the airport, call the Davis Airporter toll free number (800) 565-5153.
Taxi service is also available at the airport, at a cost of approximately $70-100.
Local Transportation
Bike
Think of Davis, and you'll probably think of bicycles. A bike is the quickest, easiest and cheapest way to get around on campus and in town. A helmet, a good U-lock and a California bike license are essential. Bike licenses are available at taps.ucdavis.edu.
Bus
The Associated Students of UC Davis and the City of Davis operate an extensive network of buses throughout campus and the city. For information, visit the Unitrans website at unitrans.ucdavis.edu. The YoloBus transportation district extends from Sacramento, Davis and Woodland for more extensive travel needs.
Car
You can purchase a permit for on-campus parking through Traffic and Parking Services (TAPS). For information, visit their website at taps.ucdavis.edu. Daily permits are available at vending machines around campus at a cost of $9, and 45-minute parking meters are available.
Car Rentals
Zipcar is an auto rental service that will rent for a few hours, a full day, or over the weekend. There are many convenient pick-up locations both on the UC Davis campus and in down town Davis.
IMPORTANT - International Students: Bring a certificate from your country's highway patrol or your insurance company with your accident/claims history. This document should be in English. It will be much easier to get this documentation prior to leaving your country.
Housing
Davis and the surrounding communities offer a range of housing. We encourage you to begin making your housing arrangements early. Most UC Davis students live off-campus, many within walking or biking distance of school. Public transportation to campus is available from many parts of Davis. On-campus apartments (very limited number available) frequently are rented by mid-April, and the most desirable off-campus housing options may be rented by mid-summer for the next academic year.
If you are able to visit Davis between April and June, we encourage you to spend a day or two meeting with realtors and seeing apartments.
Other contacts for housing information
The City of Davis
The City of Davis maintains over 400 acres of parks and greenbelts throughout the community where you can find 43 different play areas, 12 large reservable picnic areas and many smaller ones, 33 tennis courts, and many other amenities such as horse shoe pits, disc golf, basketball courts, exercise courses, and much more. Four pool complexes provide opportunities for recreational swimming, lap swimming, and swim classes. Community buildings have rooms available for rental, for events both large and small.
Local Highlights
Your graduate experience is enhanced by being part of the University of California, Davis, one of the world's leading research universities. UC Davis is recognized globally for its expertise in the converging issues of food, water, health, society, energy and the environment. Since the university's founding, faculty and students have worked across disciplines to generate new discoveries. Today this collaborative culture flourishes, fostering an academic environment dedicated to solving the world's most critical challenges. The Graduate School of Management is an active partner, collaborating and serving as a catalyst to accelerate technology transfer and commercialization. This thriving campus also provides activities and events outside of the classroom, including:
Shopping 
Groceries
Home Furnishings
Clothing
Arden Fair Mall in Sacramento is about a 30-minute Drive east of Davis.
Premium Outlets in Vacaville is a 20-minute Drive west of Davis.
TJ Maxx and Target are on 2nd Street in Davis near the Mace Boulevard intersection.
Weaveworks Inc. recycled fashion for men and women in business.
There are also many boutique stores in Downtown Davis.
Explore Northern California
San Francisco
Fourth most populous city in California and the 12th most populous city in the United States, it is the financial, cultural, and transportation center of the larger Bay Area, a region of 7.4 million people and a stone's throw from Silicon Valley, worldwide hub of innovation and entrepreneurship.
Sacramento
One of the most historic cities in California, Sacramento boasts an impressive array of landmarks, parks, amenities and other must-see points of interest. Here you'll find a handful of our most iconic features to the City. One feature you should not miss is the California State Capital. 
Sonoma & Napa Valley
An hour's drive to the northwest, these regions boast some of the world's best wineries.
Lake Tahoe and the ski slopes of the Sierra Nevada
Two hours to the east, home to a number of ski resorts, summer outdoor recreation, and tourist attractions.
Pacific Ocean and beaches
Spectacular views are accentuated by pristine beaches and waves crashing on a rugged coastline.
Yosemite
Just four hours away, Yosemite National Park is internationally recognized for its spectacular granite cliffs, waterfalls, clear streams, Giant Sequoia groves, and biological diversity and a favorite destination for hiking, camping, rock climbing and biking.