Executive-in-Residence, Spring 2004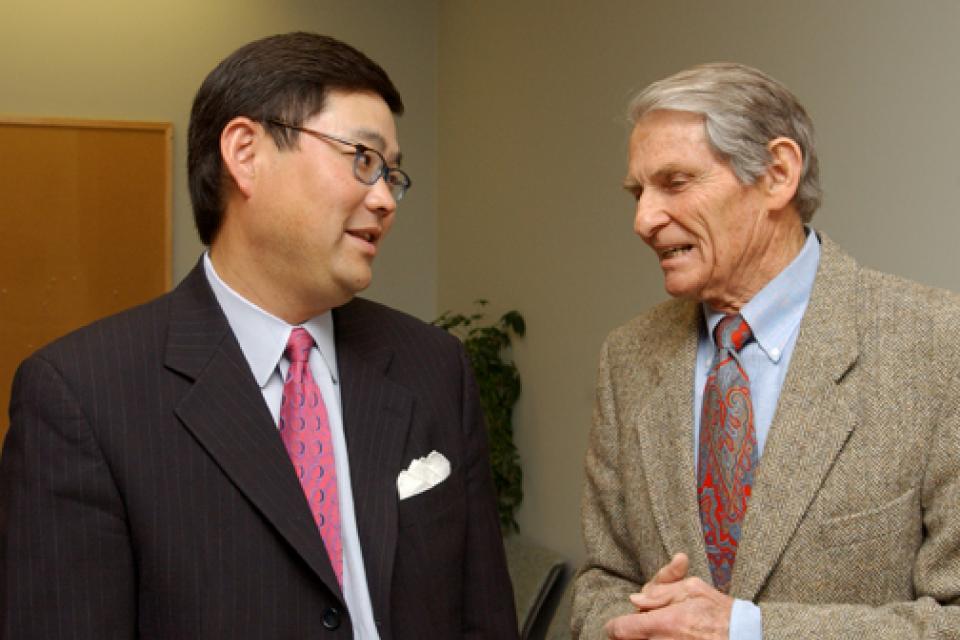 Lon S. Hatamiya, 2004 Executive-in-ResidenceLon Shoso Hatamiya joined LECG, an international expert consulting firm, as a director in January, 2004, after a distinguished career in both public service and the private sector.
Before joining the firm, Hatamiya served as secretary of the California Technology, Trade and Commerce Agency, the state's primary promoter of economic development, job creation and business retention. His long and distinguished career in both public service and the private sector helped make him Governor Gray Davis' nominee for the post in January 1999. He served until the end of November 2003.
Hatamiya was the first Asian Pacific American to hold a cabinet-level position in California state history. As secretary, he advised Governor Gray Davis on all matters related to commerce and trade, while serving as the voice of California business within the state Cabinet. In addition, he directed numerous programs that stimulated economic activity for international trade and investment, small business, rural development, tourism, manufacturing, entertainment, and an array of other California-based industries.

Additionally, under Hatamiya's leadership, the agency added a Division of Science, Technology, and Innovation, designed to ensure that California remains the leader in the research, development and commercialization of new technologies.
Before his tenure as secretary of the California Technology, Trade and Commerce Agency, Hatamiya served as administrator for the Foreign Agricultural Service in the United States Department of Agriculture (USDA). While there he led a worldwide agency that promotes the growth of exports of American agricultural, fish and forest products. He also oversaw the USDA's obligations concerning international trade agreements, negotiations and trade policy development. Hatamiya served as administrator of the Agricultural Marketing Service (AMS) of USDA from 1993 to 1997, where he was responsible for more than 50 federal programs. During his tenure, AMS received two "Hammer Awards" from the National Performance Review. The awards recognize increased efficiency and cost savings within a federal government program.
In addition to his experience in public service, Hatamiya was also the founder and president of an international management-consulting firm, practiced law for a national law firm, and worked for both the Procter and Gamble Company in Cincinnati, Ohio, and the Sony Corporation in Tokyo, Japan.
In 1991, Hatamiya was selected for the California Agriculture Leadership Program, comprised of the top leaders in California agriculture. He has previously served on the California Rural Economic Development Infrastructure Panel, and the Boards of Directors of Planned Parenthood (Sacramento Valley chapter) and the Marysville chapter of the Japanese American Citizens League (JACL).
He is past president of the Sacramento Chapter of the JACL, where he was recognized for his long-term work to obtain reparations for Japanese Americans interned during World War II.
Hatamiya graduated from Harvard University with a bachelor's degree in Economics. He earned his MBA in International Business and Entrepreneurial Studies from the Anderson Graduate School of Business at the University of California, Los Angeles, and his juris doctorate from the UCLA School of Law. He resides in Davis, California, with his wife Nancy and their two sons.