Advice from the Cloud: MSBA Alum's Path to Amazon Web Services
Lesson learned: "Be patient. You have to wait for the sweet spot."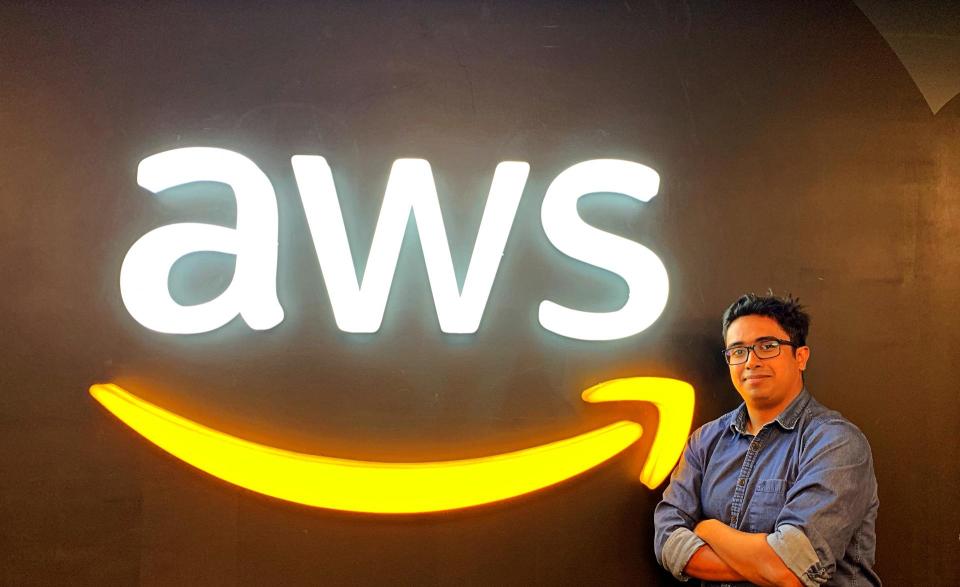 Now an analyst at one of the world's largest public companies, alumnus Abhinav Chatterji MSBA 19 took time to chat with us about his new role at Amazon Web Services (AWS), his advice for graduating students and lessons learned from his job search.
A graduate of the Indian Institute of Technology, Chatterji joined the UC Davis Master of Science in Business Analytics program after working as a product analyst and research associate for a pair of analytics companies in India, including Ola Cabs, one of the country's premier ride-sharing companies.
He parlayed his work experience, MSBA education and connections to land a position with the AWS team spread between the Seattle-based online retailer and tech giant's operations in Washington, Texas and New York. He joined the executive marketing team working to help Amazon market their cloud computing products in new geographies.
"I'm excited to be working with a new venture at Amazon to help analyze the impact of marketing at multiple levels."
Five Key Questions For Abhinav ChatterjI
What has this whirlwind of the past year been like for you?
When I came to UC Davis to start the MSBA program in 2018, it was my first time outside of India. So like most people, I was pretty nervous, knowing no one here. It was a turbulent start, but the team at the UC Davis Graduate School of Management was very supportive. They took care of us even before we started classes, which was incredible.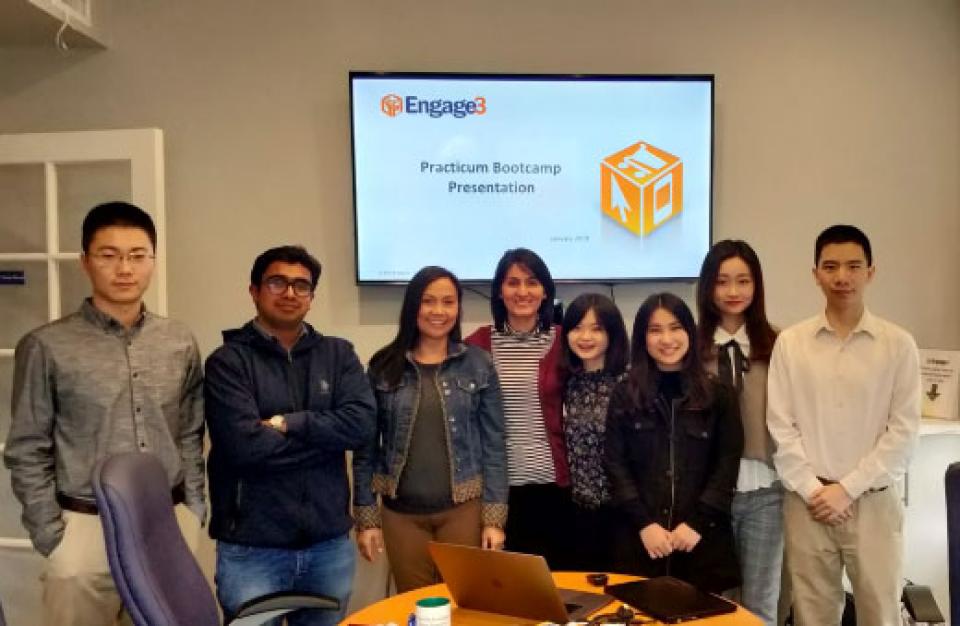 Within a week at the San Francisco campus, I knew I made an amazing choice. My classmates and I met our professors and the staff. We knew we were in good hands. On top of that, my fellow 2019 students were amazing—we bonded at a packed schedule of events, hung out together and studied hard. So with the help of the professors and the supportive environment, my time here turned out to be much smoother than I expected.
What brought you to UC Davis? What stood out as a key factor?
I was originally attracted to the program's year-long practicum team project,  which was like no other project I've ever completed before.
Your team receives a clean dataset from the client company, and you know that if your output is x then you are correct, but if you do all the math and get y then you're not right, and you can go back and start over. You look at the data, you talk to the client and you understand what it is they need—and what's feasible during the year-long project.
The second biggest reason I chose the UC Davis program involved people-management skills. I had never had the opportunity to lead a team in my previous experience. This was the perfect place to build those skills. I talked about that in my job interviews.
"This program really helps you grow, in terms of personality and how you describe your skills in interviews. I got a lot of questions about my experience leading teams, so I'm very happy I got to do that during the practicum project."
What advice would you offer this year's graduating class?
Understandably, everyone wants a job offer in hand by the time they graduate. That was my goal. So I sent out two or three applications from mid-December to January, but I was quickly rejected.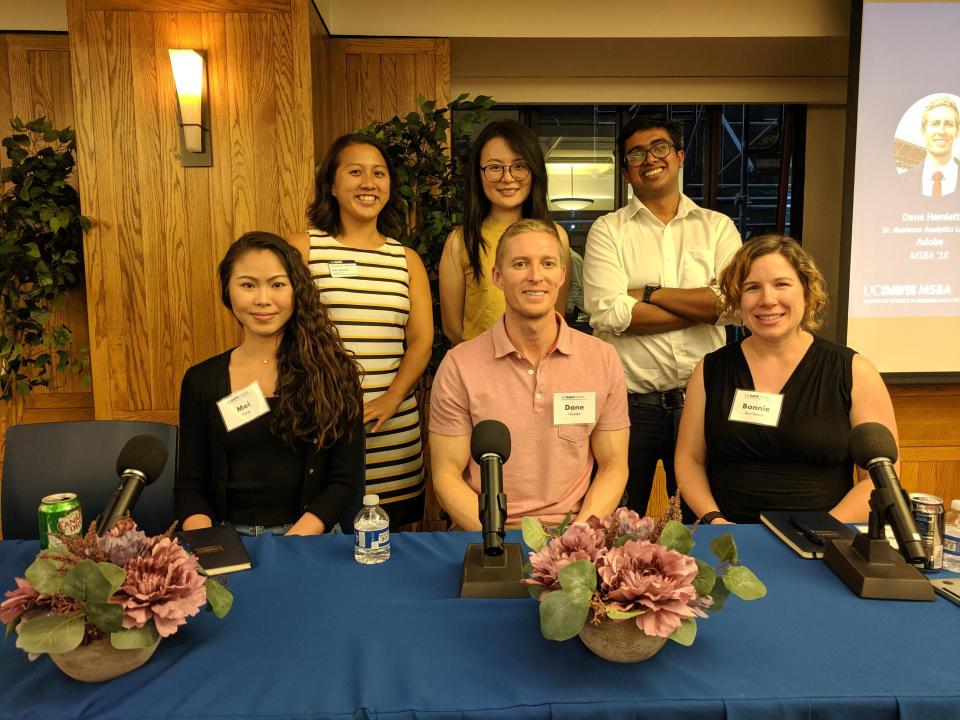 I decided at that point that I should switch gears and focus on my interview prep. During April, I picked my job search back up, but I still got rejections. What was holding me back was the timing. Most of these companies have candidates who are ready to join right away, or in a month. I still had three more months in the program. Students should realize that regardless of their skills, most companies won't wait for you, especially in the San Francisco Bay Area and Silicon Valley
I got rejected from positions that I was referred, and referrals go a long way. But even with that added help, you should be ready to be rejected. Understand that these hiring managers have many constraints, and it might not be anything you did specifically that disqualified you.
My search started paying off towards the end of May. I had interviews with notable companies like Visa and Amazon. I felt good about them, and I was delighted to join AWS.
Be patient. You have to wait for the sweet spot. The job market can flip in a matter of weeks. You can go from no offers to having multiple offers and being able to pick the best fit for you. Just stick with it.
Do you have any tips for MSBA students to maximize their experience?
Go to as many meet-ups and events as possible. Get to know as many people as you can and build up your network. Maybe if you reignite relationships with people you knew from earlier, they could pay off with recommendations or advice to help you in your career.
 
Certifications are also important. Once you graduate from the MSBA program, some things are taken for granted by employers. You'll learn data visualization, machine learning, so you won't need to get certified for those categories separately. Your degree speaks for itself. But if you're the type that doesn't have experience working with Tableau, for example, then a certification will help convince your interviewers of your skills. I'm partial, but AWS certification is a good idea. Since industry is moving towards cloud computing, this certification will set you apart from other candidates.
 
Collaborate with your peers. After going through 5-10 interviews, you'll notice that the questions are fairly repetitive. Your colleagues will have the same experience, so take the time to listen to their stories, and learn from their mistakes. In turn, share your insights with them. After all, the whole is greater than the sum of its parts.
 
Build your profile. You can use your codes on GitHub to impress recruiters. And, you can add experience to your resume by taking assignments and studies and turning them into something that you can use tomorrow to land a job.
 
Keep updating your resume and LinkedIn profile. Do it every two months or so. Stay on top of your new skills and experiences, and you'll be doing the groundwork for tomorrow.
What advice do you have for prospective students?
Data analytics is everywhere now. For those joining the program, be sure that this is what you really want to do. Not just because it's the sexiest job today, but because this really drives and motivates you.
Also, recruiters tend to notice specializations. Once you are in the analytics world, try to establish your niche in a preferred field. This will also help you in your job search because you can narrow your search to fields applicable to your skills. Find what interests you and seek out internships or experience in that sector or industry.