Lauren Davis Works and Plays Hard with Heart and Passion
Sports and Marketing Interests Lead to Internship at Adidas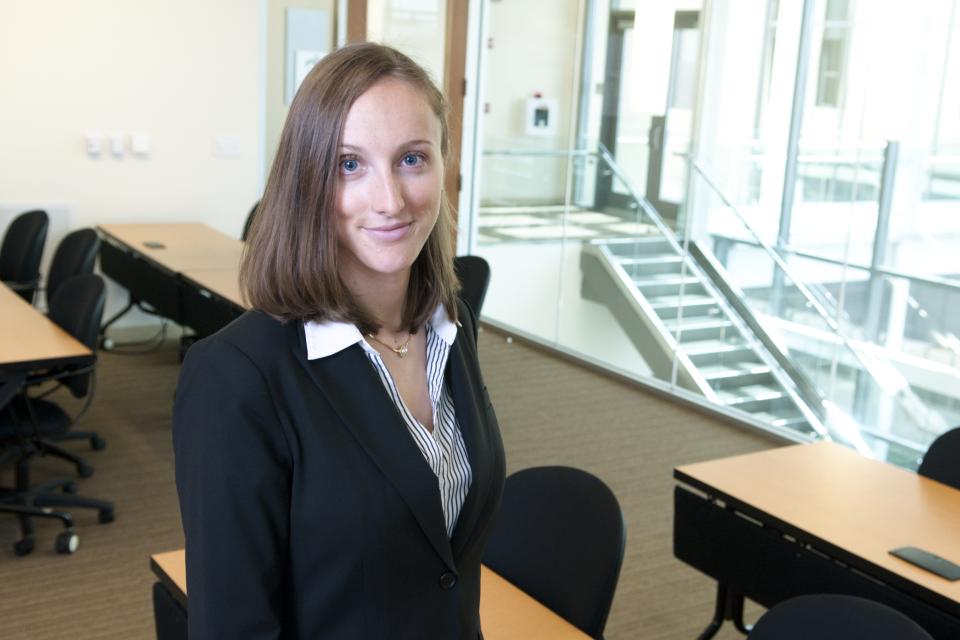 Like a hard, game-winning spike that leaves a big impression, Lauren Davis has never forgotten the inspiring words of her junior high school club volleyball coach. "He said, 'play with heart.' Everything you do in life should be done with passion."
With that in mind, Davis has hit the ground running as a full-time MBA student. She's found a new interest in marketing and new business development after a successful career in financial services.
Davis' experience as a scholar-athlete in high school and college, and her passion for high-intensity sports, has rubbed off on her business interests. She plays basketball, beach volleyball and enjoys rock climbing.
And while training for a half marathon this summer, she is interning in the marketing group at the Portland, Ore., headquarters of Adidas, one of the world's leading sports brands, focusing on Adidas' women's line. It's a perfect fit, as she grew up wearing the company's athletic gear.
Her interest in marketing comes after three years charting courses for client investments through the turbulent waters of the global financial crisis. As a registered associate at Morgan Stanley Smith Barney in Pleasanton, Calif., Davis helped manage and transfer more than $100 million in assets for high-net-worth individuals. Her team oversaw more than $200 million in assets. During the economic downturn, Davis worked with many retirees and those close to retiring, helping them manage annuities, bonds, equities and other assets.
At Morgan Stanley Smith Barney, Davis passed the Series 7 and Series 63 exams to earn registration with the Financial Industry Regulatory Authority, allowing her to make stock trades.
"That was why I became interested in financial services," she says. "I like working with clients and helping to grow their portfolio. It's about building relationships and hopefully having a positive effect on clients' lives."
While earning her bachelor's degree in business administration with an emphasis in international business at Loyola Marymount University in Los Angeles, Davis learned the ropes of financial planning and wealth management during two summer internships at Morgan Stanley and Smith Barney before the companies merged.
She also earned a certification in coaching high school girls' volleyball. "It's great to have the ability to positively influence and inspire young girls," she says.
Davis played club volleyball in junior high and high school. Her team, Golden Bear Volleyball, competed in the Junior Olympics in Salt Lake City. "To reach that point where you're at the absolute top of your game is an incredible experience," she says. "You can push yourself as far as you want to go."
She's doing just that at the Graduate School of Management, where she appreciates the close-knit community. She's also honing her leadership skills as vice president of communications for the Marketing Association and as an MBA Ambassador, sharing her positive experience with prospective students.
"I chose UC Davis for a reason," she says. "I'd like to share that enthusiasm and excitement, and encourage others to do the same."