Former Forensic Anthropologist Now Studies Customer Clues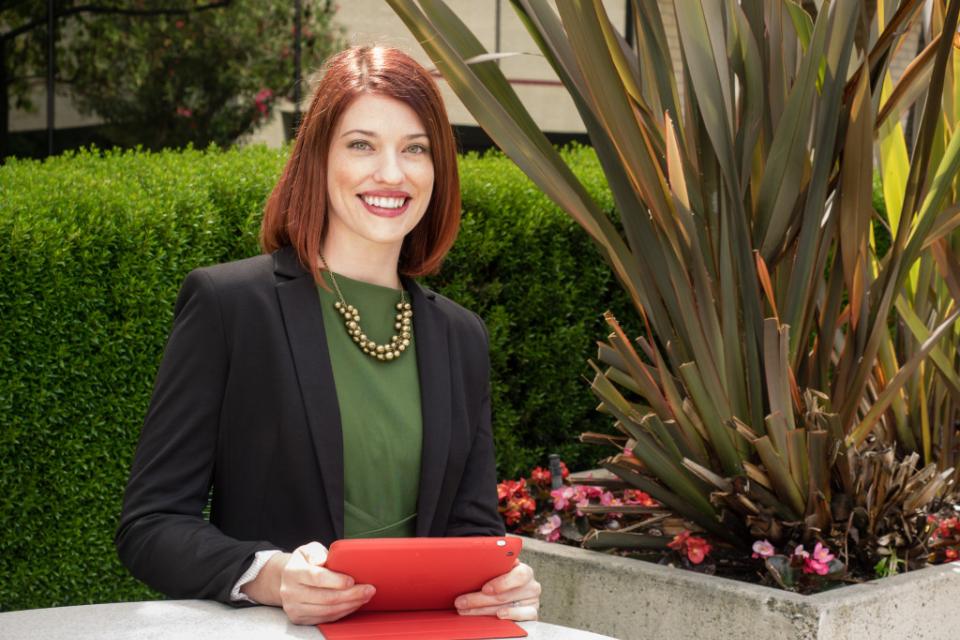 Giving back is at the top of Melinda Ornburg's priority list. In her previous career studying to be a forensic anthropologist, Ornburg MBA 16 spent her working hours dissecting human skeletons during an internship at the Los Angeles County Coroner's office, trying to piece together accidental and violent deaths.
The work, she says, was about giving closure to families.
At the time, she was enrolled in a master's degree program in forensic anthropology at Cal State Los Angeles. Her post-graduate goal was to work at a coroner's office. When the 2008 recession hit, opportunities dried up as local governments froze hiring. She decided to pursue a career with more stability.
Coincidentally during graduate school, Ornburg's stepfather, a general contractor, was working on a building for a forensic engineering company, which recreates accident scenes. He thought she might like working there with her forensics background. Ornburg got a part-time office job and within four months was promoted to a marketing position. She was hooked.
"It's like detective work"
Ornburg says that marketing and forensic anthropology have a lot in common. "A lot of the marketing I like reminds me of forensic anthropology," she says. "In forensic anthropology, you're trying to solve this case and it's like a puzzle that you have to come at from different angles.
"With marketing you're trying to attract customers. You can do it in a number of different ways. You have to be strategic about it and you have to be constantly thinking as the customer. It's like detective work."
Ornburg loved marketing so much, she decided to make it her career. However, most of the position descriptions she might consider in five or 10 years said "MBA required." With that in mind, she kept adding marketing, sales and other business positions to her resume, including a sales job at Google Inc. and an account manager role at Forrester Research. Then it was time to apply to the Bay Area MBA program.
She chose the Graduate School of Management in part, she says, because of the students. When she visited the campus, she talked to an MBA student ambassador.
"I enjoyed how open and collaborative everyone seemed," she says. She is now vice president of operations for the Bay Area MBA Ambassador program. "I wanted to make sure I was also giving back to future students since that experience really impacted my decision" to attend.
Taking It To The Max
Ornburg has already reached one of her career goals. She wanted to jump into marketing right after graduating but only after a year into the program she had a great opportunity.
She began working at ServiceMax, a Pleasanton-based software start-up that caters to the field service industry. With her MBA degree, she was promoted to senior manager for a newly created strategic project management office, reporting directly to the chief operating officer. The ServiceMax software helps clients dispatch technicians for vending machines or medical devices and to schedule preventative maintenance appointments, for example. Recently, ServiceMax was acquired by GE Digital and Ornburg has been helping with the integration. 
Ornburg leveraged the School's network to land the job, learning about it from a classmate whose wife worked at ServiceMax and was looking to hire in marketing.
To Ornburg, it is important to work for a company whose values she shares. "I liked that one of the values at ServiceMax is to be courageous," she says. "I think that that's so important now, where everything happens in a minute and things can go viral immediately. That might make people more hesitant to take risks."
"A big value of mine is to help other people grow, whether that's being around to listen or mentoring them."
The MBA, she says, will help her live out another value.
Juggling school and a full-time job has its own challenges, but she has an inspiration: her mother, who worked and raised her and her younger brother. "She never gave up," she says. "That was inspiring and helps me stay strong."
Ornburg says she's been working since age 14. "I think because of that I wasn't always able to spend as much time as I would want to focus on one thing at a time," she says. "That's made me able to multitask, to focus on school and work. I value having the opportunity to directly apply what I am learning about in class to my job."