MSBA Alumna Liz Liu Tackles COVID-Age Job Market
Detailing strategies during the pandemic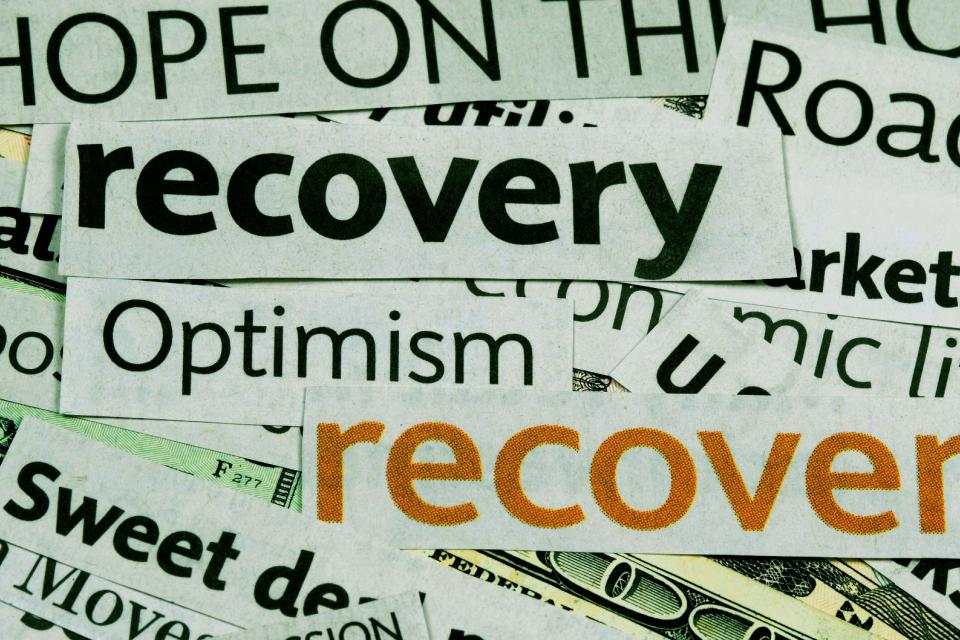 As unemployment ramped up to record levels during the coronavirus outbreak, UC Davis M.S. in Business Analytics alumna Liz Liu found herself looking for her next opportunity during a difficult time. She preserved in short order thanks to her determination, skills and network.
After graduating in 2019, Liu joined Macy's e-commerce team as a product analyst in the retail giant's San Francisco tech office. Yet, just as the pandemic hit the U.S. hard, Macy's closed the office.
Liu unexpectedly needed to update her resume and launch a new job search.
Image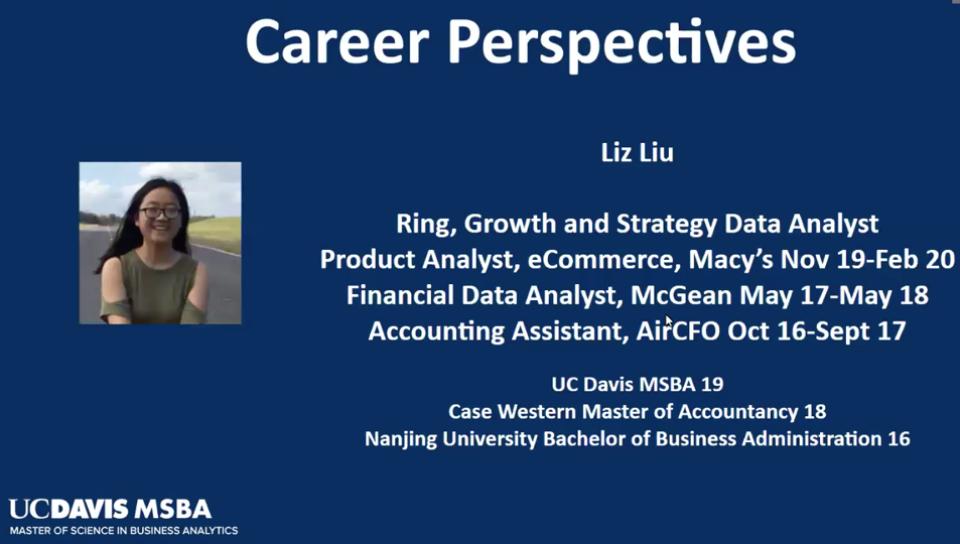 Within just a few weeks, Liu's outreach paid off big with offers from both Tesla and Ring, an Amazon company. She's now a data analyst in growth and strategy in Amazon's Ring office in Los Angeles.
Rewind to 2019
Liu recently shared her job-hunting advice and experience with MSBA students via a live Zoom session.
Three months before graduation, Liu began by searching online career resources and job databases such as LinkedIn to research companies and opening. She applied to hundreds of posting and landed interviews with more than 40 companies.
"When I graduated from the UC Davis MSBA program last year, I applied to 500+ jobs before landing my first Data Analyst job @Macys," she recently posted to LinkedIn. "But looking back through the process I not only became more capable professionally but also gained a clearer idea of what interests me the most."
Although she already had a year of experience under her belt, Liu found she needed to better prepare and hone her personal story.
Image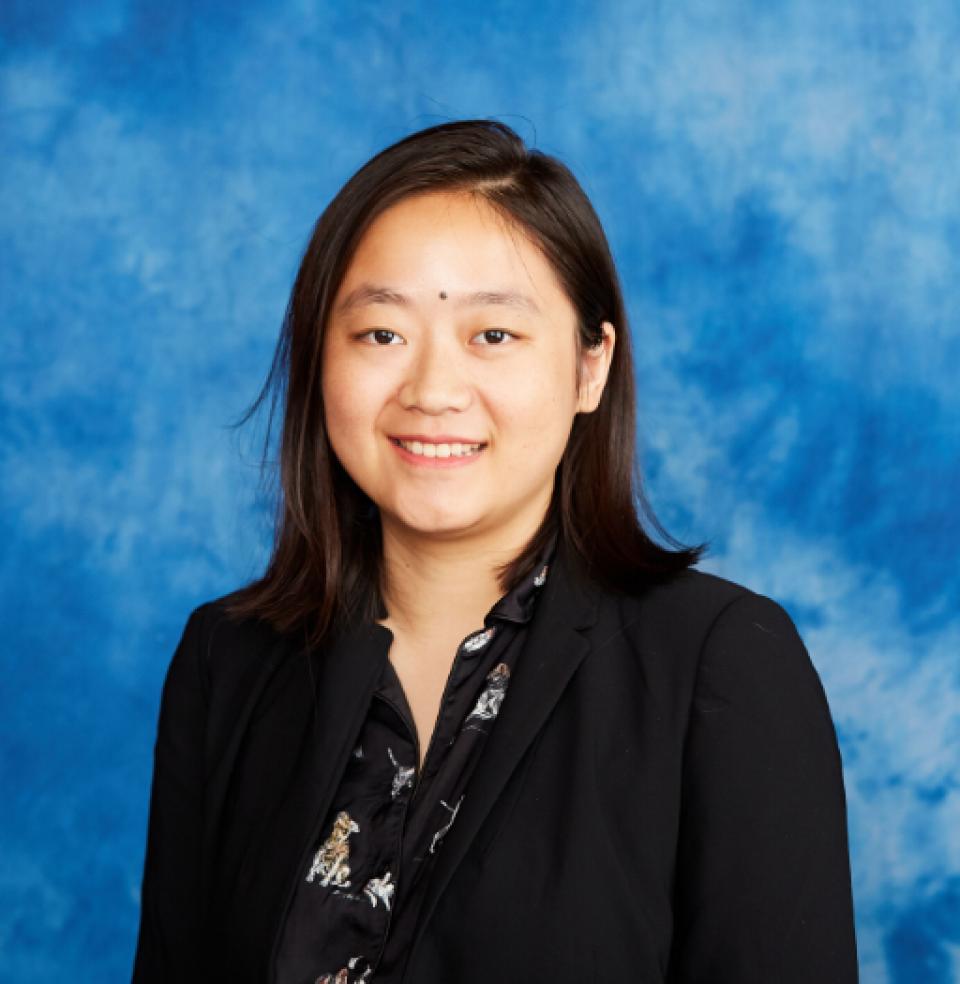 She told students her biggest challenge was tackling behavioral interviews. In the first round of interviews, she felt in retrospect that she sold herself short. She said she needed to spend more time relating her experience to the job qualifications.
She said a well-structured narrative keeps the interviewer engaged. Instead of describing your experience, highlight the impact you have made in situations or solving problems. She said to align this story to the company's field of business to stay relatable, and use real examples.
That helped her land the analyst role at Macy's, where she earned valuable on-the-job experience, and built a playbook to tackle the job market more efficiently in the future.
Job Market Playbook
"Don't put all your eggs in one basket," Liu suggested. "Always have two to three leads going at the same time and keep that flow going week to week."
Momentum plays a big role in self-confidence, so make a list of tasks you want to tackle in your career search and start checking boxes. That daily progress will pay dividends down the road.
Generating Job Leads
To build her career search strategy, Liu used these channels:
Career networking online and off-line (friends and family)
While building a network of professional colleagues is important, for those just beginning, why not start with those around you? Liu began with her classmates, knowing that they are in the same situation as she was. "I feel like helping them succeed is like helping myself," she said. "You are who you know. If you help people around you to be successful, one day they will help you back."
LinkedIn's newsfeed and professionals sharing opportunities
LinkedIn's platform provides a chance to follow job marketers and recruiters, see their postings and apply to jobs that interest you. It may take some searching, but utilizing the platform to the fullest can lead to new connections and possible career opportunities.
Talking with alumni from interesting companies
Making cold calls can be intimidating. Liu recalls spending days polishing her message to potential connections, but she realizes now she hadn't figured out the process properly then. She says these consultations are two-sided relationships, "You're not asking for help. You're just bridging a gap so they can see you and you can see them." And that's the right mindset when asking for LinkedIn referrals.
Recruiters, past and present
Recall if you received emails from recruiters during any of your previous job application cycles. If you did, ask if they can help you again, or see if they have any new openings. You could also try seeking out a local recruiting agency to help with your search.
When Liu first began her career hunt three months before graduation, she broke it down into steps she could research and practice.
Her key interview tips:
1. Discussing Resumes
Talk clearly about your technical skills in your resume and the impact of each project you have worked on. The goal is to shape it into a story that can help your interviewer's company.
2. Behavioral Questions
​Most interviews contain questions to access your fit within teams. For example, 14 Amazon Leadership Principles.
3. Case Questions
​While case questions vary between roles and industries, it's important to prepare the right structure for your interview. Books such as Victor Cheng's Look Over My Shoulder can be helpful in this process.
4. Technical Components
If you are applying for analytical roles, you should be prepared for questions about statistics and machine learning. This includes understanding concepts such as the central limit theorem, and knowing the pros and cons behind using specific models for varying situations. A/B testing is another common category interviewers utilize. Interviewees are often asked to design an experiment, identify key metrics and the sample size, before interpreting results, and finalizing an answer or decision.
The Differentiator
With so much competition in the market right now and suffocating external factors, one key question remains for those few companies still hiring: What sets you apart from other candidates?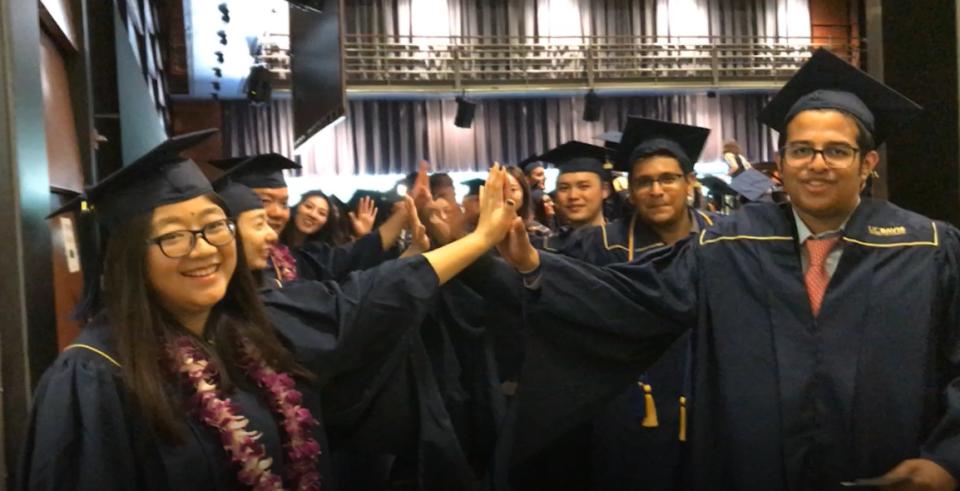 Liu advised students to recognize employable traits and improve those. In her search, she noticed candidates are either very technical or very good at communication, but few can do both. She realized that her strength was her balance of both technical skills and communication. She is able to tackle all the top SQL questions while also succeeding at the storytelling side of data analytics.
Getting Started
While some companies have cut staff or frozen hiring due to the pandemic and shelter in place orders, many others are unaffected and even growing. Liu suggests candidates research which industries are thriving right now, and begin their search in those area, focusing on what they can offer during these difficult times.