UC Davis MBA Tips for Applicants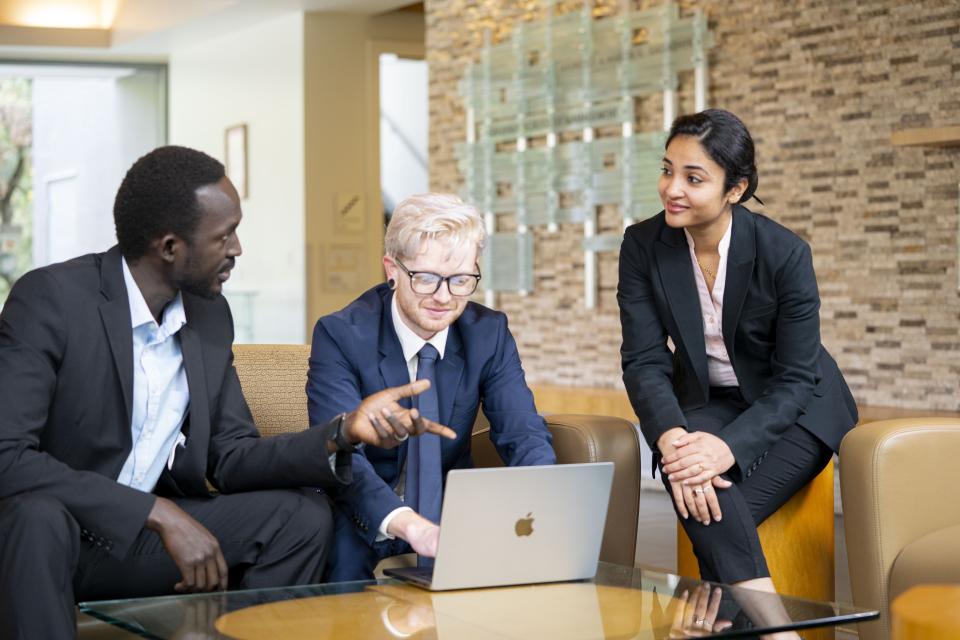 We've gathered the best application tips from our UC Davis MBA Admissions team and assembled them here. We review each MBA candidate individually and holistically. We consider academic and professional potential and personal qualities.
For more information on the full application requirements for each MBA program, please visit:
The Application
Requirement Summary: Complete all data fields on the application form
Tips:
Use your legal name to apply.
Submit your application before the round deadline to have priority.
Professional Resume
Requirement Summary: Submit a resume or curriculum vitae (CV) to showcase your employment history.
Tips:
1) Work History
Highlight your basic information including employer's names, your job titles, work locations and employment periods.
It's best to include a brief summary or bullet points of your key responsibilities and accomplishments. If applicable, include your leadership experience. A good resume helps our admissions team understand your career progression and accomplishments.
Update your resume with the most current employment information. If you are currently unemployed, or likely will change jobs soon, address that in the resume, personal insight questions or interview.
Include a one or two-sentence description of the company or organization if the company name does not indicate the industry you've worked in.
If you are doing multiple jobs in the same period, an explanation is helpful.
2) Education History
List only the schools where you have earned bachelors or graduate degrees.
List honors, awards or recognitions received.
3) Professional Credential
List any professional credentials, such as Certified Public Accountant, Certified Financial Analyst, Project Management Professional (PMP) Certification or Six Sigma Certification.
4) Length
We recommend a one or two-page resume or CV.
Personal Insight Questions
Requirement Summary:
Candidates are asked to complete four required personal insight questions. If applicable, you will be asked to submit an additional personal insight question addressing GPA less than 3.0, academic discipline/probation/dismissal/suspension, unemployment, or other necessary topics.
Tips:
Personal insight questions are an important piece of your application that helps the committee understand your career inspirations, development plans and goals. It is not an essay about your work history.
The personal insight questions give the committee an opportunity to understand you better. Share any expertise or extracurricular activities that are unique about you. Our admissions team strives to build a diverse class, and we are interested in reading about what makes you distinctive.
We're looking for honest, thoughtful responses that help us get to know you; there truly is no one "right" answer to our MBA essay questions. While you should answer each question thoroughly, you should not exceed the specified lengths.
Official Transcripts
Requirement Summary: We require unofficial transcripts from all institutions you have attended, whether or not you have earned a degree. If you are admitted to the program, you will need to submit official transcripts before the registration for the first quarter courses for your acceptance to be finalized.
Tips:
We can evaluate your application with unofficial transcripts, but the copy submitted should include the following minimum information: name of the institutions, degree conferral information, cumulative GPA, course grades and your degree concentration.
You may share transcripts electronically if your institution offers this service.
For international applicants, if degree conferral information is not on your transcript, please be sure to submit a copy of your diploma.
Professional Recommendations
Requirement Summary: Applicants should submit two recommendations from individuals who can comment objectively about their professional qualifications, ideally from current or recent managers.
Help them help you. Provide your recommenders with summary information to help them form a recommendation. Key information should include your performance, potential, communication style, personal qualities, as well as constructive feedback the recommender has given to you.
Tips:
Strategically select your recommenders based on the following: professional, substance and familiarity. We want to see recommendations from those who are familiar with you, and who can comment objectively about your experience and achievements. Their title does not necessarily impact the recommendation.
If a recommendation from your current manager is not best suited for your situation, consider previous managers. However, it is best if the person can comment on your most recent qualifications.
Select and reach out to the recommenders early in your application process so they can plan accordingly.
Professional recommendation letters from professors are typically not recommended. Exclusions apply if you are a new graduate and have worked with the professor in a significant way. 
We do not recommend asking family members, friends or acquaintances for recommendations. These will detract from your overall application.
Be sure to review the recommendation area of the application. You can request a professional recommendation through the application portal via email.
Test Scores
Requirement Summary: Scores from either the GRE or the GMAT are required as part of your application.
Tips:
A strong GMAT or GRE score can display academic readiness, verbal and quantitative agility, which is especially key if you did not have an outstanding undergraduate GPA.
We evaluate applicants on more than just test scores. GMAT waivers are available. Visit the application requirements page of your program to learn more. 
Interviews
Requirement Summary: Following your application submission, we will invite you to a personal interview if you meet the minimum requirements.
Tips:
While preparing for the interview, structure your thoughts and develop your elevator pitch. It is not time to read your resume. You will want to offer details on your roles and achievements, as well as your career aspirations.
Please also be ready to discuss any areas of concern you would like to address in your application. 
This is an opportunity to show us your personality, professionalism, and communication style.
Dress appropriately. Business or business casual is highly recommended.
If your interview is conducted via Zoom, be sure to display an appropriate background
Practice and be comfortable with the camera. Note that the interview may be recorded and viewed by the admissions committee at a later time.
Be punctual.
Additional common mistakes to avoid:
Inconsistencies throughout your application.
Confusing information. Be clear and concise.
Typos and errors, including incorrect or misspelled school names.
Finally, when preparing your documents for upload in the application portal, we recommend submitting PDFs.
We hope these basic tips are helpful in completing your application submission. For more information, please contact us.