Sonic Prabhudesai Named Alumni Association's 2023 Rising Star
Marketing and analytics strategist at Meta wins award for early career and volunteerism impact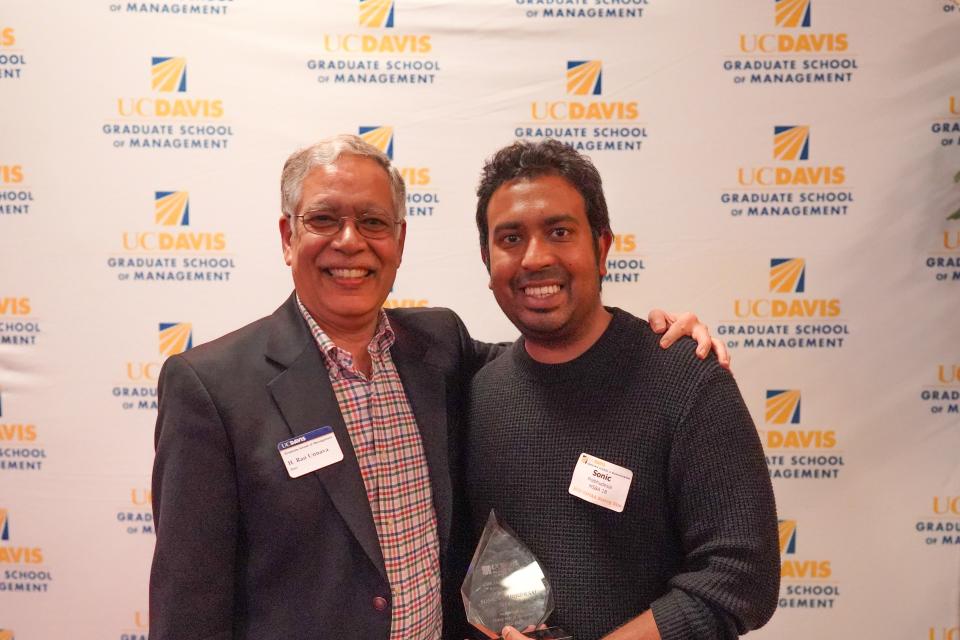 By Sarah Colwell
Sonic Prabhudesai MSBA 18 is accustomed to being a leader of the pack.
He is a founder of India's first crowd-sourced magazine, was part of the inaugural class of the Master of Science in Business Analytics program, and is now working with some of the most sophisticated marketers in the world at Meta.
For his noteworthy contributions to his profession only a few years after graduation, as well as his commitment to giving back to the Graduate School of Management's community, Prabhudesai was named the recipient of the Alumni Association's 2023 Rising Star Award.
Image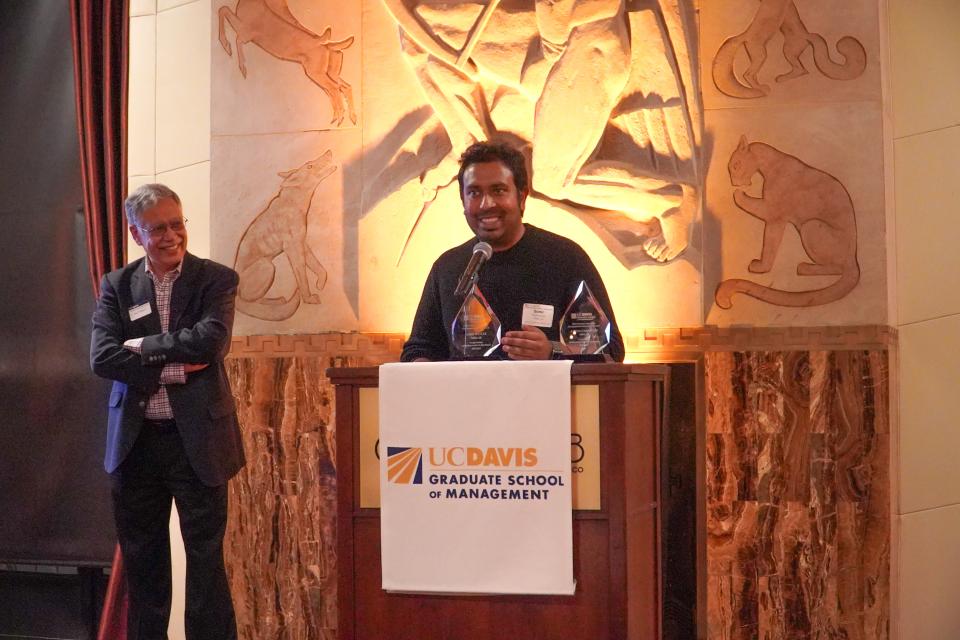 "Thank you to everyone and anyone who believed in me and thought that I was worthy of this award," he said. "My advice to anyone is, keep your head down, work hard and things will work out."
Prabhudesai ventured into the world of entrepreneurialism before he even graduated with his bachelor's degree from the BMS Institute of Technology and Management. In 2012 he co-founded Campus Dairies with the intent to give students from India and Pakistan a platform to express their opinions and connect through storytelling. It has since become India's largest youth expression platform with more than 100,000 users and it has become the highest circulation for a youth magazine in India.
Prabhudesai came to the UC Davis Graduate School of Management (GSM) in 2016 and since then has been an integral leader at the School.
As a student, he served on GSM's Directors Student Advisory Committee, helping organize meetups and lead the MSBA's hackathon with corporate sponsors. He also inspired philanthropic giving among his peers by making a lead class gift and inspiring nearly all his classmates to also make financial contributions to support GSM.
As an alumnus, Prabhudesai has played a key role in supporting every single graduating class after him, according to the MSBA Admissions staff.
"No orientation would be the same without Sonic coming by to share words of career wisdom, which usually includes the importance of giving to your network," said one person in his nomination packet. "He also helps with additional programming around interview preparation and other job interviewing tips."
Prabhudesai is also part of MSBA's newly revitalized industry advisory board, providing corporate insights and supporting initiatives for the School around careers, curriculum and community. Additionally, he often volunteers his time to help individual students with career advice and networking, which often results in job offers for other new MSBA alumni. His efforts have built a culture of giving back within MSBA that will last for years to come.
"Thanks to Sonic, there is a culture now of alumni adopting out the next generation of students," noted a comment in his nomination. "Sonic exemplifies this wonderful spirit of giving and investment in future generations." 
Prabhudesai added that it is because of MSBA alumni that the program is ranked No. 1 in the world globally.
"When I started the MSBA program we went from a 37-member cohort to now being over 100-member cohort and the No. 1 program in the world," he said. "I think it is because of the alumni. So, this award is also for all of you, for helping to make this program what it is today."
2023 Graduate School of Management Alumni Association Award Winners