Aaron Carpenter Recognized with Alumni Association's 2023 Distinguished Achievement Award
Global marketing expert honored for his leadership, work ethic and impact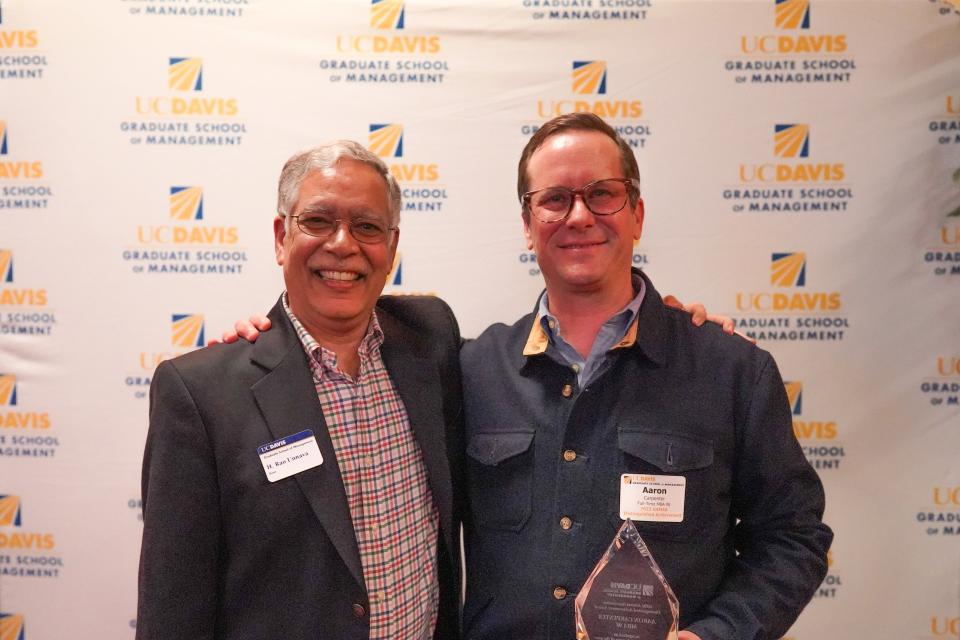 By Sarah Colwell
Aaron Carpenter MBA 98 has committed his career to using the marketing expertise he learned at UC Davis to grow multi-billion-dollar brands, to encourage people's love of adventure and the outdoors, and to personally give back to his alma mater. 
For his contributions to the industry and his commitment to philanthropy, Carpenter was named the recipient of the 2023 Distinguished Achievement Award from the UC Davis Graduate School of Management (GSM) Alumni Association. He was honored with the award at the Peer-to-Pier event in San Francisco in February, where the association recognized two other alumni awardees.
"The further that I get from my time at Graduate School of Management, the more I realize how much I learned and how much it helped me," Carpenter told the audience at Peer-to-Pier.
The Distinguished Achievement Award honors alumni who have a combination of significant achievements in their career and contributed or given back to the School. Candidates are judged on their leadership, work ethic, public service, the impact of their work, ability to overcome adversity and how they embody the values of the School.
Image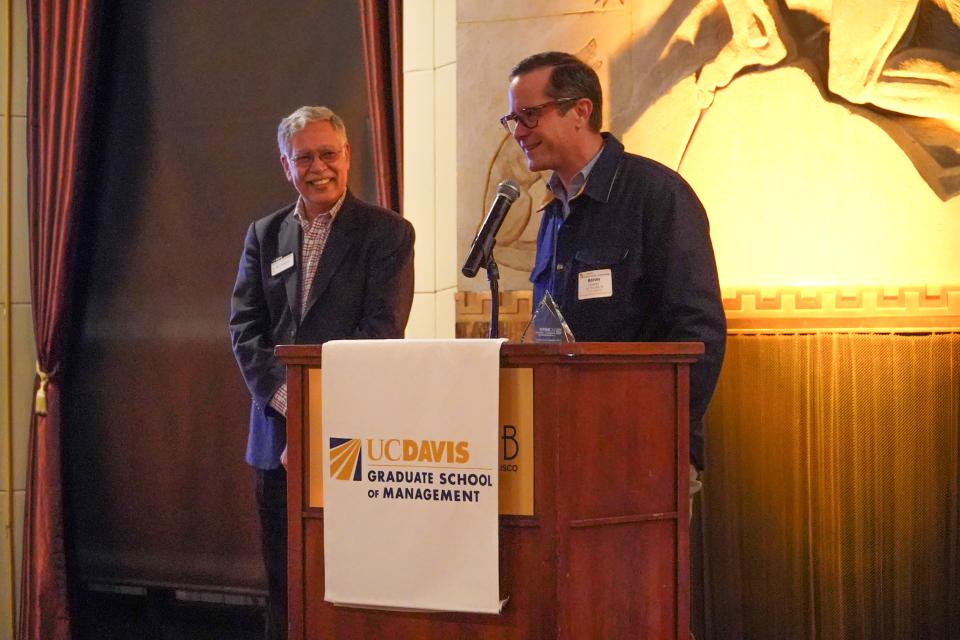 Giving Back While Building a Global Brand
Carpenter is a two-time UC Davis alumnus having earned bachelor's degrees in Russian and international studies in 1994. He enrolled in the Graduate School of Management's Full-Time MBA program in 1996 with a focus on international marketing.
After earning his MBA in 1998, the GSM helped connect Carpenter to the multi-billion-dollar international retailer, Levi Strauss, where Carpenter launched his successful career.
Carpenter started as an intern for Levi Strauss and worked his way up the ranks, eventually becoming the vice president of marketing, licensing and online sales for the globally recognized retailer. In that role, which he held for more than a decade, Carpenter launched the company's LS&Co. brand and grew it from zero to $250 million in annual revenue. It was during his time at Levi Strauss, that Carpenter says he learned from the Hass family the importance of giving back while building a global brand.
Carpenter has been generous with his time and financial support of GSM since graduating. He has been a guest speaker for various courses. He has been a panelist at School events such as Peer-to-Pier and guest speaker at other GSM events. He has worked with MBA students through Shadow Days, mock interviews and as a mentor. He hosted site visits at Levi Strauss and The North Face while also offering student internships.
MBA Launches Successful Career
As part of his acceptance speech, Carpenter shared how he immediately put the knowledge he gained during his GSM classes to use at Levi Strauss, noting the class of Prasad Naik and his lecture on regression analysis in marketing.
"I remember thinking at the time, 'when will I ever use this?' but sure enough, during my Levi internship one of the first things we did was discuss regression analysis to understand ROI marketing," Carpenter said to a chuckling crowd. "So, the stuff really does come into play."
After his time at Levi Strauss, Carpenter worked for The North Face where he led the company's marketing team into a digitally focused, global demand creation engine until 2015. He served as a key member of the executive team that grew The North Face from $1 billion to $2 billion in five years.
An Entrepreneur's Journey
In 2015, Carpenter started his entrepreneurial journey using his experience in digital marketing, global advertising development, in-store marketing, public relations, sports marketing and global market research to build several start-up businesses. He led all sales efforts for these ventures and closed multi-million-dollar deals with top-tier brands like Clif Bar, Timberland, Red Bull and others.
Carpenter is currently the CEO of ACV Consulting, which he started in May 2020. AVC Consulting specializes in supporting global lifestyle brands and startup ventures with agile, digitally driven marketing to fuel rapid e-commerce and omni-channel growth. Their clients include Camelbak, North Face, Timberland, Havaianas, Sea to Summit, Osprey Packs, West Marine and Everywhere.us. He has earned numerous national marketing and PR awards for his work.
Through it all, Carpenter says his GSM knowledge has seen him through.
"When you think about all the changes that happened since the late 1990s, especially in the Bay Area and Northern California, all the ups and downs, this stuff helps you. So, take advantage of it," he said of his GSM education. "It's a great place to be."
2023 Graduate School of Management Alumni Association Award Winners