UC Davis Full-Time MBA Ranks among Top 40 in U.S., M.S. in Business Analytics among Top 10 in U.S. and Top 25 Globally
The UC Davis Graduate School of Management's Full-Time MBA and Master of Science of Business Analytics (MSBA) programs are ranked among the best in the world by QS World University Rankings, released on September 24, 2018.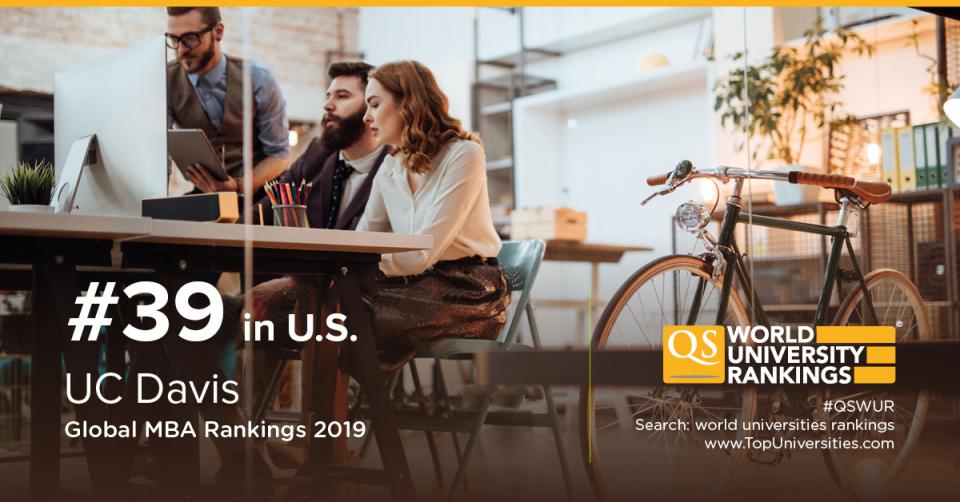 In the QS Global MBA Rankings 2019, the UC Davis Full-Time MBA is ranked:
81st globally overall
39th in U.S.
21st among U.S. public programs
29th in U.S. for employability of UC Davis MBAs
36th in U.S. for return on investment of the UC Davis MBA
QS highlighted the 251 best MBA programs in 37 countries, including 109 in the U.S.
The UC Davis MSBA program debuted at:
24th in the world overall
10th in U.S.
7th among U.S. public programs.
17th globally for employability of graduates
17th globally for value for the money of the degree
18th globally for diversity of students and faculty
The 2019 QS Business Analytics Rankings included 75 programs in 17 countries.
"The QS Global MBA and Master of Science in Business Analytics rankings reflect the high quality of our programs, students and faculty, both nationally and internationally," said Dean H. Rao Unnava. "While the methodologies of the many various media rankings differ substantially, as a whole, they consistently show that the UC Davis Graduate School of Management is among the best business schools in the world, known for our focus on preparing collaborative leaders who are ready to make a positive impact on the world."
QS rankings reflect the basis of five key indicators that programs were ranked on:  
Employability
Entrepreneurship and alumni outcomes
Return on investment
Thought leadership
Class and faculty diversity