Associated Students of Management (ASM)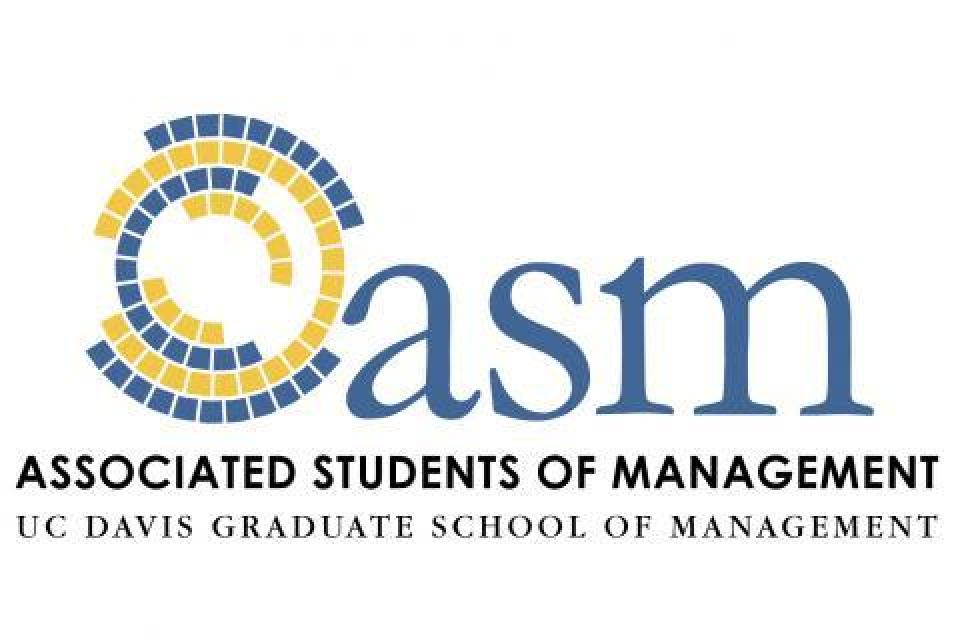 The Associated Students of Management represents the student voice and enriches the Graduate School of Management journey.
About our Club
Our Mission
The Associated Students of Management (ASM) enhances the value of the student experience at the UC Davis Graduate School of Management (GSM) by creating a connected and collaborative community that facilitates academic, social and professional growth.
The ASM provides a framework for connecting GSM students with each other—and with the administration, faculty and alumni.
Note: Students must be ASM members (pay a one-time membership fee) to run for club offices, including ASM, and to vote in ASM and club elections. Dues support the foundation of these student-run activities.
What We Do
Support new student orientation and events
Host The Big Party, the GSM's annual charity event
Meet weekly with GSM administration to voice student needs
Support all student clubs, including funding of club events. Click to view a list of current student clubs
Host GSM Thanksgiving dinner for students and their families
Host student feedback sessions and work with GSM administration to incorporate student feedback
Organize faculty presentations and class overviews before registration of each quarter
Co-host the end-of-year party for students, faculty and staff
And so much more!
Meet Our Board
Jonathan Pan
President

Jonathan Pan (he/him/his) is a 2021 MBA candidate with an interest in operations and marketing/communications in the food industry. He has a B.S. in neurobiology, physiology and behavior from UC Davis and as an undergraduate was involved in many communities. Previously, Pan worked in the hospitality industry, specializing in restaurant, bar and food outlet operations. He has experience working in management and leadership roles since his time in undergraduate studies. He has a passion for giving back to his community through volunteering as a musician, teacher, and advocate for wellness and the LGBTQ community. In his free time, he enjoys cooking up a storm in the kitchen, working out and catching up on RuPaul's Drag Race (still on Season 3...).

Carter Hafter
Vice President—External

Carter Hafter is a 2021 MBA candidate with an emphasis in finance and sustainability. In addition to his role with ASM, he serves as an executive member of the Net Impact Club. After graduating with a B.S. in environmental science from UC Davis, Hafter worked for several years in the renewable energy industry, specializing in commercial solar, EV charging and battery storage. He will spend his summer interning with Keysight Technologies, a global leader in providing technology solutions. Hafter's main goal upon graduation is continuing to work within the Green Economy, bridging the gap between economic growth and success with sustainable and environmentally healthy technologies.

Kalin Clark
Vice President—Internal

Kali Clark is a 2021 MBA candidate interested in marketing and business strategy. In addition to her role on ASM, she serves as co-president for the UC Davis Wine and Food Club. After graduating with a B.A. in psychology from Duke University, she remained at Duke to research human behavior as it relates to decision making. Clark later moved to Napa Valley to be closer to family and be in a faster-paced business environment. There, she spent over seven years in marketing and communications roles in the wine industry. She will be spending her summer in Bakersfield, Calif.,  interning for the Wonderful Company's strategy team. Outside the classroom, Kali enjoys being outdoors, especially while skiing, traveling and cooking.

Asha Candassamy
Director of Finance

Asha Candassamy is a 2021 MBA candidate interested in consumer technology and business analytics. After graduating from UP Technical University in India with an engineering degree in electronics and communication, she worked for a leading technology consulting firm in multiple capacities. Some of the key initiatives she led included new business development and expansion, digital transformation and cloud implementation for Fortune 500 healthcare companies. After a long stint at work, she decided to pursue an MBA to focus on her passion for consumer insights and product management. A movie buff, Candassamy also enjoys cooking, reading and playing board games.

Na Zuo
Director of Intercultural Collaboration

Na Zuo is a 2021 MBA candidate interested in marketing and merchandising. After graduating from the University of Washington with majors in economics and communications, she worked for Microsoft to launch Xbox One in China. Then she moved back to China to work for a retail startup and specialized in product localization and supply chain management. Zuo loves to make spicy food, hang out with friends and watch sports/movies.

Prerna Bajaj
Director of Marketing and Outreach

Prerna Bajaj is a 2021 MBA candidate interested in marketing and business analytics. After earning her computer science engineering degree from BMS College of Engineering, Bajaj worked for three years in a customer relations role for Sprinklr, a social-media management platform. She is passionate about helping businesses reach their full potential through building strong clientele relationships and offering a data-driven perspective. She believes that more women should be part of the corporate world and hopes she can inspire women in this journey. Bajaj is excited to take her experience and apply it to the position as the director of marketing and outreach with ASM. In her spare time, she enjoys dancing, cooking and painting.

Jordan Sellers
Director of Health and Wellness

Jordan Sellers is a 2021 MBA candidate specializing in marketing and strategy. He is focusing on
entrepreneurship and hopes to one day own a brewery. After graduating with a B.S. in game design from Rochester Institute of Technology, Sellers worked for an outdoor furniture manufacturer as a project manager, where he developed processes and systems in HR, safety and compliance. He lives an extremely active life. During his college years, he competed in track and field for RIT; he has since moved on to CrossFit and competitive weightlifting. Outside of the classroom, you can find Jordan at the ARC with a barbell in his hands, coaching track at the local high school, or singing karaoke at a downtown bar.

Stephen Perry
Director of Academic Relations

Stephen Perry is a 2021 MBA candidate with an emphasis on strategy and organizational behavior. In addition to his role on ASM, he serves as the assistant director and military lead for the UC Davis MBA Ambassadors and actively mentors student leaders enrolled in UC Davis' Reserve Officer Training Corp (ROTC). After graduating with a B.S. in agriculture business from Cal Poly, San Luis Obispo Perry entered active duty service as an army field artillery officer. He has spent the last nine years in the Army in a number of capacities and across the globe, and growing a family with his wife. Perry will spend his summer interning with the GSM. Outside of the classroom, Stephen is outdoors with his kids, working on his project car and spending time with extended family in Northern California.

Eugenia Wilson
Director of Career Services

Eugenia Wilson is a 2021 MBA candidate with a focus in finance and strategy. After earning her B.Sc. in psychology from McGill University, Wilson pursued business development in both the multinational and startup spaces. In addition to her role on ASM, she holds an internship with Venture Catalyst, where she helps university researchers commercialize their innovations and technologies. Through her role on ASM, Wilson seeks to further develop the relationship between career services and students. She enjoys doing Zoom workouts with friends (while stay-at-home closes her favorite yoga studio in Davis) and supporting the Washington Capitals.

KALINA SPRINGER
Director of Alumni Relations

Kalina Springer is a 2021 MBA candidate with a passion for net and social impact, female empowerment, animals and disability advocacy. She serves as co-president of Net Impact and vice president of Women in Leadership (WiL) at the GSM. She studied international business and German, and completed her senior capstone project on the Washington State agricultural supply chain. Springer came to Davis to explore the food and agriculture industry in California; prior to moving to Davis, she assisted consultants in leading operational and cultural transformations. She has been a graduate student instructor for elementary German and a teaching assistant for accounting and marketing classes at UC Davis. She will join Intel this summer as a technology change management intern in the Non-Volatile Memory Solutions Group (NSG). She loves baking, listening to audiobooks and coaching for Special Olympics, and is currently learning Chinese.
Club and Student Resources
The ASM aims to provide resources to help clubs in event, logistical and operational success, both internally and externally, at the GSM.
My UC Davis
MyUCDavis integrates several UC Davis web applications and online services into one convenient and secure location. After you log in, the system will recognize you as a student and present you with information, tools and resources of special relevance to your academic pursuit or job function.
Networking and Career Services Links
Main GSM Websites
Other Resources