Commencement 2022 Information for Guests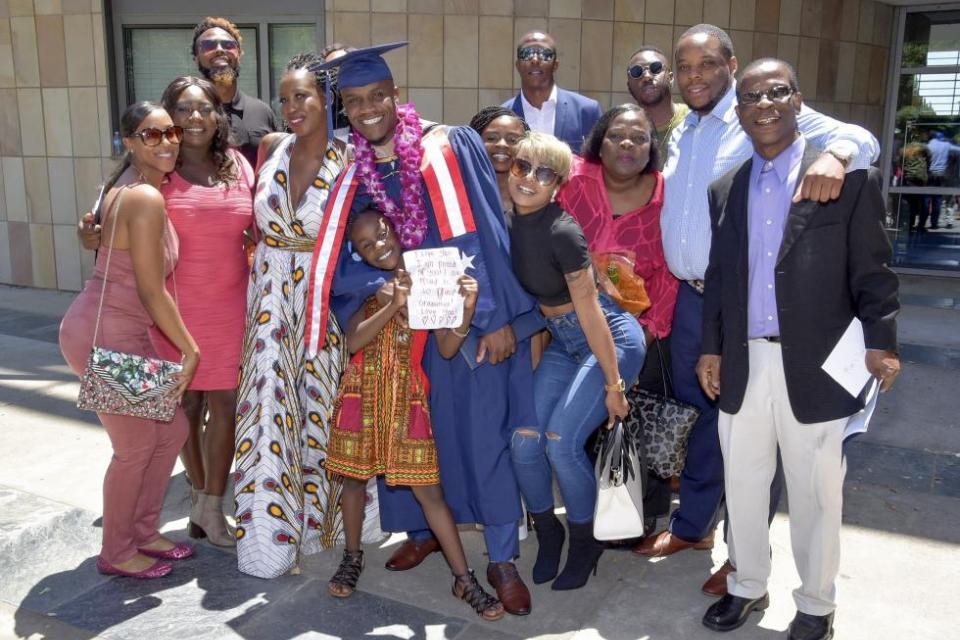 Tickets
Ticket information was shared directly with the candidates. Please reach out to your candidate to receive your ticket.
COVID-19
Guests WILL NOT be required to show proof of vaccination or a negative COVID test result. This guidance aligns with the California Department of Public Health for Mega events. Face coverings are strongly recommended indoors, and all are welcome to wear them. Visit the UC Davis Campus Ready information for visitors for more details. 
Parking
Lots 25, 35, and Pavilion Structure will be used for this event. Lots 40, 41, and 30 also are available. Parking is free. Directional signs reading "Commencement Parking" are placed at all entrances to the campus.
Photography
Photos can be taken from a guests seat or from the designated photo areas in the stands above the arena floor. Tripods are NOT allowed into the UCenter. Professional photographers will be taken of each candidate throughout the ceremony as they are hooded and walk off the stage. Photo stations will be available for friends and family to use with the candidates before and after the ceremony under the tent on Hutchison Field.
Overnight Accommodations, Restaurants and Fun
Make reservations early, especially if you prefer to stay in Davis, as local hotels will fill up fast. The same goes for some of the more upscale restaurants; save yourself the wait and make a reservation in advance. It is recommended that you celebrate with an early lunch before 2:00 p.m. or a late dinner after 6:00 p.m. Davis is located in Yolo County. Please see the Yolo County Visitors Bureau for a listing of hotels, restaurants, and more. Sacramento is the capital of California and is located twenty miles from Davis. Please see their visitors' guide for more information. 
Mobility and Accessibility
For guests who are attending commencement ceremonies in the Pavilion and who need mobility assistance, UC Davis offers mobility assistance golf carts for passenger pick up and drop off near the Pavilion Parking Structure ONLY. Guests will be picked up/dropped off at the tent situated on Hutchinson Field just to the west of the bike path. Golf carts will take guests across Hutchinson Field to and from the SW entrance of the UCenter. There is no mobility assistance pick up and drop off in Lot 25 due to pedestrian safety concerns with golf carts utilizing the same bike/pedestrian path.
For guests who will be arriving with walkers or wheelchairs, you and your accompanying adult may move along the bike/pedestrian path and use the SE UCenter Concourse entrance. The next closest entrance is the NE Concourse. Please note that entrances have ramps that must be traversed. Please note that UC Davis does not provide wheelchairs or walkers nor personnel to assist with wheelchair movement. Service Animals are allowed at commencement ceremonies. 
Doors open to the UCenter one hour before the ceremony start time. Special accommodation seating sections are available for guests with limited mobility or who use a wheelchair (who may also be accompanied by one other member of their party). UCenter staff can direct you to these sections. The limited mobility seating sections are located in Rows E & F in sections 207, 213, 220 and 226 for all ceremonies. The wheelchair-accessible sections and Special Assistance Seating are located on all four Concourse corners. The building elevator is located on the Concourse Level in the SW corner. Please plan to arrive at least one hour prior to the ceremony start time as mobility assistance and wheelchair accessible seating are on a first-come-first-serve basis.
For those guests with limited/no hearing attending commencement in the UCenter, assisted listening devices may be picked up in the UCenter Guest Services Center (located at the NE Lobby corner in the UCenter) and/or sign language interpretation can be arranged if requested prior the ceremony. 
For Your Safety
Although UC Davis does not anticipate any security problems during commencement, we take special measures to ensure the safety of students, faculty, and guests at our events. All bags will be checked prior to entering the Pavilion.
Please observe the following restrictions for all UC Davis commencement activities:
No firearms, explosives, or other weapons.
No drugs or alcohol are permitted.
Any person found to be intoxicated or carrying drugs or alcohol will be detained or escorted out.
No artificial noisemakers, air horns, or megaphones.
No large signs, flags, poles, banners, or laser pointers.
No animals -- except service dogs -- are allowed in the UCenter.
No large bags, backpacks, oversized purses, or items larger than 12" x 12".
Due to safety concerns, strollers and baby carriages are not allowed on the main floor.
All commencement venues have the authority to prohibit any other items deemed to be a security risk. In such cases, patrons will not be allowed to bring those items inside the event venues.
Gifts for Graduates
Flower sales will be located outside the U Center. Also, UC Davis Stores sell diploma frames, custom regalia (cap, hood, gown), and many other souvenirs. Please do not bring balloons, large signs, noisemakers, and/or other items that will obstruct viewing or be unpleasant for surrounding guests, please see a full listing of prohibited items above.