1992 to 2020: Reflection on Racism from a First-Gen Asian American
"I saw a beautiful sign that said 'Yellow Peril supports Black Power'"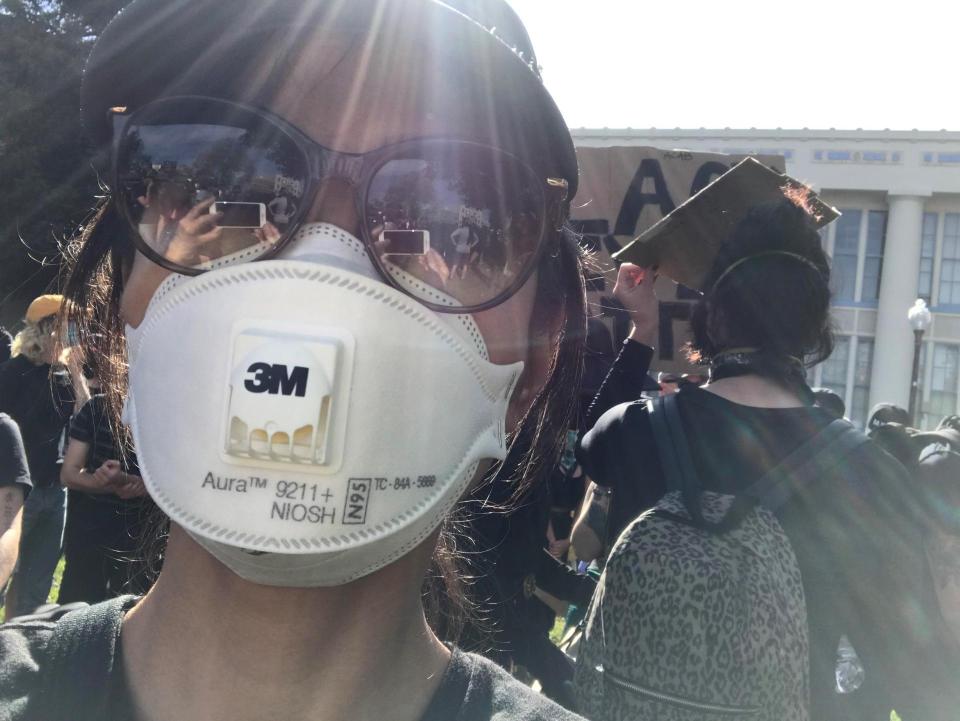 Dear UC Davis community, I've been energized and encouraged by the discussions that started at the Graduate School of Management in recent weeks to take actions together as a community to fight racism and inequality. In the spirit of nurturing more engagement, I would like to offer some personal reflections.
In early June, my teenage daughter and I participated in a peaceful protest in Oakland.
Although I was concerned about the risk of COVID-19, she urged me to take her, and after talking to other parents, I decided we would wear masks and participate. It was a huge crowd and we peacefully marched from Oakland Technical High School to Oakland Police Headquarters and City Hall.
This experience reminded me of my own college days and the 1992 Rodney King Los Angeles riots after the acquittal of four police officers. What I remember so vividly from the L.A. riots is the image of Korean American store owners protecting their stores from their rooftops with rifles, against (mostly Black) rioters.
That indelible image was confusing and painful for me to see as an international Asian student—two minority groups pitted against each other. That divisive narrative implied that as an Asian immigrant, I cannot credibly express support for Black protesters, while it also meant that doing so would be seen as disloyal to my Asian community.
Since I didn't feel I had a voice, I didn't belong in conversations about race.  And for 30 years I didn't know if I can say I'm a person of color without offending someone.
That was 1992. But in 2020, I saw a beautiful sign that said "Yellow Peril supports Black Power," with a tiger and a black panther intertwined like yin and yang.
How brilliant to use a xenophobic term (Yellow Peril) as a symbol of solidarity between peoples of color. It wasn't just Asians—there were Latinos 4 Black Lives, Doctors and Nurses 4 Black Lives, and Pastors 4 Black Lives. It was an organic, multiracial, civic coalition. 
Kudos to gen-Z and millennials leading this movement for elevating the language and vocabulary to talk about race in ways that my gen-X generation was not able to do. I appreciate that so much. I stand with those in the racial justice movement against the structural racism and xenophobia that try to divide us.
"I am a woman of color and an Asian 4 Black Lives."
As we at the GSM come together to implement our strategic vision for greater diversity and inclusion, let each of us bring solidarity and the willingness to learn to the table. Let us not be silenced by the fear of being judged, misunderstood, or cancelled, and instead understand that accepting the discomfort of being exposed to the unknown is part of our work.
I'm learning so much from listening to other people's lived experiences and perspectives, and that shines a light on my own experiences in ways that I had not realized before. I'm committed to invite anyone in our GSM community to join and be respected in this collective discussion.
Let this be a hard-won, clear-eyed process that creates a lasting impact on our culture so we can grow our organic, multiracial community of future business leaders.
Sincerely,
Ayako Yasuda
Professor Ayako Yasuda is a Professor of Finance at the GSM and teaches the Core Finance and the Tech Finance and Valuation in the MBA program.