Alumni Spotlight: Dominic Piombo MPAc 21
Assurance Associate, EY, San Francisco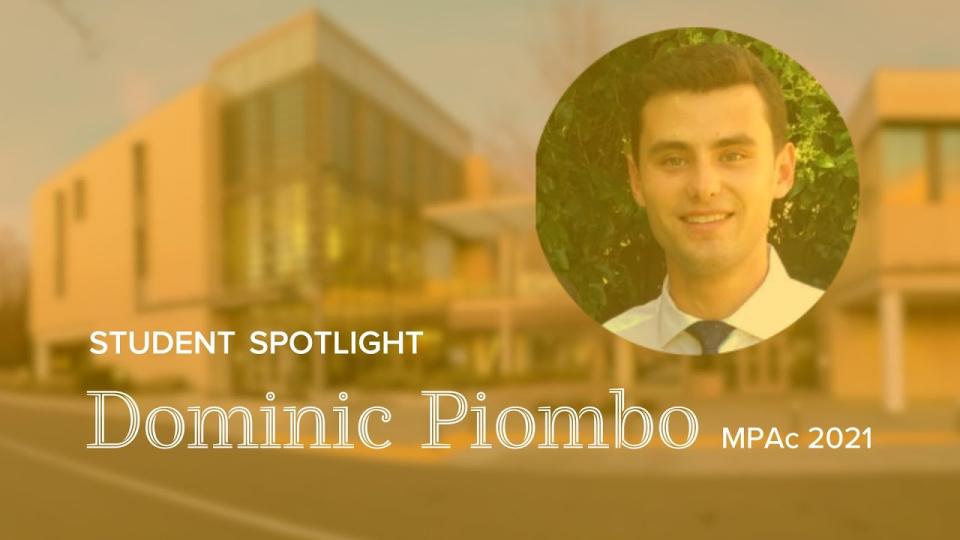 Why the UC Davis Graduate School of Management?
So when I started at Davis, I was actually an [economics] major, and I had taken a couple of accounting classes and they really interested me. Upon graduation, I knew I wanted to pursue some type of higher education.
Since learning more about the MPAc program, I couldn't find another program that had better job placement rates, coupled with how quick it could help me become CPA-eligible.
What leadership opportunities are you involved in?
The thing that I really like about the MPAc program is that it's super collaborative, in the fact that there's a lot of team exercises, which they do purposefully in order to prepare us for our careers.
I've captained the UC Davis lacrosse club on campus for a couple of years now and that's afforded me the opportunity to feel comfortable in groups along with making sure everyone is on the same page so we can get all the work we need to done.
Which professor has stood out to you?
I would say that professor Will [Snyder] has stood out the most to me, just because he's super great about checking in on us and our progress throughout this rigorous program.
I also really enjoyed the way he keeps his material fresh through throwing in personal anecdotes.
What advice do you have for students?
My advice for students coming in would be to definitely take advantage of all of the resources at your disposal.
The biggest thing is that everyone just wants to help and it's super important to navigate those resources to the best of your ability so that you can be successful in the program.
What are your plans?
After graduation, I'll be moving back to the Bay Area and starting with Ernst & Young (EY) in the fall as part of their San Francisco office doing audits. And I'm super excited to apply everything I've learned in the program to the real world.
(Editor's note: A double Aggie who earned his B.A. in economics 2020 and MPAc from UC Davis in 2021, Dominic continues as a Financial Services Organization assurance associate at EY in San Francisco.)