MPAc Job Placement Success: 100% Job Placement with Record Average Starting Salary
Entire Class of 2022 secured jobs within weeks of starting program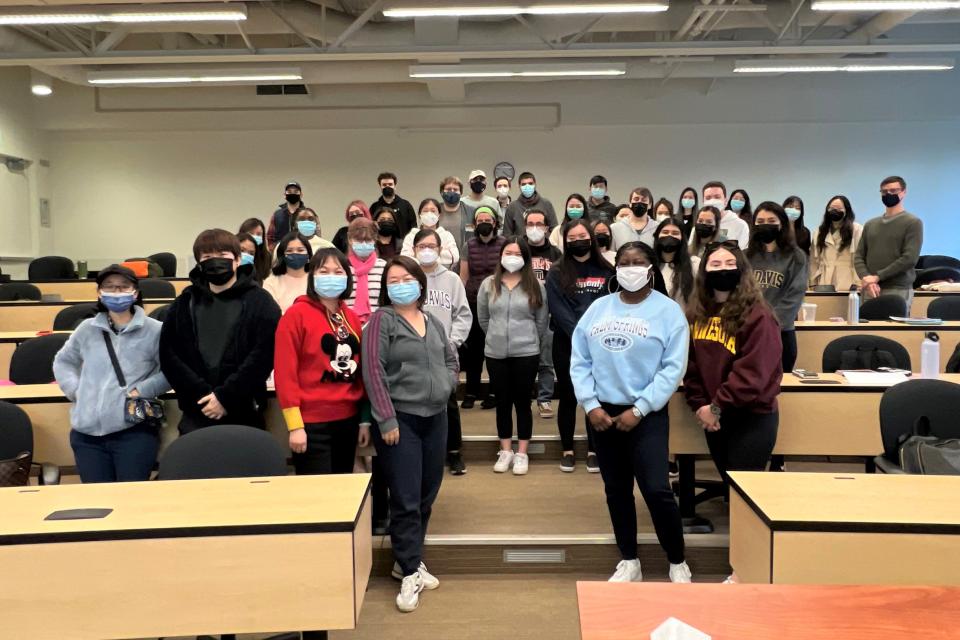 Even with the uncertainty of the economy and the shifting job landscape during the past few years, the demand for audit and tax professionals remains steady.
One of the most recession proof industries has led to numerous job offers for our 2022 Master of Professional Accountancy (MPAc) students.
Despite the ramifications of the ongoing pandemic, 100% of U.S. eligible MPAc students and 100% of all students (both U.S. and international), were placed in jobs prior to the end of the fall quarter during the 2021-2022 academic year. The average starting salary being more than $70,000.  Students were hired at large and small firms alike including Deloitte, PricewaterhouseCoopers, Ernst & Young, Campbell Taylor Washburn, and Moss Adams to name a few.
What our recent graduates are saying about their experience:
"The serenity and satisfaction of starting a new career is a very new feeling—a stark contrast to the anxiety and stress of 2020. Our MPAc class graduated in the midst of a global pandemic and political and social unrest. The year tested my resiliency as I started working from home, got furloughed, restarted work, studied hard and eventually passed all four CPA exams--and landed a promising career." — Smita Carvalho MPAc 20
"With corporate restructures, low-interest rates, and government support available for companies and individuals, there is a high demand for accountants to understand how to efficiently maneuver during these unpredictable times." — Oscar Halliwell MPAc 21
Two of the biggest benefits of the MPAc program factor into many firms' decisions to hire our students: our nine-month curriculum and the program's proven reputation.
"The firms trust in the quality of our program, and continue to recruit our students year after year. Our students are highly sought-after talent." — MPAc Executive Director Will Snyder (pictured above)
"Through MPAc I was offered a position at PricewaterhouseCoopers only a month after the school year began." — Amanda Weerasinghe MPAc 19
We actively begin to connect you with hiring firms during the first few months of the program through a career development-focused, interactive orientation and our exclusive "Meet the Firms" networking event. You'll connect with recruiters from local, regional and international accounting and finance firms.
Image

"During orientation, even before the program even started, we met with representatives from the Big Four firms (PWC, Deloitte, EY and KPMG) and many regional firms across Northern California. Interviews continued through the Thanksgiving holiday."
— Carl Stearne MPAc 20
"Two years after I graduated with a UC Davis Master of Professional Accountancy (MPAc) degree, I was working in the San Francisco Bay Area as a senior associate at KPMG—a Big Four accounting firm. Going to UC Davis helped me land that opportunity." — Daniella Smith MPAc 16
Finding the right career is also about discovering your passion. Our program is designed for both accounting and non-accounting majors, and we'll set you up on a path towards success.
"By stepping out of my comfort zone, I was able to find my purpose. I am confident that the MPAc program will help me reach my professional goals." — Anggie Claudia MPAc 20
"'Is there anything I can do… to prepare for the next recruiting cycle?' The result: I quickly began my application to the UC Davis Master of Professional Accountancy program to become a more competitive candidate. I also began reaching out to my extended network seeking any entry points into PwC. Ultimately, my determination paid off. I accepted an internship with the firm in the line of service I wanted." — Courtney Schulze MPAc 19
As MPAc students work their way through the winter quarter, they have one thing less on their plate knowing they have a job waiting for them once they graduate.