Alumni Video Spotlight: Robin Greenspan MBA 17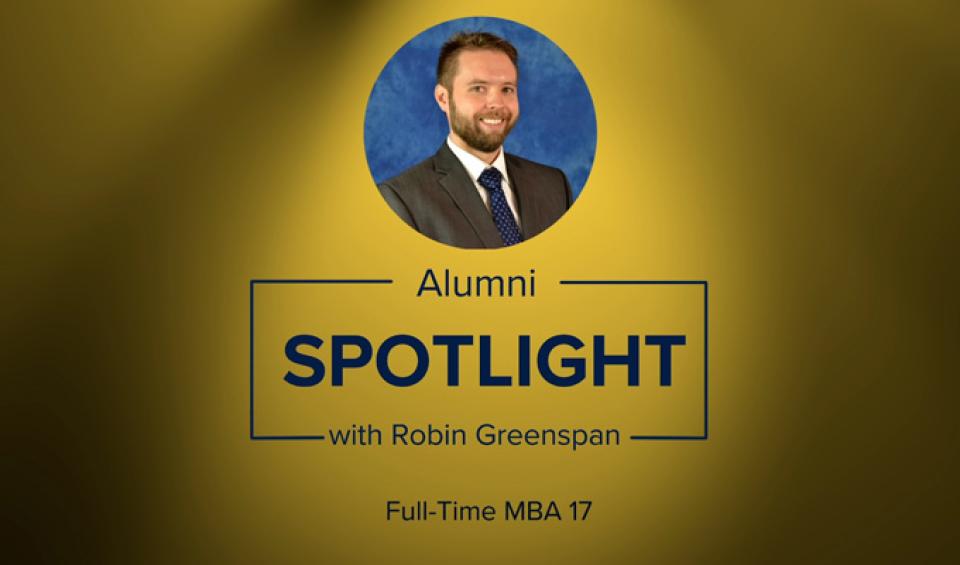 MBA alumnus Robin Greenspan recently returned to the Graduate School of Management to share with new students about maximining their MBA experience. He did just that as president of the Associated Students of Management, and since earned several promotions at Intel where he's now in a senior financial management role. 
---
What does collaborative leadership mean to you?
At Intel, as the finance director in charge of our client roadmap in five years silicon, it's developing relationships with people early and often and really being tactical and having one-on-one in small group meetings, to build those relationships before you really need to so that it's more organic.
And that when you need help or you need to get results, there is that connection that's already been built.
What are the highlights of your career the last few years?
Early on in my career, I was given the opportunity by my manager who's great. She allowed me to run our board of directors' strategy setting, which was a highly intensive lot of VPs, CFOs, CEOs.
So, it was great visibility and a lot of great learning. And be able to do that and be successful for our September board of directors meeting was huge.
What are the biggest challenges in your industry?
Increased pressure from purchasers, whether that's our OEM customers, Dell, HP, Lenovo, or end users, you and me who buy laptops and desktops and tablets that have our chips in them. Reduced discretionary spending that goes along with that and that puts pressure on our selling prices.
Increased input costs, the tools and the amount of time it takes to develop these chips.
And then there's AI. Which honestly is going to be a challenge because we see it starting to create a value prop shift from the hardware that we create, even though it strongly supports AI, to companies like Microsoft and Google who are figuring out how to truly monetize.
Which professors has the biggest impact on you?
Professor Elsbach, six years ago, six, seven years ago, I took her courses in organizational behavior, which has been hugely helpful for my career here at Intel.
I was also her graduate research assistant and her teaching assistant in a lot of classes.
So, she and I really worked together on a lot over the two years I was here. And definitely had a really strong impact on me and my career and my life.
What are you seeing that future business graduates should be aware of as they start their careers?
Your career is going to be a path. You're going to start in a certain type of role, probably more analytical. You will progress the skill sets necessary to be successful at one do not necessarily transition to the others.
So, learn as much as you can.
Get good at the technical stuff, your Excel, your PowerPoint, programing. But do not diminish the value of some of those organizational behavior, leadership, negotiation type courses.
They will be invaluable to you when you are successful in your career.