My Q&A with Janie Chang, New MPAc Academic Executive Director
Updated accounting curriculum to meet industry demands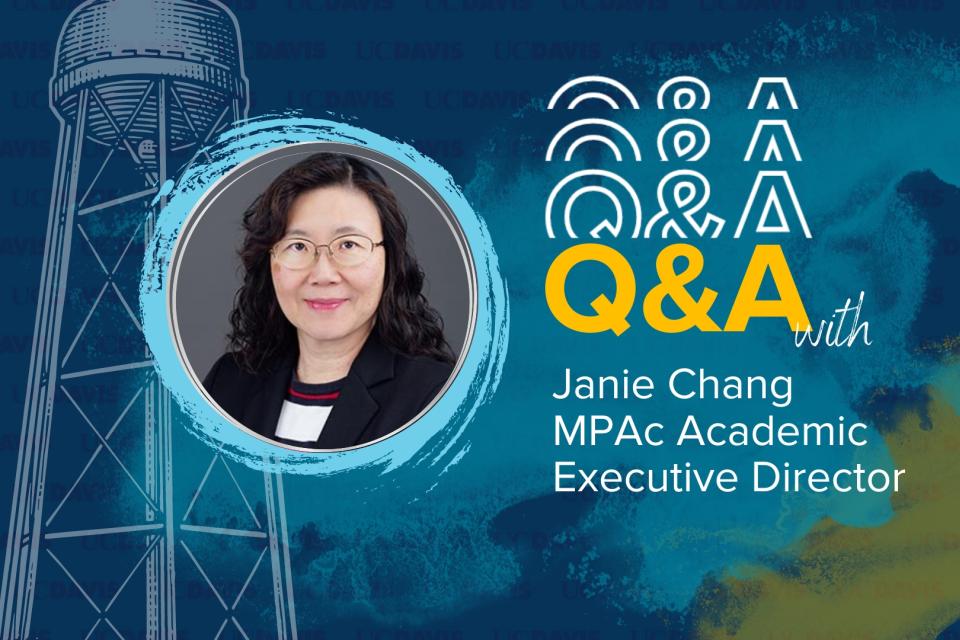 We are excited to welcome Janie Chang, the new Academic Executive Director for the UC Davis Master of Professional Accountancy (MPAc) program. I recently had the chance to sit down with Janie and speak with her about her background and her plans to team-up with her long-time colleague and current MPAc Executive Director, Will Snyder, to achieve her vision for the program
What attracted you to the UC Davis MPAc program? What do you think are the unique aspects of the program?
I was drawn to UC Davis MPAc due to its outstanding reputation, and the great research work our faculty do to advance accounting theory. I have been previously involved with MPAc as a faculty member teaching accounting information system courses on-and-off since 2013. During this time period, I have been continuously impressed by UC Davis students' caliber and performance. 
During my tenure in academia, I have been involved in graduate programs provided in a variety of formats. The use of a cohort program model allows the UC Davis MPAc program to give students extra support, and to help each student succeed. Our cohort averages to 45-55 students; this small class size opens up mentorship opportunities and allows a close-knit community.
Currently, I am the co-chair of the CalCPA Accounting Education Committee. UC Davis is close to the headquarter of CalCPA and California Board of Accountancy in Sacramento, which provides lots of opportunities to interact with professionals and gain insights into the changing demands of the profession. We recently invited the CEO of CalCPA to give MPAc students a talk about the current developments of the public accounting profession and the future of accounting/finance professionals. Our students will continue to benefit from unique professional networking opportunities made available to them due to the location of UC Davis, and our strong industry network.
Please tell us about your extensive research background and academic credentials.
My research interests include human information processing in accounting settings, behavioral issues in managerial accounting and auditing, nature of expert judgments, group decision making, accounting information systems, audit analytics, and cross-cultural research.
I have also taught and researched in the fields of accounting information systems, auditing, financial accounting, managerial accounting, and data analytics. I have published in various academic journals including Abacus, Accounting Horizons, Auditing: A Journal of Practice and Theory, Behavioral Research in Accounting, Data Base, International Journal of Accounting, International Journal of Accounting Information Systems, Journal of Accounting Literature, Journal of Emerging Technologies in Accounting, and Managerial Auditing Journal.
I believe it is critical for students to learn accounting theories with hands-on experience in accounting programs. Since an accounting information system (AIS) connects all functional areas in a company, this area is important to accounting students' success in their future careers. I designed the curriculum in AIS for San Jose State University at the undergraduate level, and the AIS curriculum for San Diego State University at graduate level. I am honored to lead the effort in updating the curriculum of MPAc at UC Davis.
Please describe the partnership you and Will Snyder have in your positions, and the best way for students to reach you.
Currently, I am concentrating on the refreshing  our MPAc curriculum to reflect the demand of the accounting profession and new accounting standards in AACSB accreditation. Will Snyder and I both work with students to provide mentorship and to teach in the program. Will Snyder, a former Big 4 Tax partner, will continue to provide his unique insights, while I bring cutting-edge exposure in accounting information systems, and data analytics. Will Snyder will also continue in his very important role of fostering close relationships with the accounting and professional business community.
The best way for students to reach me is through my email at cjchang@ucdavis.edu. 
What can prospective students expect from the MPAc program?
Given my expertise and experience, I have collaborated with GSM faculty to provide students with a MPAc curriculum that will equip them with the critical knowledge and skills needed to meet the expectations of the accounting profession. Data analysis and relevant technologies will be involved throughout the curriculum; allowing students to gain desirable hand-on experience. 
Our curriculum will also continue to emphasize team-based work, and applications of accounting fundamentals. In addition to our updated curriculum, students can expect to continue to have dedicated career development and placement support, exposure to a curriculum that covers tax, information systems and business analytics, and a close-knit community environment that supports the success of all students.