A Physician's Leadership Journey: Alum Charts the Value of MBA in Health Care
Dr. Steven Brass on change management, advent of AI, improving outcomes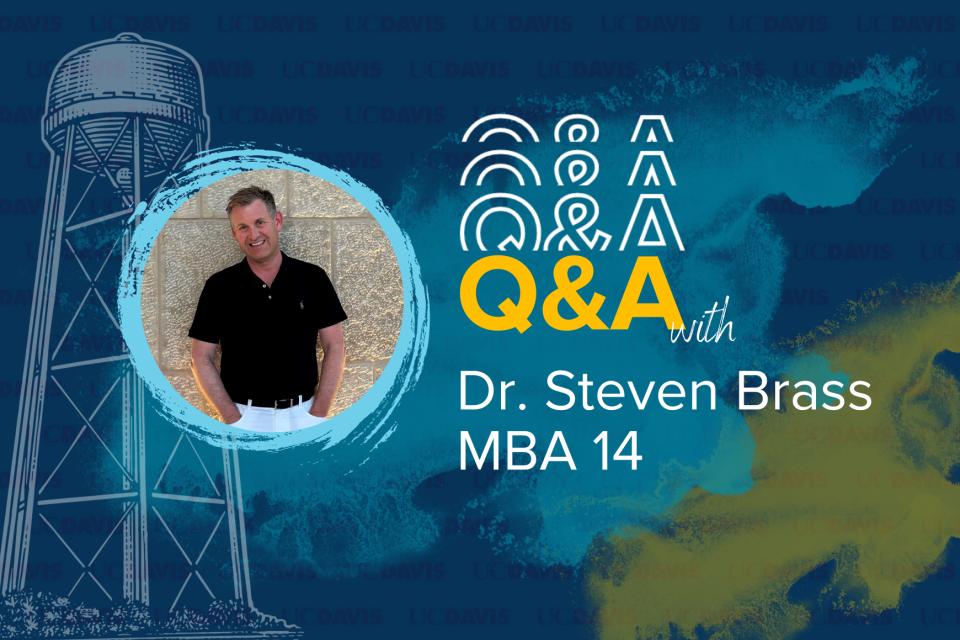 While serving as clinical director of the sleep program and an assistant professor of neurology at UC Davis Health, Dr. Steven Brass earned his UC Davis Part-Time MBA to boost his leadership skills, advance his career as a physician leader and help lead decisions about the delivery of health care.
After earning his MBA, he went on to work for two large health systems on the West Coast and, among many co-authored a chapter in "The Chief Medical Officer's Essential Guidebook" about the secrets of engaging physicians in change management.
"It's important for physicians to be more knowledgeable about health care costs, and to be able to balance clinical effectiveness with cost-effectiveness," Dr. Brass said while he was an UC Davis MBA student. "If as a physician you do not get involved, someone else will start to make those decisions for you."

Today, Dr. Brass is executive vice president and chief medical executive at the sprawling Harris Health System in Harris County, Texas, the third most populous county in the U.S., and home to Houston.
We asked him about highlights of his Sacramento Part-Time MBA experience, his healthcare leadership journey and managing the multiple and complex aspects of the business of medicine.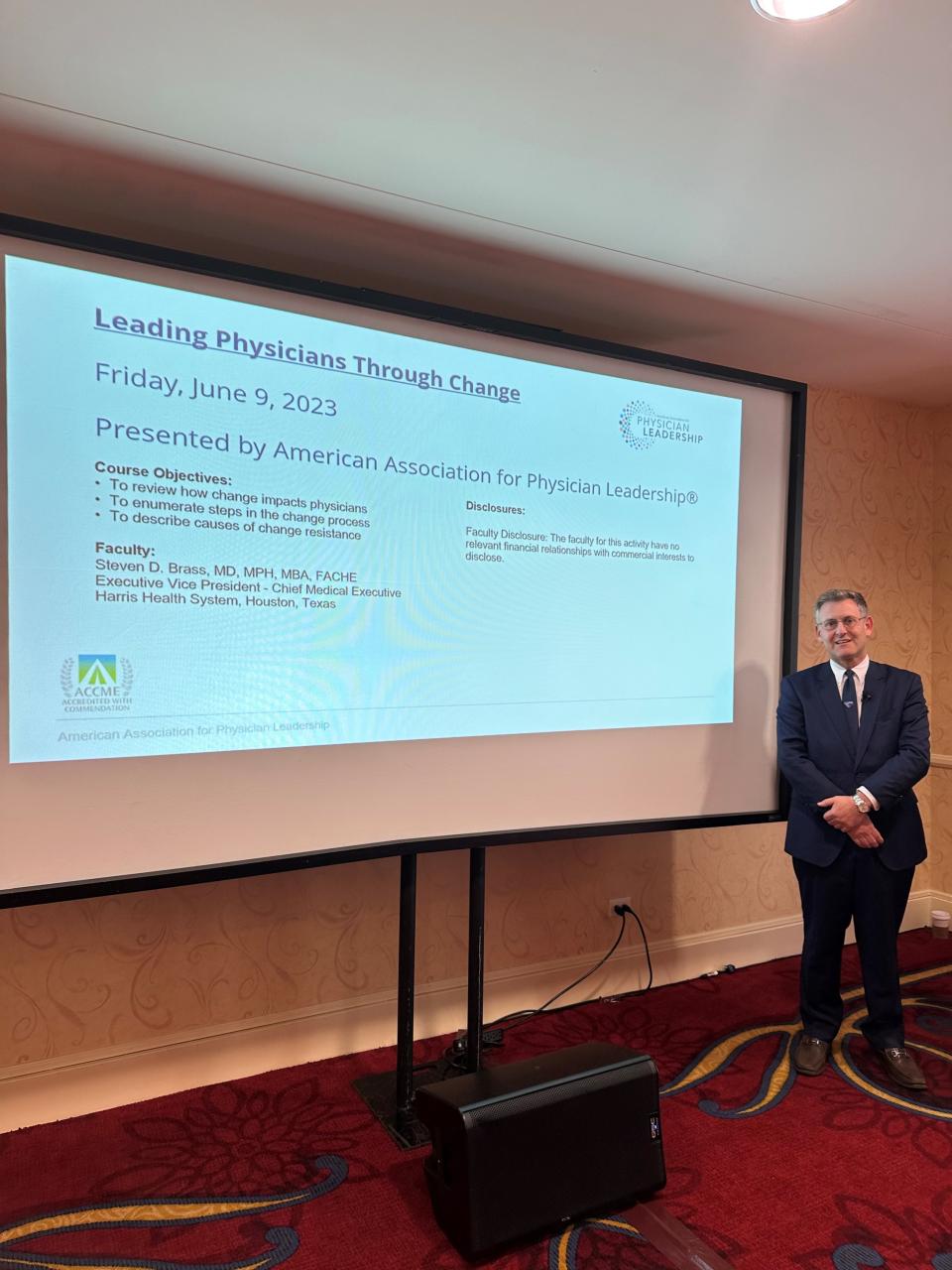 As a medical doctor and clinical director at UC Davis Health System at the time, what motivated you to pursue a UC Davis Part-Time MBA?
I had a strong desire to advance into a physician leadership position in the UC Davis Health System to have an impact on quality and safety at a macro level. My Doctor of Medicine, Master of Public Health degrees, Neurology Residency and Fellowship Programs all helped me acquire the skills related to the practice of medicine.
However, I was missing something.
The Graduate School of Management helped me in several ways. The MBA improved my ability to master skills related to the business side of medicine: managing people, communicating effectively, and, most importantly, to relate and work with people outside of the clinical sphere.
I felt that an MBA would provide the credibility and help me grow both personally and professionally into a future physician executive.
Can you share highlights about your UC Davis MBA experience? What professors or courses had a lasting impact on you?
There are four main courses in my MBA that has had a lasting impact on my career as a physician leader to this day
Organizational Behavior: Understanding change management, organizational structure and organizational culture is key when leading an organization.
 
Negotiations: Every day, I negotiate with my boss about a deadline, with physicians about policy or with my 13-year-old son, Harris, about dessert. Negotiating with a goal in mind is essential in both in the workplace and everyday life.
 
Crisis Management: Learning how to plan, communicate, mitigate and debrief staff, patients and the public in a crisis is crucial.
 
Accounting: Financial literacy and accounting knowledge are vital in hospital leadership. Healthcare is a business. Without a margin, there is no mission.
Can you please share about your career success since earning your MBA?
After I earned my MBA in 2015, I was quickly recruited to become a chief medical officer for a hospital that is part of the Providence Health system, one of the largest nonprofit health systems on the West Coast, with more than 50 hospitals in seven states.
I had the opportunity to lead a team at a 325-bed licensed community hospital in Los Angeles. When I first arrived, the hospital was graded a "C" according to The Leapfrog Group, a nonprofit watchdog organization that serves as a voice for healthcare consumers and purchasers. By implementing high-reliability organization training and physician engagement, we improved quality and the culture of safety. We subsequently earned an "A" and reached the top decile in the country.
After four years, I was recruited to become the chief medical officer at the flagship Adventist Health System hospital in Los Angeles. With 525 beds, it is the largest hospital in the San Fernando Valley.
I am now living and working in Texas serving my third year as the executive vice president and chief medical executive of Harris Health, the fourth largest safety net health system in the country composed of two trauma hospitals and 40 ambulatory clinics.
We also provide healthcare to the 10,000 detainees of Harris County Jail. Harris Health is academically affiliated with Baylor College of Medicine and UTHealth Houston.
Now, I have returned to my academic environment and teach at both medical schools while directing the quality, safety, risk, infection prevention, ambulatory, population health, medical staff services and graduate medical education.
Tell us more about the chapter you wrote for "The Chief Medical Officer's Essential Guidebook" on the secrets of engaging physicians in change management. Can you share about this challenge based on your experience?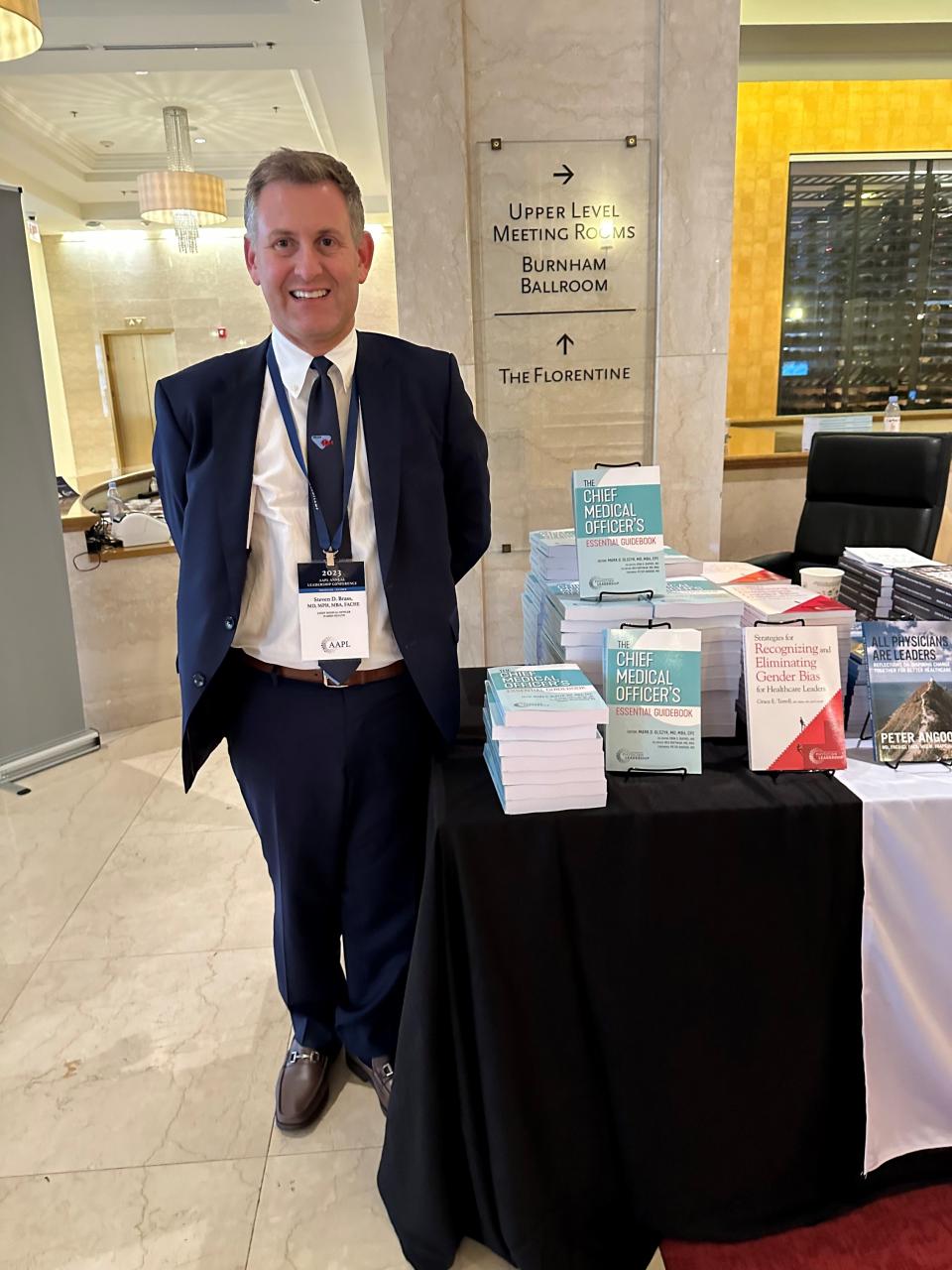 I believe as the chief medical executive when we drive change, we often will encounter fear and resistance in the people we lead. This is a common human behavior. When dealing with physicians it is helpful to understand four possible sources of resistance:
Physicians' mistrust of leadership stemming from past experiences with change initiatives.
 
Physicians may have a conflict of interest with proposed changes.
 
Physicians may have a different assessment of the situation or different approach which may be valid.
 
Some physicians have a low tolerance for change as physicians are independent-minded and risk-adverse by nature.
From my experience, the valuable lesson here is that the success of changes is significantly enhanced when physicians are engaged from the outset, providing input into the change process.
It's crucial to communicate the reasons behind the change to improve healthcare quality and patient safety.
You also recently posted on LinkedIn a study about AI in healthcare, which is a very hot topic. What are you seeing in terms of the promise and pitfalls of data-driven technology in healthcare delivery and patient care?
I am quite excited about the advent of artificial intelligence in healthcare. We are seeing it being used in four different domains:
One area of interest is clinical decision support which allows the data from the electronic medical records to drive clinical decisions which could ultimately improve quality and safety for the patients.
 
Second is clinical operations where office tasks are labor-intensive and routine. Data has proven that AI-driven chatbots may book patient appointments and answer basic medical questions, a trend that will continue to grow.
 
Third, AI has advanced diagnostics in the dermatology, pathology, and radiology fields.  AI is used to sort images from normal to abnormal, speeding up the process to provide quicker diagnosis.
 
Finally, precision medicine uses AI to analyze genetic information to precisely define treatments using antibiotics or chemotherapy, based on the pharmacogenetic profile of the patient.
The pitfalls of using AI are that the machine learning algorithms include bias, and it is crucial that diversity of the patient be taken into consideration.
Why should medical doctors and healthcare professionals who want to move into leadership position consider an MBA?
I think nowadays an MBA is crucial if you're considering a physician leadership position in an organization.
An MBA teaches you that healthcare and medicine operate as a business, and it benefits the physician leader to understand both to be successful.
An MBA also teaches soft skills such as emotional intelligence, building trust and communication which are equally if not more important to be successful in your career and life in general.
What do you like to do in your spare time, hobbies, interests, etc.?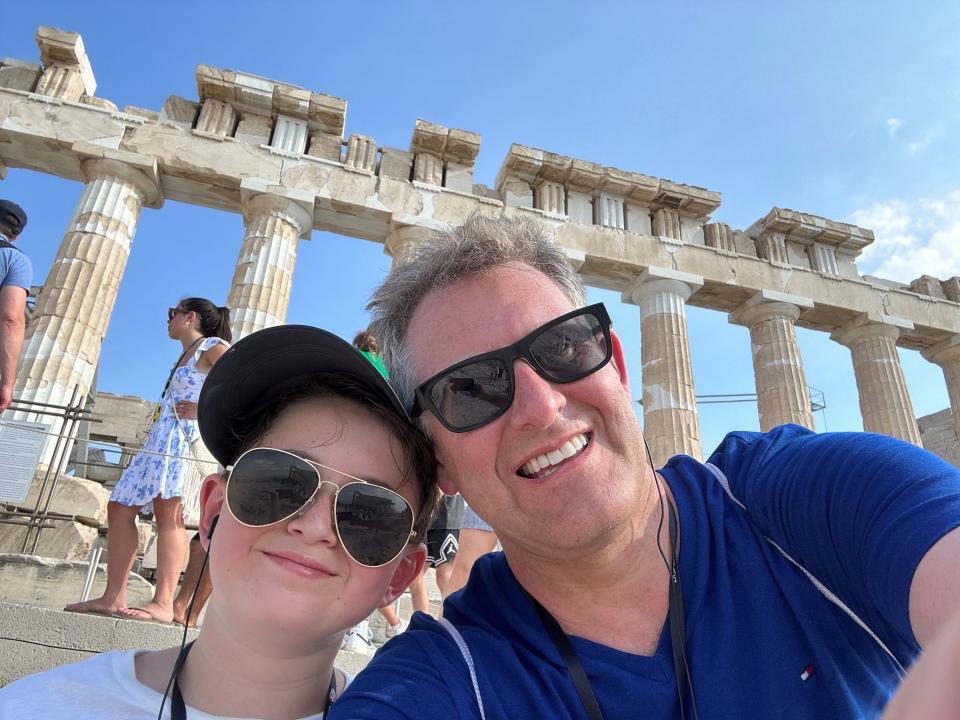 When I am not at work, I spend my free time traveling, meeting new people, trying the new cuisines, and learning about different cultures and languages. I studied abroad in Spain with a family in a small fishing village to learn the language.
I have also worked as a neurologist in Paris, France for an extended period at their major academic hospital La Pitié-Salpêtrière University Hospital affiliated with Sorbonne University.
More recently, I have volunteered to serve on a mission trip with my prior hospital to help set up primary care clinics in the rural parts of the Republic of Artsakh in Armenia. Artsakh is a breakaway state in the South Caucasus whose territory is internationally recognized to be part of Azerbaijan.
This was one of the most gratifying experiences of my life to provide healthcare for the community who had zero access to healthcare and knowing I was the first physician they ever encountered.
Four weeks ago, I came back from an amazing trip with my 13-year-old son where we had the opportunity to explore the Mediterranean area including the ancient sites of Turkey, Greece, and Israel, where our love for world history class came alive.