5 Tips on Earning Your MBA Later in Life
Returning to School at 43: I gave the ultimate gift to myself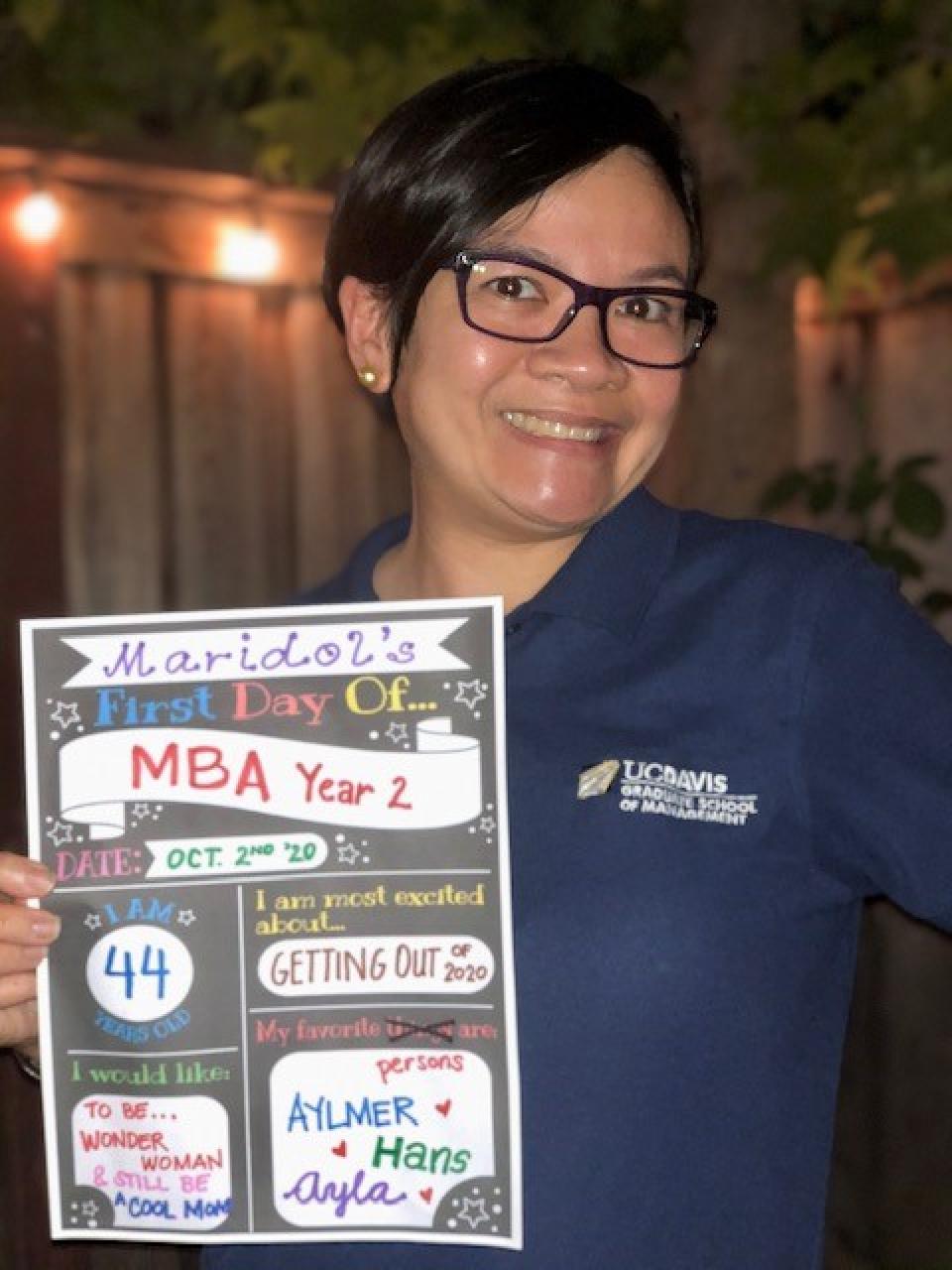 The main reason why I chose to pursue my MBA is to fulfill a long-time goal of self-investment. I knew I wanted to return to earn a master's at some point, it was just a matter of when I would do it. And I decided that now, in my 40's, is the perfect time.
When I was younger, I envisioned a well-planned, school-to-career path, neatly organized on a standard resume. My plan was to work a few years and gain experience at well-known companies before applying to MBA programs.
After graduating from the University of the Philippines with honors, and majoring in business economics, the MBA application was somewhat elusive. As years passed, I learned that plans change and other opportunities arise.
Philippines > United States
In my 20's, I joined the most prestigious beer company in the Philippines, San Miguel Corporation. I enjoyed the travel, training and exposure that came with the job. When I migrated to the U.S., my first priority was to look for an opportunity in the Bay Area. I landed as research analyst at the Clorox Company. It was a big transition, but I was excited and ready for my next step.
I had my GMAT and TOEFL scores, believing that I would start my MBA soon. But my priorities changed when I got married and followed my husband to the Midwest for his career. We started a family, and I enjoyed being a stay-at-home wife. We eventually moved to the East Coast for another career move.
In my 30's, I realized I was missing the corporate life, so I started to look for work and was hired by one of the largest employers in town, a pharmaceutical firm. My son needed more interaction, so we signed him up for preschool. That's when I fell in love with supply chain logistics.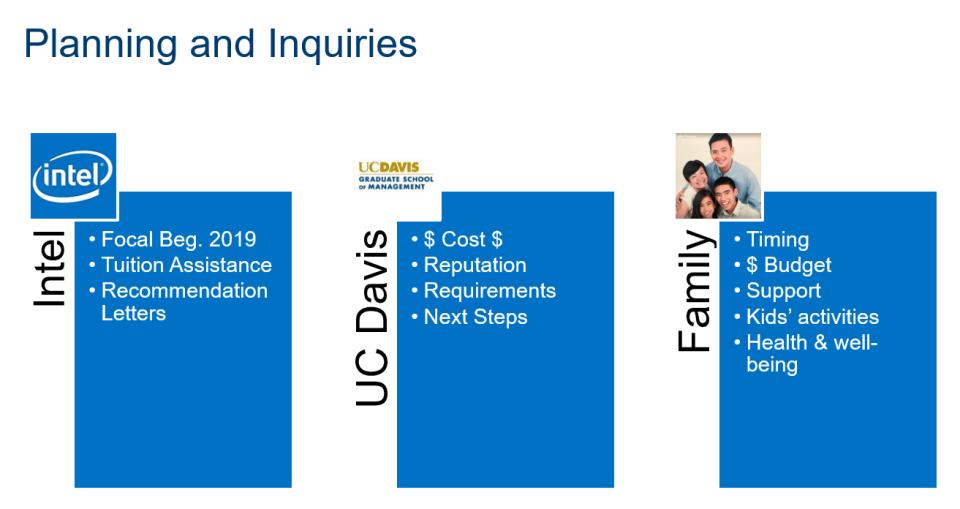 Later in my 30's, we had our second child, but this time I decided to continue working. Coming off maternity leave, I was assigned to special projects where I was exposed to more management responsibility. Shortly after, I was managing the supply chain team.
At that time, I had the opportunity to attend a part-time MBA program that was sponsored by the company. But with a new daughter, and a growing career, I decided not to take it.   
Back to School, Finally
In my 40's, the same pharmaceutical plant that employed me for 11 years was undergoing another buyout—its second in just a few years. Since my son was graduating from middle school, we thought it was a good time to move.
We returned to California to be closer to family. I built on my previous experience and began working at Intel as a supply chain planner. That's when I learned that some of Intel's managers and directors earned their MBA at UC Davis. I asked them about it and they talked about the relationship between Intel and the Graduate School of Management. Just a few weeks later, I attended an information session on Intel's campus and signed up for the Sacramento Part-Time MBA program—it was finally my time to start my MBA!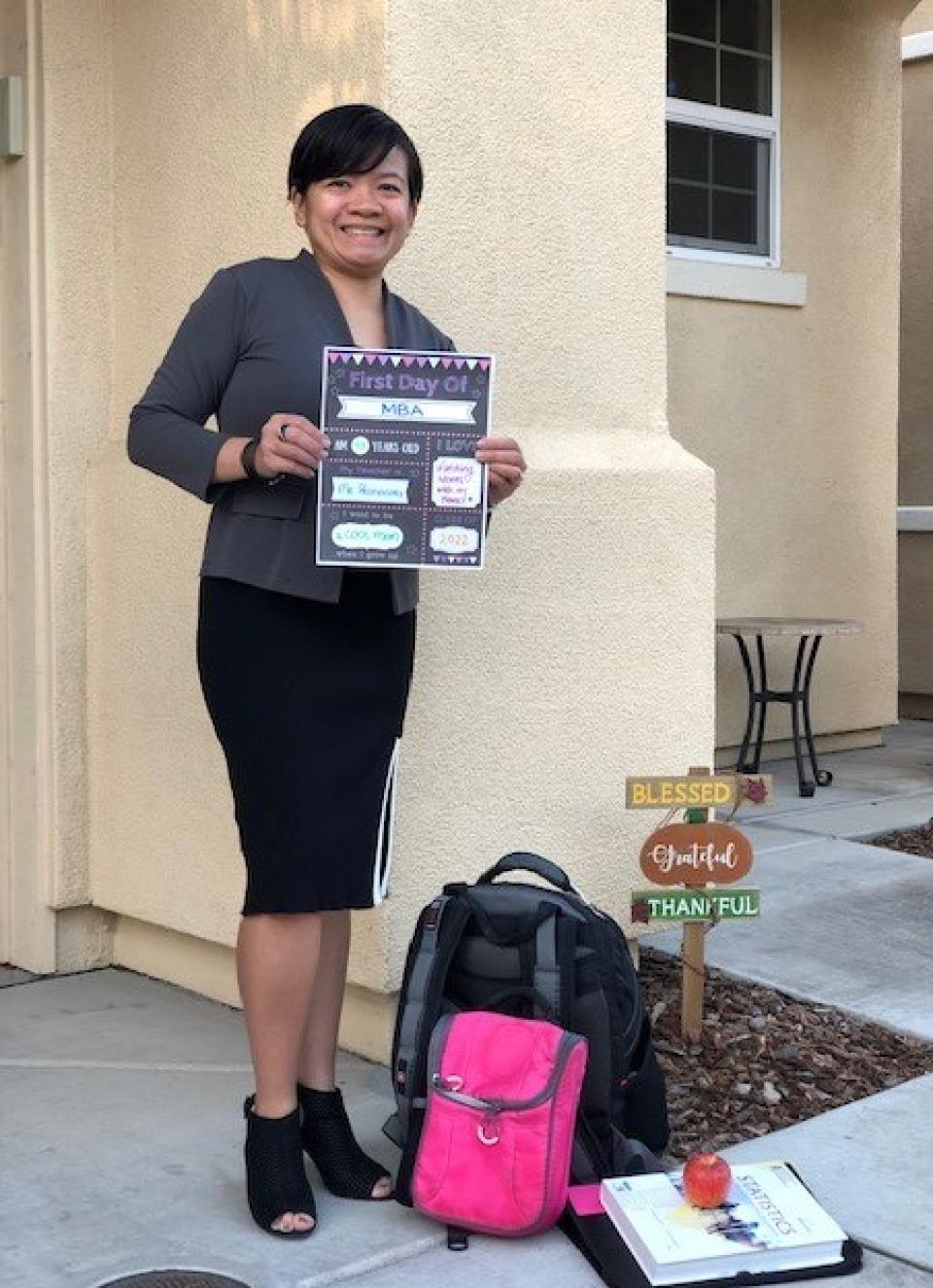 I found UC Davis at the perfect time and at the right place. The partnership with Intel was integral to my decision, and I found a lot of my coworkers to be a big support.
Returning at 43
I do not regret anything about my MBA path. In fact, I see more benefits now than if I had completed it sooner. For example, I have an abundance of experience to share, and I can speak to any class topic. I have the ideal job to balance my school work, and our leadership is supportive of my education.
While I recognize that I need to continue to learn, I found there are some key lessons, all equally important, to keep in mind when deciding to return to school.
5 Key Lessons
Make sure you have a support system in place. When I signed up, my family signed up with me, because I needed them behind me.
You must want it for yourself. When things get hard, and they will—either at home, at work or in your MBA program, or all the above—you have to be able to remind yourself why you are doing it.
Learn to compartmentalize. You have to leave work stress at work, and home duties at home, so when you face MBA tasks, you are only a student.
Practice forgiving yourself. With the many balls you're juggling, one is bound to fall from time to time. Learn from your mishaps and mistakes, let go, and move on.
Have fun! Savor the moment of being a student and feeling young again.
Returning for an MBA is an investment into yourself. Yes, it has been difficult to try to excel in all facets of life, but just knowing that I am investing in myself, I already feel proud that I am able to do it. I remind myself of this every day.
Many of us tend to get highly specialized with our day-to-day jobs, but it is my MBA experience that is allowing me to step back and acquire a breadth of new skills. It's that whole-package learning environment that has become the ultimate gift to myself.