Student Spotlight: Yuan Cheng
Full-Time MBA
Yuan Cheng shares his MBA story about the power of collaborative leadership and his entrepreneurial spirit to take on his own business in the food and ag sector.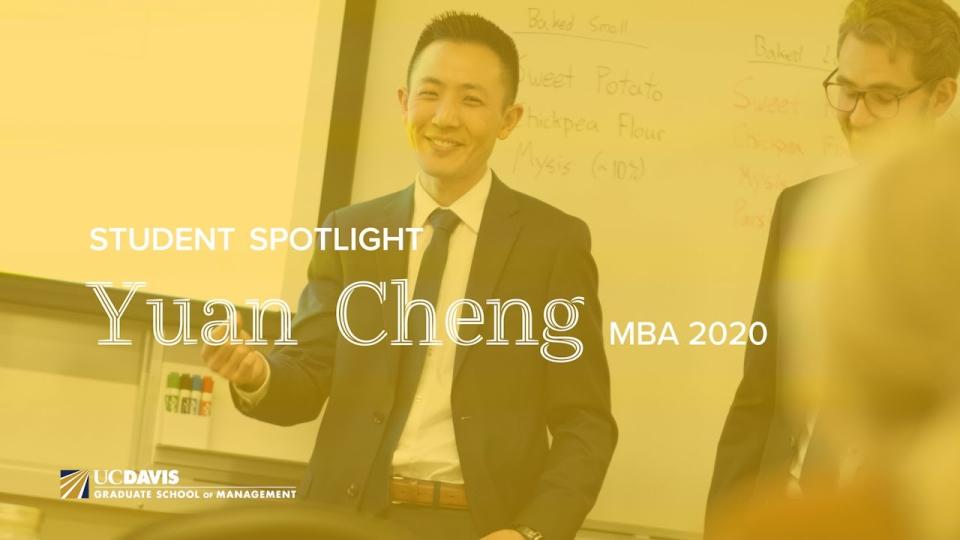 Why the UC Davis Graduate School of Management?
I was specifically going to pursue an MBA because I wanted to switch industries and I wanted to switch into food and agriculture. Move into something that has more kind of a global impact, and UC Davis is super strong in that. 
Not just at the Graduate School of Management, which has the Immersion courses to get your feet wet in an industry that you previously had no exposure to at all, but also the networking that happens on campus. And so I think being in a collaborative environment made that much more appealing and fun.
What does collaborative leadership mean to you?
Looking at each person's strengths, and allowing each person to press into their respective strengths and respecting the different strengths that each person brings to the table. That's what collaborative leadership looks like because out of those kind of diverse perspectives you actually end up coming up with way better solutions than you could ever come up with on your own.
What leadership activities are you involved in?
Second year almost being done, a lot of my leadership response was actually just about passing it off to the new leadership. So, I was previously a kind of student ambassador and then also helping to lead as the co-president for the Food and Wine club. It's just about kind of making sure that the new leadership has what they need.
What are your plans for after graduation?
I guess it's a couple of things that I'm working postgraduation. Coming out of the IMPACT project, the project was super interesting and it was a real-world problem and there's an opportunity to actually potentially take that and turn it into like a nonprofit social enterprise.
Which professor has stood out to you while learning online?
If I had to pick one professor, the one that sticks out for me most is Mike Palazzolo in Marketing Analytics. He's just a super fun guy, and it might seem like a small thing but the fact that he puts like memes in his lectures it's just like-able. They're usually very present-day kind of real-world or like he loves movies, so then a lot of them are just like movie memes. But it makes it fun and interactive.
What advice do you have for students?
I think what's been really helpful for me is try to enjoy some of the
opportunities that this moment affords me. Things like getting to you know spend some more time with friends and family helps to get through it.