Teamwork on the Gridiron and in the Classroom
Kicker for UC Davis football team also tackles MPAc program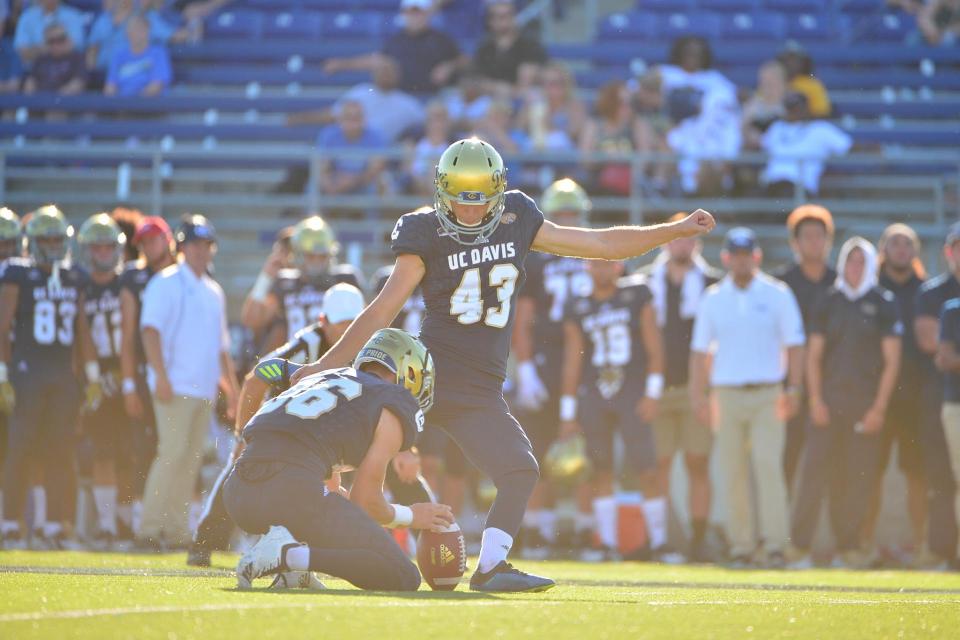 It's demanding to be a collegiate student-athlete. Many of my days start at 7:00 a.m. with meetings and football practice, that's followed by weight lifting, and classes. Most of my days end with homework, and I stay up as long as it takes to complete my assignments.
For as much as we put in, it's definitely worth it. Our team was fortunate to become a top-5 NCAA Football Championship Subdivision (FCS) team in the nation last year and win our first playoff game—both firsts in UC Davis Division I history. That success rolled into this preseason when we were ranked near the top once again.
Football has also brought out the best in me.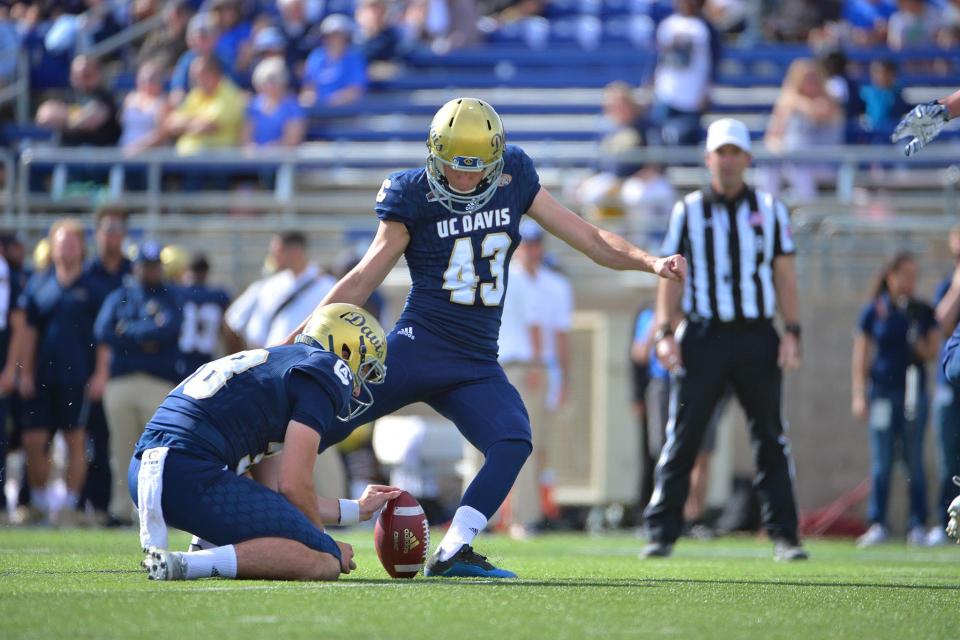 This season, against top-ranked and seven-time FCS-champion North Dakota State, I lined up for a career-long field goal attempt. As the play clock wound down, I went through my pre-kick routine before being called onto the field. Set, hut! The ball was snapped, I stepped into my kick and drilled it 48 yards between the uprights—a new career-best.
It's been incredible kicking for the UC Davis football team, but that wasn't always in my future.
My entire childhood was spent in different types of athletics. Football in the fall, basketball in the winter, and baseball or volleyball in the spring. Sports took up most of my extracurricular time and I had a very competitive drive.
At age 10, I learned how to throw and kick a football the right way, and I knew I had a knack as both a quarterback and a placekicker. I had a desire to compete at the highest level on the gridiron, so I worked at both positions at Rocklin High School.
"Early on, head coach Dan Hawkins taught me a valuable lesson: there is more to life and your future besides being an athlete."— Max O'Rourke
As I began the college recruiting process, I was unsure which position I should focus on. I let my abilities and recruiters help me choose.
Coaches felt that I could help their teams more as a kicker than a quarterback, so I shifted my focus on the splitting the uprights. And it's paid off.
After bouncing around playing my first few years at Boise State University and American River College, I was fortunate to land at UC Davis and become the Aggies' field goal kicker.
Hawkins inspired many of my teammates who were upperclassmen to plan a career after sports—and find it early. They sought help via the Aggie Evo program and many had a job lined up upon graduation.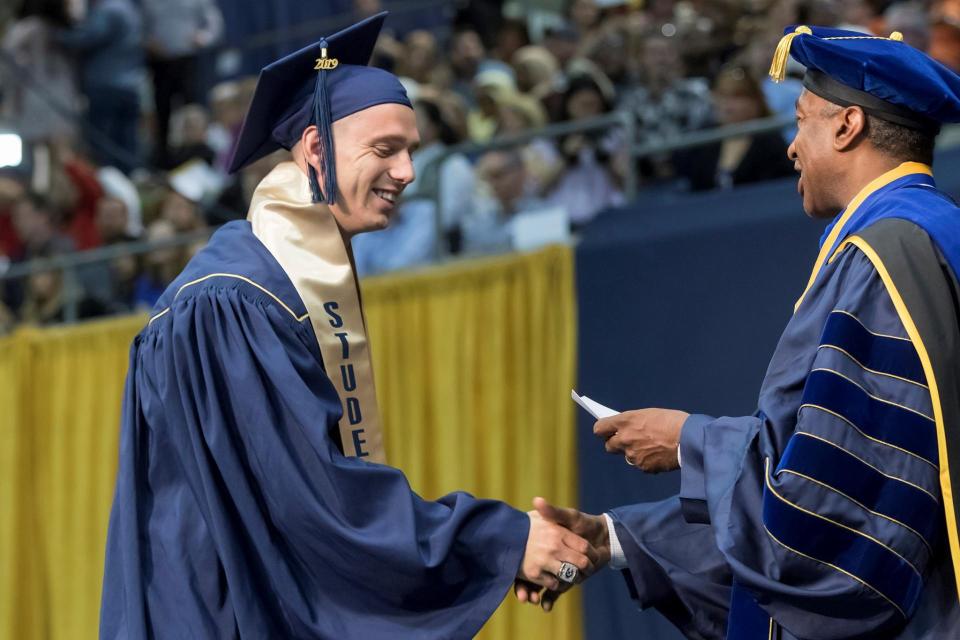 I did not. But I did learn about the Master of Professional Accountancy program at the Graduate School of Management last summer at a meeting with my academic advisor, Adam Zedonis.
I had a fifth year of eligibility because of my redshirt season straight out of high school, and I wanted to take advantage of my extra time at UC Davis. The 9-month MPAc graduate program sparked my interest immediately.
Master of Professional Accountancy Opens New Doors
Although I originally started college as a business major at Boise State and American River, my education shifted to communications at UC Davis. Although at first I did not feel my background was a good fit for the accounting program, a meeting with the Graduate School of Management program director changed my mind. I had many intangible qualities they were interested in.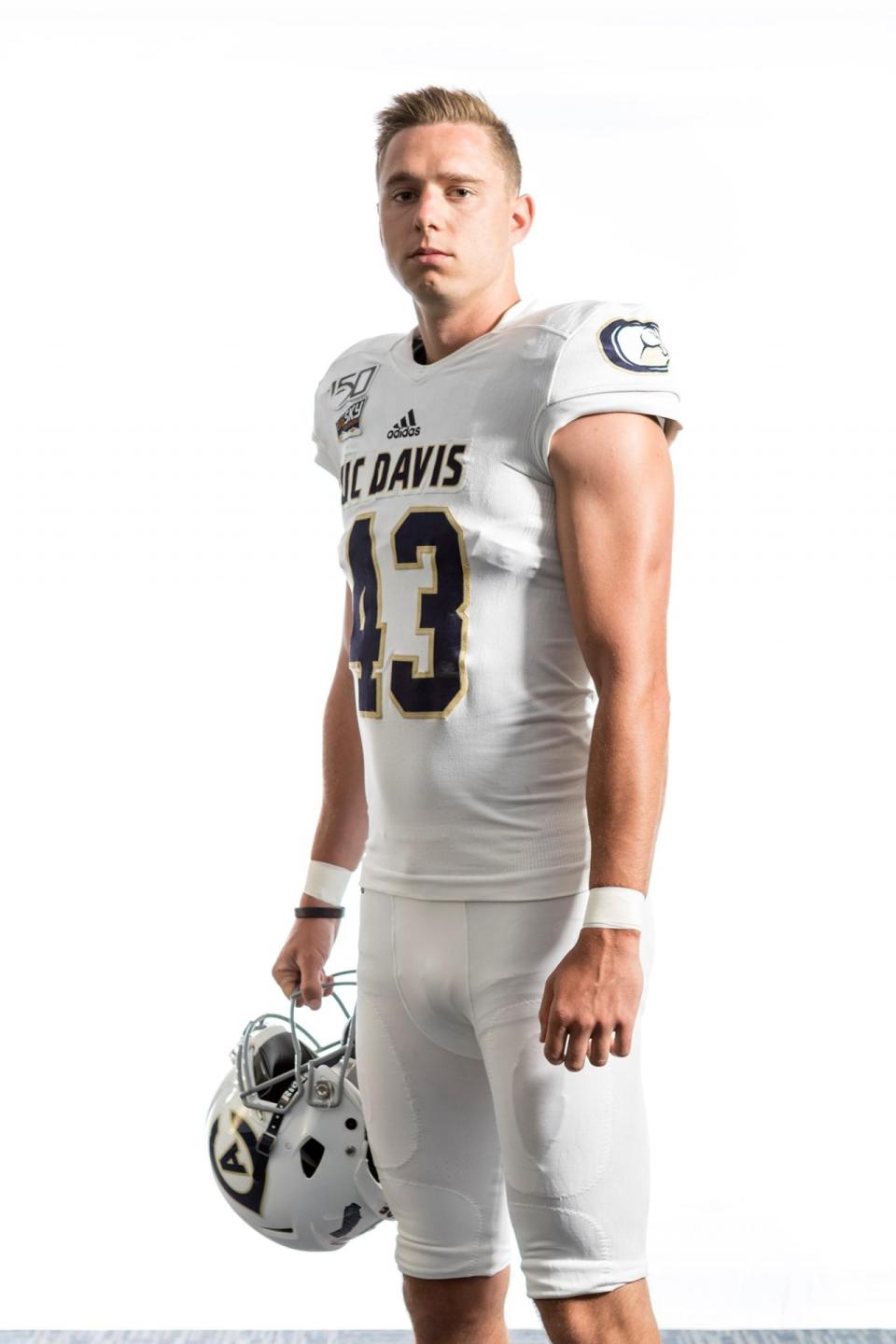 As a communications major and a kicker on the football team, I was a strong communicator. I was very detail-oriented, and I worked great with teams.
After meeting other members of the program, such as Professor Robert Yetman, Executive Director Will Snyder and Assistant Director Alex Minnis, I knew this was exactly where I wanted to spend my last year as a student at UC Davis.
I am incredibly excited to start this opportunity in the MPAc program and continue our team's national title run. Playing for a top team gives us the opportunity to play through December and in January—deep into the playoffs.
So it's safe to say that my next four months will be jam-packed. But thanks to the support of my coaches and MPAc staff, who have helped me stay on track, I'll be able to excel in the classroom and on the field.