Where Sustainable Energy and Finance Meet in Industry Immersion
Teaming up on solutions to solve issues from top energy and utility execs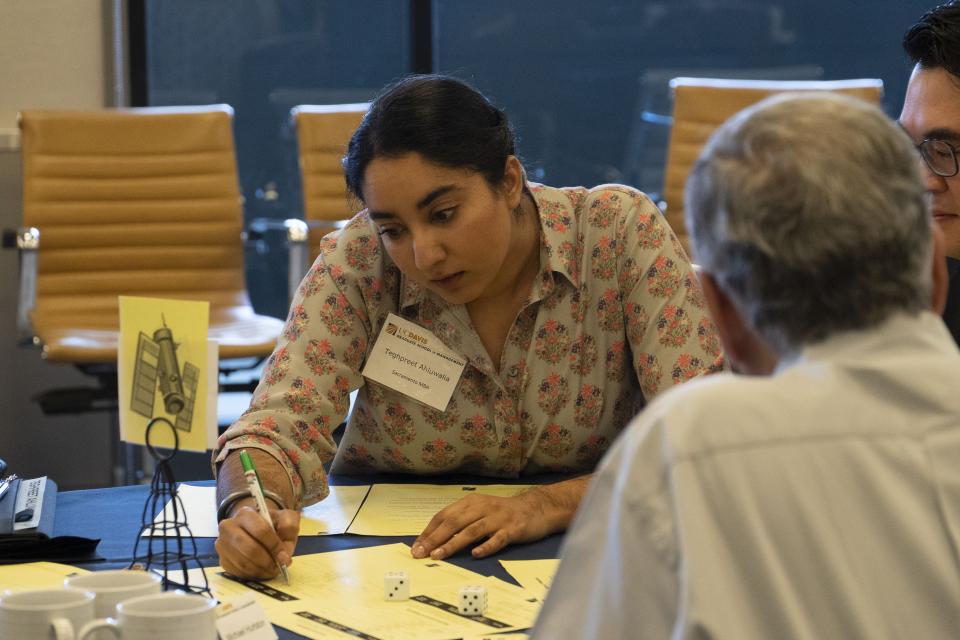 "If a cat can become a dog by telling itself a consistent story about what its future will look like, each of us can take a meaningful tangible step toward making our positive mark on society by building a repertoire of stories not about what we've done but about what we will do in using our education, our experiences and our careers to try to effectuate transformational change around us."
This was the most powerful and resonating quote from Larry Kellerman, president of Atlantic Power and Utilities and managing director of I Squared Capital, during a talk at the UC Davis Energy and Efficiency Institute.
Fast forward several months, and I was listening to this hour-long recording as I prepared to introduce Kellerman for the first class of the Sustainable Energy Industry Immersion at the UC Davis Graduate School of Management (GSM).
Through lectures, like Kellerman's, and insights and case studies from top executives in the industry, MBA students like me and other UC Davis graduate students heard first-hand about pressing issues facing our long-term sustainable energy goals.
Bridging the Gap Between Finance and Sustainable Energy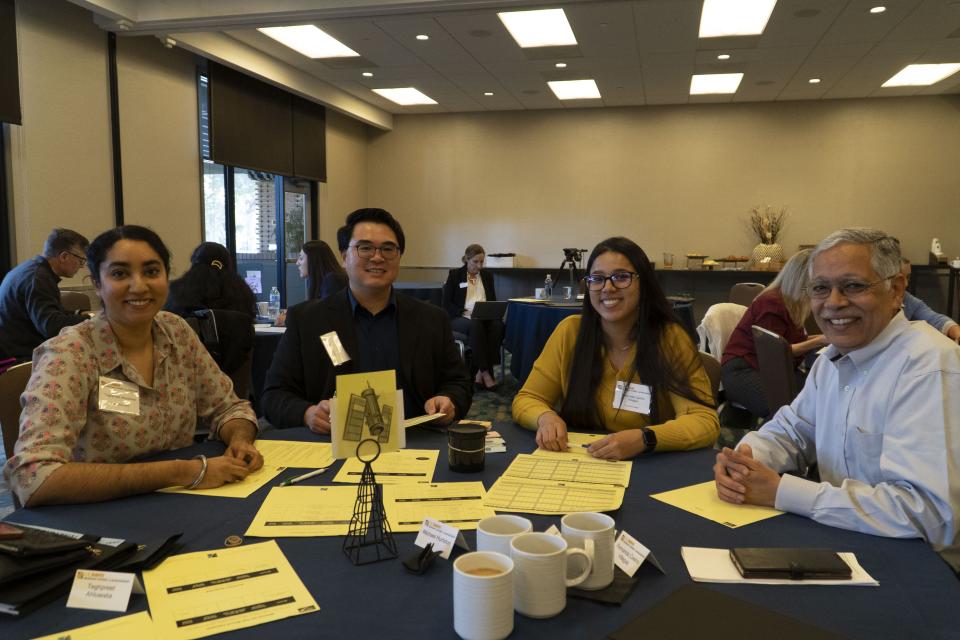 As a finance professional and entrepreneur, I am always learning and looking for new opportunities to challenge myself. My journey led me to apply to the UC Davis Sacramento Part-Time MBA program, and one of the main reasons was the program's innovative Industry Immersions experiences.
Most of my background and experience is in the finance industry. Specifically, direct investments into real estate, other private equities and impact investments. After I earned by undergraduate degree from UC Davis in 2013, I founded GNP Capital Partners, but I had little business experience at the time.
A few years in and I decided I wanted to broaden my skills and education with an MBA. When I learned more about the flexibility of the UC Davis Part-Time MBA program, it seemed like the perfect fit.
Since then, I've seen investor sentiment constantly evolve. Many are looking to increase their wealth while having a positive impact on society.
When I founded my boutique firm, a key goal was to help families create generational wealth and give them a chance to leave a legacy. I've discovered that the energy industry provides investors with a prime opportunity to do both. 
This is a fairly new avenue for some investors and professionals in the finance industry.
Finding Connections through Industry Immersions
As I was starting my second year in the MBA program, I began closely exploring the Industry Immersions. By this time, my firm had made an investment into a sustainable, environment-friendly water treatment company, so I was particularly drawn to the Sustainable Energy Industry Immersion to further explore the connection between investments, sustainable energy and impact.
Although it may seem unconventional not to follow the finance route and sign up for the CFO for Technology Industry Immersion, one of four offered in the MBA program, I intuitively thought that diving deeper into the sustainable energy sector was a better route. As my personal stories have helped steer me down a non-traditional road in my career, so too has the Sustainable Energy Industry Immersion.
Through the program, I've deepened my understanding of the energy sector, and worked with my classmates to solve real-world case studies posed by high-level executives. That's actually the best thing about the Immersion—the course, led by GSM alumni Ben Finkelor, hosted top utility company executives from Southern California Edison, principal advisors from Chevron, and chief executives from Sacramento Municipal Utility District (SMUD), one of the nation's largest community-owned electric utilities in the U.S. and a leader in clean energy and carbon reduction for decades. 
My particular favorite was Larry Kellerman, president of Atlantic Power and Utilities and the now global senior policy advisor of I Squared Capital. His presentation allowed me to see the opportunities available to professionals, and boutique investment firms like mine, in the growing energy sector. 
Like the other executives, Kellerman presented a real case study, then we divided into teams—an interdisciplinary mix of UC Davis Energy and Efficiency Institute (EEI) master's candidates and MBA candidates—to develop a solution and present it to Kellerman.
I have learned so much from the EEI students about sustainability, new technologies, and their benefits and limitations. It was great to have their industry expertise as we tackled these business/strategy cases.
In fact, this Immersion experience draws on UC Davis's global leadership in energy research, advancing impactful energy and energy efficiency solutions across multiple disciplines, and the UC Davis is ranked tops in the U.S. for campus sustainability, a testbed for green ideas.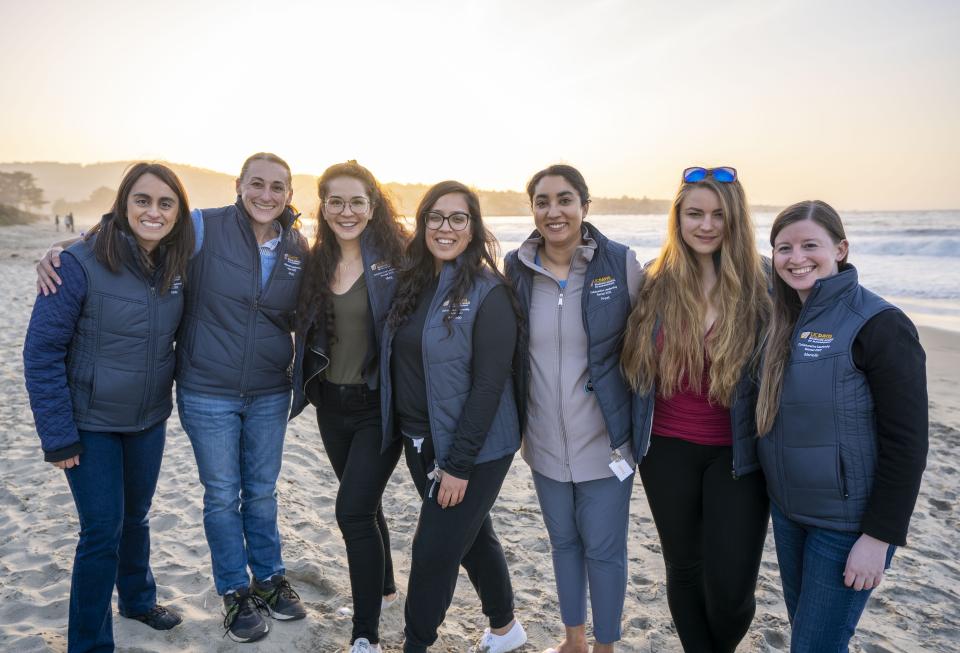 "An Incredible Transformation"
The opportunity to interact with these industry leaders, and work on these real case studies has been the best experience of my entire MBA program.
I've learned lessons that go beyond the classroom, and it's been an incredible transformation to look back on my experiences over the last seven years through an MBA lens.
I've never been more excited to look toward the future. I believe this immersion has helped me build a solid foundation of knowledge about sustainable energy and I feel more confident to pursue opportunities in this sector and make a positive impact in this world.