"You Can't Be What You Can't See"
LGBTQ+ Women's Tech Summit unlocks first true sense of belonging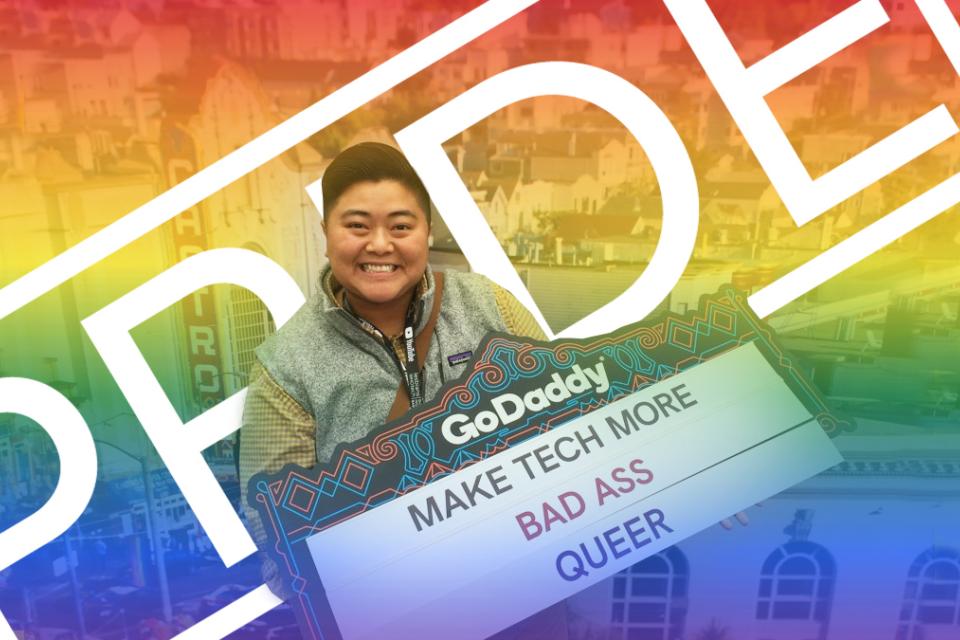 "You can't be what you can't see," said the Imposter Syndrome workshop facilitator at the Lesbians Who Tech Summit.
Enjoying a sunny, 65-degree Bay Area Friday afternoon in San Francisco's Castro District, I stepped into The Café—a long-time local gay nightclub—which had been transformed into a conference room to attend a breakout session for the summit.
Over 6,000 lesbians took over the Castro District in San Francisco for the summit. If you've been to the Castro before, you know there is never 6,000 lesbians there. Waiting for my conference badge at the beginning of the event, I look around and realized it was the first time my masculine-of-center queer woman of color identity was part of the majority. A feeling of awe seeped inside my torso as I experienced for the first time what it felt like to truly belong.
The summit was hosted by Lesbians Who Tech & Allies—a global community of LGBTQ+ women, non-binary, and trans individuals with careers and passions inside the growing tech world.
The tech summit offered workshop topics ranging from automation and machine learning, to social justice and resistance in relation to technology. The breakout session leaders included LGBTQ+ women, women of color, transgender, and gender non-conforming speakers and workshop facilitators.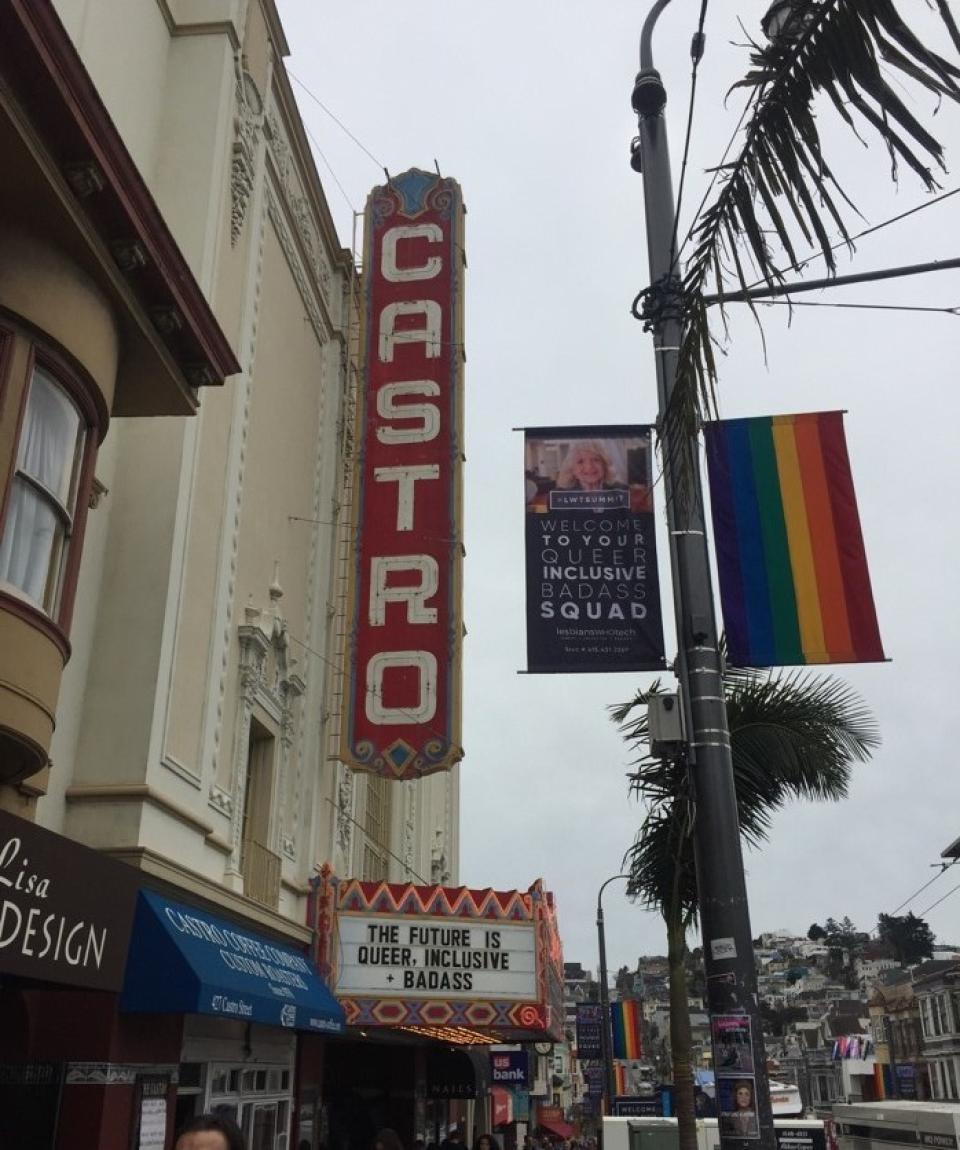 The UC Davis Graduate School of Management (GSM) sponsored my attendance and it was the perfect union between my interest in exploring diversity and my career pivot to technology—I was ecstatic.
CONFERENCE CONNECTIONS
At the summit, I made meaningful connections with diverse attendees and welcoming organizations. By the time the conference had ended, I had met a queer kink porn director, exchanged contacts with recruiters from Fortune 500 companies looking to hire queer women like me, and listened to Stacey Abrams share wisdom about the manifestation of our failure. She said it is sometimes not on us, but a manifestation of everyone else's suffering.
Oddly enough, it wasn't the workshops, the speakers, or any job prospects that planted my feet to the ground and straightened up my spine. It was the feeling of being acknowledged and validated for all of me. A feeling I didn't know I was missing because I never felt it before.
It wasn't until this conference when my masculine-of-center gender expression and woman-loving-woman nature was deeply seen and deeply held. For the first time I didn't have to justify my usage of the women's restroom. I didn't have to correct my pronoun because I would be asked for permission first.
For three days I didn't have to explain who I was as I moved through a world of lesbians—what a fascinating gift.
It was in that moment that I realized this sense of belonging is important to me.
BUILDING INQUISITIVE ITERATIONS OF MYSELF
Later that year, I chose to give back to the GSM and fellow students as an MBA Student Ambassador in the Bay Area Part-Time MBA program. I brought new perspectives with me to MBA recruiting events. My identity, history and journey from a working-class family to business school helps prospective students see themselves in the program when they may not typically have that relatable connection.
The GSM has offered me numerous opportunities to investigate and build inquisitive iterations of myself.
It's where my coming out story would be in front of 42 trusting classmates in Professor Doy Charnsupharindr's Storytelling for Leadership class. I never imagined that would be the case, nor would I represent the program as an ambassador, but now I'm able to encourage any prospective student that they belong.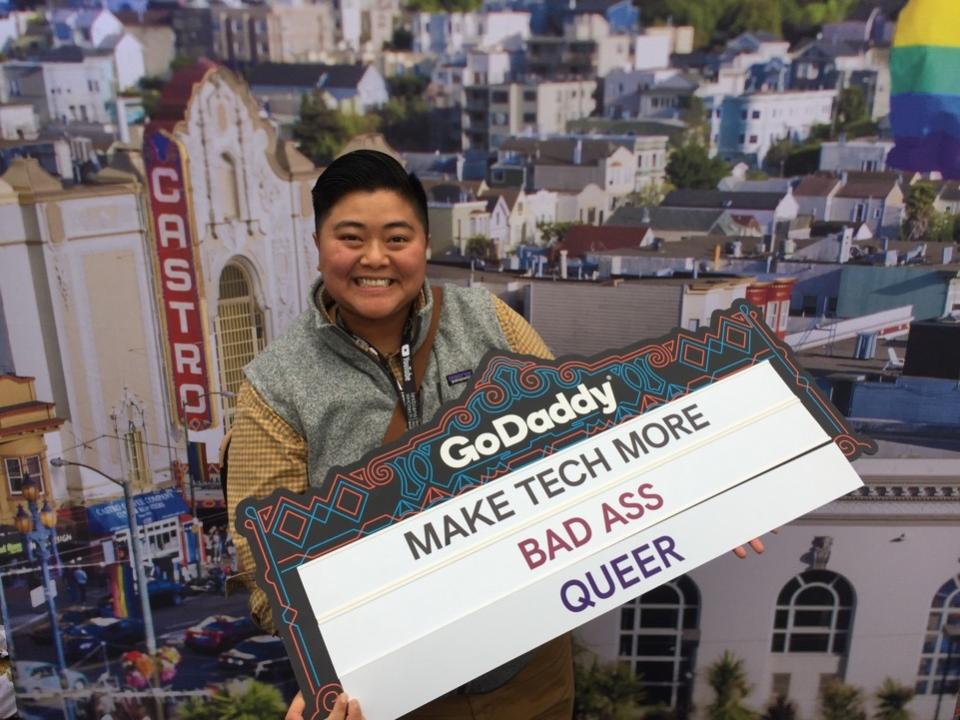 Every connection the GSM has helped establish for me has offered a safe place where I can show up with every piece of me exactly as I am—and be told that I belong. Recently, I began interning in the health care industry at Blue Shield of California. Little did I know this would lead to a full-time job offer during an economic downturn and a global pandemic.
As I start my final year in the Bay Area MBA program, I have clarity—in my life, in my career and in the world of education.
I have a clear vision of a world I want to live in. I am here to co-create a welcoming environment where people are validated and their full spectrum of lived experiences are accepted. As we grapple with racism, misogyny and sexism in the corporate world, I stand committed to pushing boundaries of what it means to be an affirming and inclusive society at the individual, organizational and systemic level.
As I learned, "you can't be what you can't see," so I remain devoted to bringing all of me to the places that I belong, the places that I don't and the places that I didn't know I belonged so that others can see themselves here too.