Bloomberg Businessweek Ranks UC Davis MBA in Top 40 Overall and Top 10 for Diversity
Based on learning, networking, entrepreneurship, compensation, and, for the first time, diversity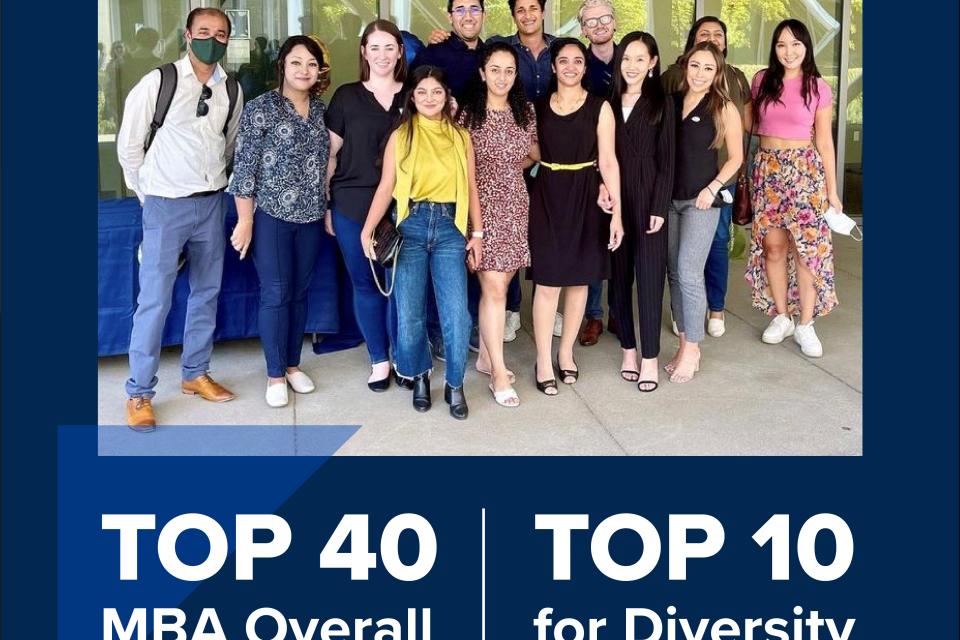 (Davis, CA) — The UC Davis Full-Time MBA ranks among the top 40 U.S. programs overall and top 10 for student diversity in Bloomberg Businessweek's 2021-2022 Best B-Schools MBA ratings, moving up six spots overall since the last ranking.
Based on nearly 20,000 surveys from students, alumni and recruiters, as well as MBA compensation and employment data from each school, the UC Davis Full-Time MBA ranks:
No. 36 overall in the U.S.
No. 10 for student diversity in the U.S.
No. 8 for the highest percentage of female and nonbinary students (48%).
Bloomberg Businessweek ranked 119 MBA programs around the world, including 84 in the U.S. that qualified. The ranking is based on five weighted categories, with schools assessed on their learning, networking, entrepreneurship, compensation, and, for the first time, diversity. 
UC Davis MBA Debuts High in New Diversity Index
Bloomberg Businessweek's new Diversity Index for U.S. business schools measures race, ethnicity and gender of full-time MBA students. Race and ethnicity count for 50% of the diversity score, and gender the other 50%.
"The context within which we launch the Diversity Index is the historic national reckoning on race that was triggered by the killing of George Floyd," Bloomberg Businessweek editors explained. "Our mission in rolling it out is to assess and rank B-Schools based on the degree to which they are addressing the institutional racism and discrimination that have excluded certain minority groups and women from U.S. MBA programs."
Bloomberg Businessweek titled its story "Business Schools Training Future Execs Have a Diversity Problem."
The UC Davis Full-Time MBA earned a Diversity Index score of 79.6 based on the following student data:
52% Male and 48% Female (eighth highest among U.S. schools)
42% White
26% Asian
13% Multiracial (tied for highest percentage in the Top 10)
10% Black
10% Hispanic
Elizabeth Moon, chief diversity officer at the UC Davis Graduate School of Management, said the school's recent Action for Diversity initiative, including a community-wide 21-week Anti-Racism Challenge, reflect the UC Davis Principles of Community and a long history of promoting a welcoming and inclusive campus community, striving for equity, fostering social mobility and building meaningful partnerships across the world.
"This ranking is a testament to the dedicated and focused outreach and admissions work we have been doing over the last five years to build out the diversity of our graduate business candidates as well as faculty recruitment." 

— Elizabeth Moon, Chief Diversity Officer, UC Davis Graduate School of Management
In addition, Bloomberg Businessweek published results of several questions asking UC Davis MBA students to rate the school's atmosphere, including how well women and minorities are represented on faculty and in case studies, and the inclusiveness of social activities. The students' responses were overwhelmingly positive.
Bloomberg Businessweek also highlighted several representative comments from students and alumni on what's best about the UC Davis MBA program:
"Deep, personal access to amazing professors and their research."

"Small classes, resulting in access to teachers and improved learning."

"Close relationship between classmates and the quality of faculty."

"The small class size and access to great professors."

"Fellow students, access to Central Valley agricultural programs, strong staff."
Methodology
The rankings were based on 19,955 surveys from 6,640 students, 12,462 alumni and 853 employers, as well as compensation and employment data from each school. For the first-ever Diversity Index, U.S. schools also provided data on race, ethnicity, and gender in their classes. 
Bloomberg Businessweek takes a different approach to other top rankings like the Financial Times and QS. To receive a score, schools are asked to rank which category is most important to them, as the first step in a two-part process, according to a review by BusinessBecause.
A follow-up survey then asks a range of questions, which are paired with employment and compensation data to give schools a score out of 100. Schools are then ranked according to their scores. 
More information
Media contact: