UC Davis MBA Ranks in Top 50 in U.S., Top 1/3 for Employability by Recruiters
QS 2024 Global MBA Rankings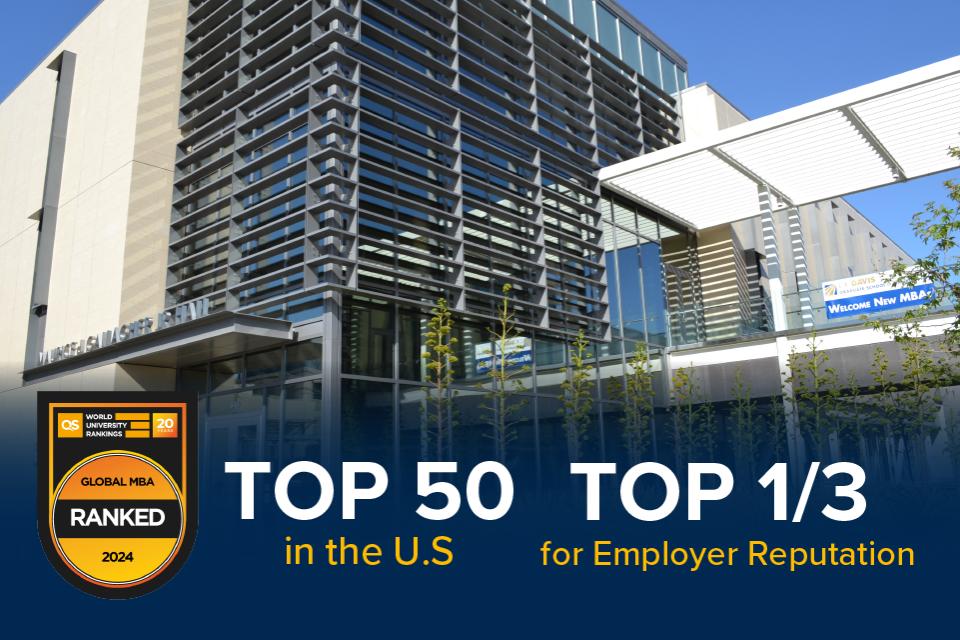 Quacquarelli Symonds, which specializes in the analysis of higher education institutions worldwide, ranks the UC Davis Full-Time MBA program among the top 50 overall in the U.S. and in the top third for employability by recruiters
QS released its 2024 Global MBA rankings on October 25, 2023, highlighting the 118 best full-time MBA programs in the U.S.
The UC Davis Full-Time MBA ranks:
47th overall in the U.S
 
26th among public institutions
 
34th overall for Employer Reputation. The metric is based on responses from more than 61,000 global employers over the last five years
QS rated the full-time MBA programs based on five weighted factors:
Employability (40%)
Return on Investment (20%)
Entrepreneurship and Alumni Outcomes (15%)
Thought Leadership (15%)
Class (Student) and Faculty Diversity (10%)
The QS ranking follows a month after the UC Davis Full-Time MBA moved up 14 spots into the top 50 overall among U.S. programs in Bloomberg Businessweek's 2023-2024 Best B-Schools MBA ratings. The UC Davis MBA also ranked 18th among public institutions and 13th for student diversity in the Bloomberg rankings.