Bloomberg Businessweek Ranks UC Davis MBA in Top 20 among Public Programs, 13th for Diversity
Based on learning, networking, entrepreneurship, compensation and diversity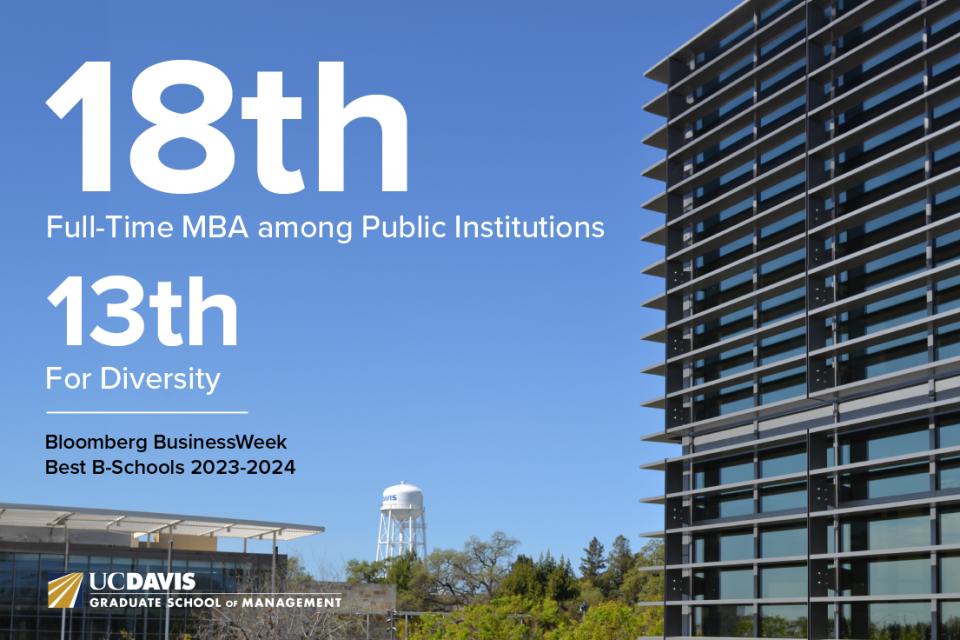 (Davis, CA) — The UC Davis Full-Time MBA ranks among the top 50 U.S. programs overall, 18th among public institutions and 13th for student diversity in Bloomberg Businessweek's 2023-2024 Best B-Schools MBA ratings, moving up 14 spots overall since the last ranking.
The Bloomberg Businessweek ranking has five weighted categories, with schools assessed on their learning, networking, entrepreneurship, compensation and diversity. It is based on nearly 18,000 surveys of students, alumni and recruiters, as well as MBA compensation, employment and student data from each school.
The UC Davis Full-Time MBA ranks:
43rd overall in the U.S., moving up 14 spots.
 
18th among public institutions.
 
2nd among programs under 100 students in the Western U.S.
 
13th for student diversity.
 
35th for Learning: Focusing on curriculum relative to real-world business situations; emphasis on innovation, problem-solving, and strategic thinking; mentoring and support from instructors; class size; and collaboration.
 
38th for Entrepreneurship: Students and alumni tell us whether their school took entrepreneurship as seriously as other career paths and rate the quality of training they received to start a small business or startup. Recruiters rate schools according to whether graduates show exceptional entrepreneurial skills and drive.
UC Davis MBA Ranks High in Diversity Index
Bloomberg Businessweek's Diversity Index, now in its second year, provides a window into the racial, ethnic and gender makeup of US MBA programs. Half the score is based on race and ethnicity, the other half on gender.
The UC Davis Full-Time MBA earned a Diversity Index score of 73.6 based on the following student data:
57% Male and 39% Female/Non-Binary
57% White
13% Asian
9% Black
9% Hispanic
9% Native American
4% Multiracial
The Graduate School of Management's school-wide Action for Diversity initiative reflects the UC Davis Principles of Community and a long history of promoting a welcoming and inclusive campus community, striving for equity, fostering social mobility and building meaningful partnerships across the world.
Bloomberg Businessweek also highlighted several representative comments from students and alumni on what's best about the UC Davis MBA program:
"The Industry Immersions are a unique way to learn more about industries of interests and to network with top executives."

"The environment (faculty, professors) genuinely care and want to see you succeed."

"The staff, faculty and alums. Everyone has best interests as their core motivator and works to help the student."

"Small class size, allowing close bonding with classmates. Faculty members, including the careers services team."

"The people—administration, faculty, students, alumni—all were amazing."
Methodology
The rankings were based on 17,634 surveys from 6,574 students, 10,347 alumni and 713 employers, as well as compensation, employment, student race, ethnicity and gender data from 110 business schools globally and 77 in the U.S.
According to Bloomberg Businessweek:  "Those stakeholders (alumni, students and employers) respond to questions about everything from jobs to salaries, classroom learning to alumni networks; their answers form the heart of this ranking. Because these stakeholders can have differing and overlapping needs and interests, we rank schools based on five indexes that capture fundamental elements of business school education: Compensation, Learning, Networking, Entrepreneurship and Diversity (for U.S. schools only)."
The responses are weighted as 40% for alumni from the classes of 2015-2017, 25% for students from the class of 2023, and 35% for recruiters hiring for full-time positions between 2020 and 2022.
More information
Media contact: