UC Davis Online MBA Ranks 10th in the Americas, 5th for Employability by Recruiters
QS Online MBA Americas 2023 Rankings
Image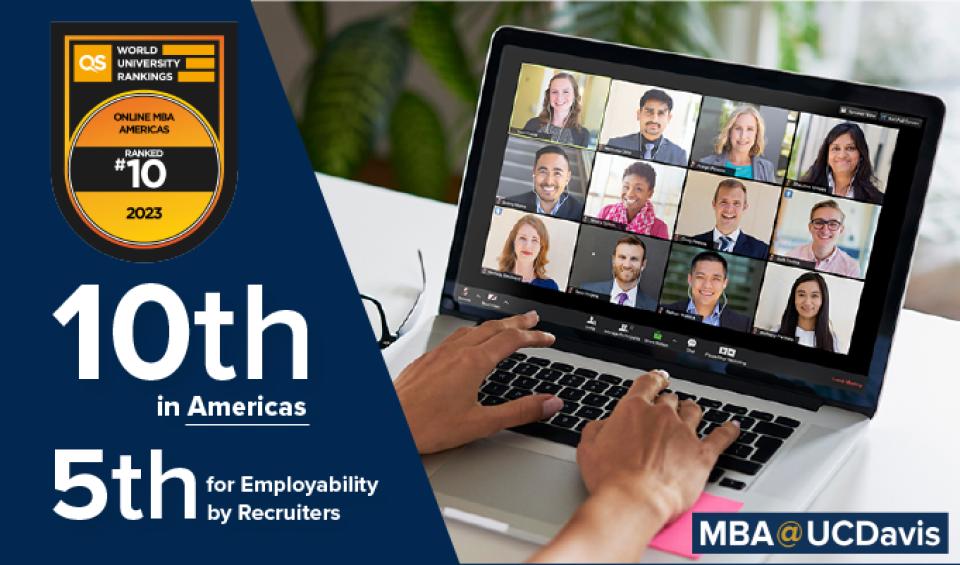 The first-of-its-kind in the University of California system, the UC Davis Graduate School of Management's Online MBA program has debuted at No. 10 in the Americas region in the latest QS rankings released on September 27, 2023.
The UC Davis Online MBA program scored 82.2 out of 100 points in the QS rankings.
Quacquarelli Symonds (QS) is the world's largest global higher education network, connecting universities, business schools and students. 
In the QS Online MBA Americas 2023 Rankings, the UC Davis Online MBA debuted at:
10th in the Americas (North and South America region) 
 
8th among public programs (Americas)
 
9th in the U.S. and Canada
 
5th for Employer Reputation. The metric is based on responses from more than 61,000 global employers over the last five years.
 
7th for Class Profile. Based on applicants/place ratio, number of students enrolled, average years of work experience, non-male representation and number of nationalities.
QS highlighted the 52 best online MBA programs in three countries. The programs were rated based on four weighted factors:
Faculty and Teaching (35%)
Employer Reputation (30%)
Class Profile (30%)
Class Experience (5%)
"The Online MBA is an increasingly relevant degree that can offer high-quality management training for professionals who are often balancing work and family commitments," QS editors wrote. "As more schools offer the degree format and innovate on its delivery, it is important for applicants to understand what options are available and what they can expect when pursuing an Online MBA."