2023 Class Represents the Largest in MSBA Program History
Master of Science in Business Analytics students from 11 countries arrive in San Francisco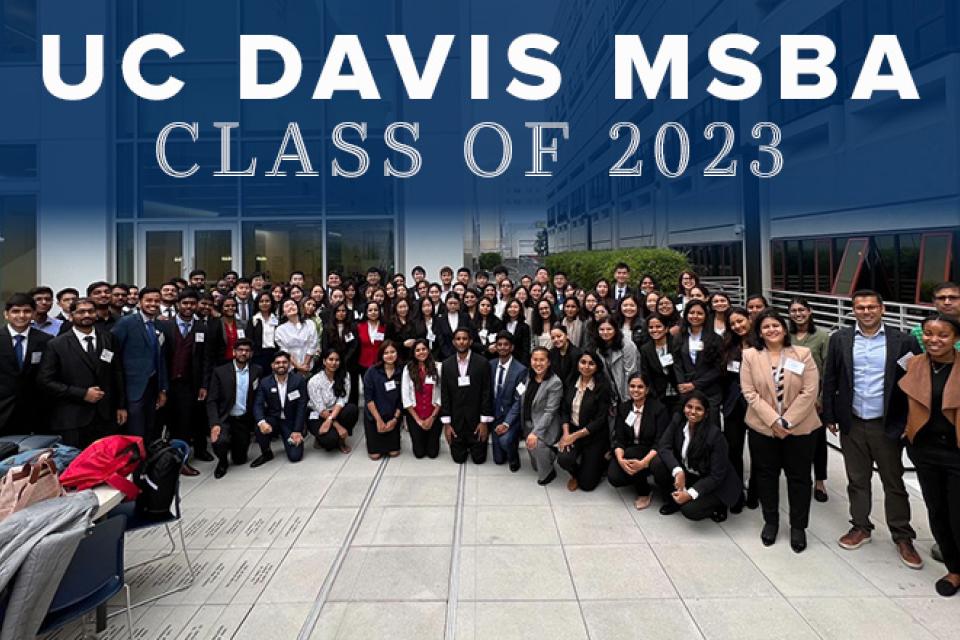 The UC Davis MSBA program welcomes our sixth incoming class with 99 diverse students and the largest cohort in the program's history, slightly edging out the Class of 2022 by one.
"We're delighted to have this talented and diverse cohort joining the UC Davis MSBA family," said MSBA Executive Director Amy Russell. "In addition to a wide range of rich industry, leadership and cultural backgrounds, this class is also a little over 50 percent women."
This year's cohort just completed their class orientation and participated in our Culture and Communication Bootcamp for international students. They are in the midst of taking their first course, Foundations of Analytics to round out their summer.
"We're truly excited to have this large and dynamic student cohort here at UC Davis," said Russell. "They're already forming some great connections with each other and the alumni which they will build upon throughout the program.  I'm looking forward to seeing what happens when they delve deeper into coursework with our world-class faculty and distinctive practicum. Once again, we are anticipating great things from this cohort."
Our students come from:
Azerbaijan
Brazil
China
India
Japan
Mongolia
Nigeria
South Korea
Spain
Taiwan
United States
There continues to be both a healthy mix of students who just completed their undergraduate degrees and have internship experience, as well as those with more traditional work experience.
For those coming from the workforce, their previous employers include: 
Accenture 
Amazon
Boston Consulting Group
Bytedance
Capgemini
Dell
Deloitte
Goldman Sachs & Co.
Google
Hewlett-Packard
JP Morgan Chase & Co.
Mu Sigma
Nike
PayPal
PepsiCo
PwC
Procter & Gamble
ZS Associates
We invite you to learn more about the program at the links below and apply today for our 2023 cohort.