Alumni Spotlight: Susannah Schulze MSBA 21, Senior Analyst at SunRun
(Editor's note: Lexman Kumar, a Master of Science in Business Analytics (MSBA) student, recently had the opportunity to catch up with alumna Susannah Schulze MSBA 21. In this video, Susannah shares her experience as a student, tips for future business analytics students and what she will be doing as a senior analyst in people analytics for SunRun. Below is a transcript of their interview.)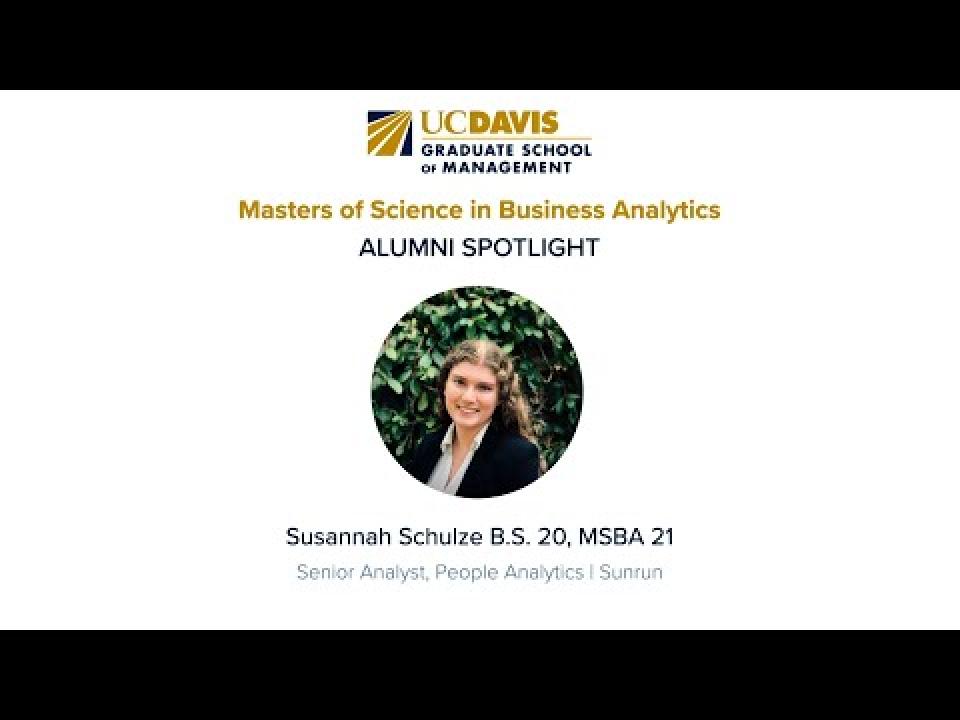 "Hello my name is Susannah Schultz and I was part of the [Master of Science in Business Analytics] graduating class of 2021. I currently work at SunRun, a leading residential solar panel company, on their people analytics team.
How did the MSBA program help you in your career?
The MSBA [program] gave me a breadth of knowledge into a lot of different subject areas. Since graduating, I've focused my learning in professional development and diving into people analytics through online classes and webinars.
What highlights do you have from the program?
One highlight of my MSBA experience was competing in the Humana Mays Healthcare Analytics Competition. It was early in fall quarter and a fun challenge to apply the analytics acumen that we had accumulated up until that point while also googling and researching further models to apply. It was the biggest data set that I had worked with up until that point and a cool experience to see how we could apply analytics to a real-world situation.
Tell us about your role at SunRun.
I'm part of a small team and a growing people analytics function. This has given me the opportunity to put my fingerprint on a lot of our core dashboards and other projects.
What professors had the biggest impact on you?
I have Professor [Greta] Hsu to thank for introducing me to people analytics. In her elective, we explored a lot of different statistical analyses, from diagnosing if there is a bias in a hiring funnel, to seeing if different factors contributed to an employee surviving longer at a company. She also brought in some great external speakers which gave us a glimpse for how people analytics was being applied in the workplace. Another amazing professor is Professor Jörn [Boehnke], who taught our machine learning class. In that class we learned so many different models in such a short time span—it could be a little bit overwhelming at times—but professor Jörn did a really great job of breaking down all of that information into bite-sized chunks that we could digest, while also providing additional support outside of class to make sure that we were keeping up with all the material.
What advice do you have for students entering the industry with little professional experience?
My advice for someone looking to get into analytics is to take advantage of the plenty of resources that are out there, whether it's signing up for an online class to learn a new skill, attending a webinar, or exploring a kaggle competition. I also think it's important to have people who are walking alongside you to hold you accountable and help you succeed. For me, that was my MSBA community—people that I could ask questions of, bounce ideas off of, who were sharing my learning journey.