Creating "Buzz" at the UC Davis–Financial Times Biz Quiz
My team's experience in "Jeopardy!"-like competition for UC business students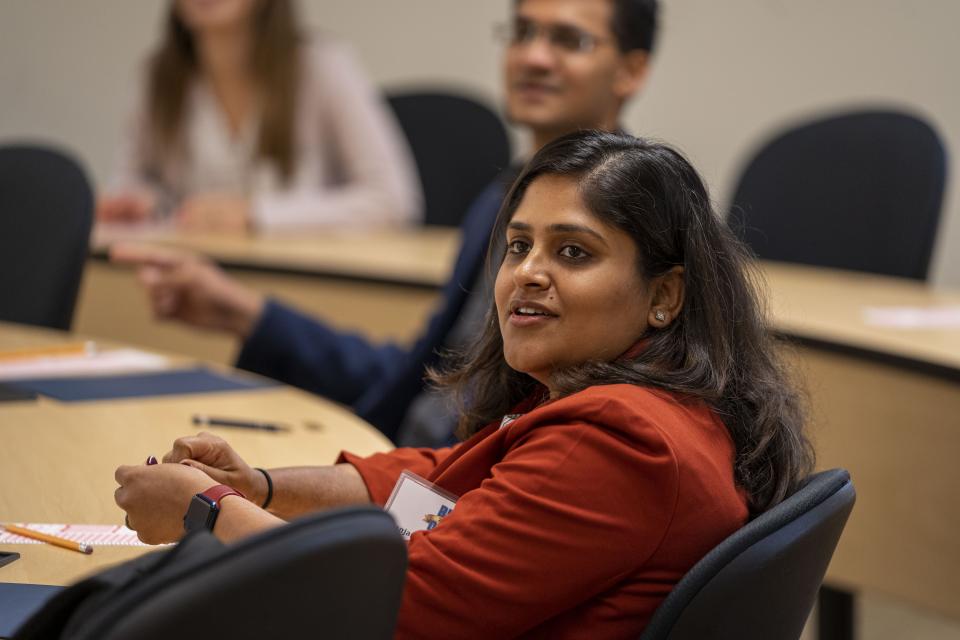 When I first heard about the UC Davis-Financial Times Biz Quiz, I wanted to learn more and thought about how thrilling the experience would be. At the same time, I was nervous about whether I would be able to take part.
I like to read the news and stay updated about worldwide events. Still, the prospect of memorizing facts and figures from dozens of Financial Times articles to prepare was a different equation.
However, one of my goals when I came to the Graduate School of Management (GSM), was to move out of my comfort zone and explore. I took up the challenge and expressed my interest in joining the UC Davis team.
Ramping Up
Very soon, I learned more details about the competition. Teams from other University of California business schools were participating. GSM Professor Ayako Yasuda, a leading finance expert, was the coach for our UC Davis MBA team.
The questions for the quiz were based on articles spanning ten topics published in the Financial Times between September 15-October 30, 2022. I soon realized that was a lot of ground to cover in a month! Nevertheless, I started reviewing the topics and thinking about the areas I could best learn and teach my team.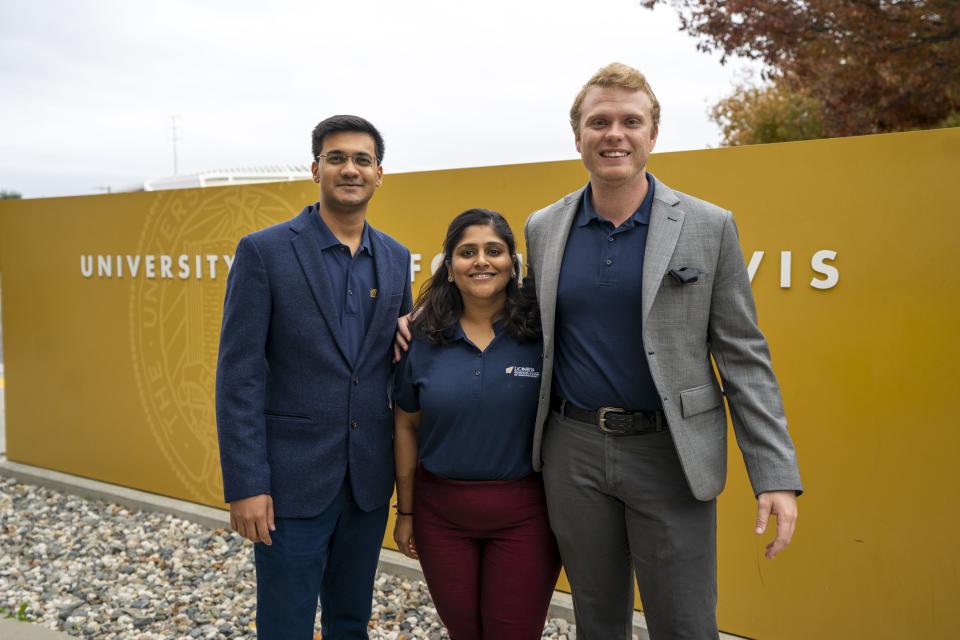 Our Incredible Team
Over a month before the competition, I met my teammates, who were as excited as I was to participate. At our first official meeting, we strategized as a team of six, guided and cheered on by Professor Yasuda.
We decided to split up the topics among the six of us. We planned to develop a question bank based on the articles we have read. The question bank, which we shared among us, had a mix of questions based on facts, figures and quotes from newsmakers.
One of our innovative team members created a simulator where we would quiz each other when we met every week, which helped us prepare well for the competition. What I loved about those learning sessions was how we worked collaboratively. It was unbelievably challenging to remember so much information in such a short period. However, we helped each other to remember the facts with some easy anecdotes, drew on each others' strengths, relied on each other for the topics they owned and motivated each other to read more.
Each week we started learning more with the help of Professor Yasuda. We practiced by having face-offs among ourselves, mimicking the competition. A week before the match, we learned that one of the UC business schools decided not to participate. That allowed us to split the group of six into two teams of three students each to represent UC Davis—Team GUM and my team, Team LeVer. This got us even more excited!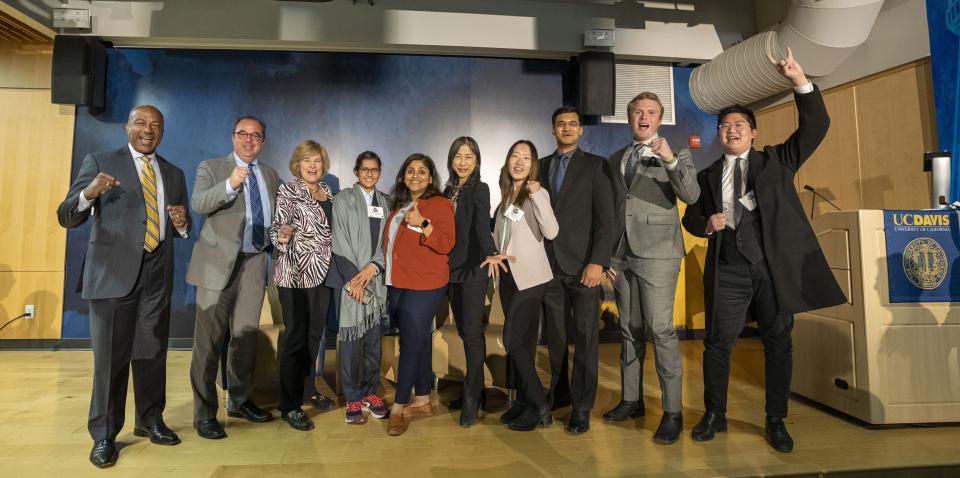 Biz Quiz Kickoff
The competition was held on November 4th and 5th at UC Davis. Fifteen students from four UC business schools first competed individually by taking a written test on the first day. The next day, the teams went head-to-head in several rounds.
At the welcome dinner, I had a chance to meet and talk to other competitors, as well as editors and marketers from the Financial Times. Immediately following the dinner, UC Davis hosted a live-streamed event featuring Peter Spiegel, U.S. managing editor of Financial Times, who interviewed special guest, UC Davis alumna Jenny Johnson, the president and CEO of Franklin Templeton. It was a power-packed, candid Q&A that was genuinely inspiring and something that I thoroughly enjoyed.
Ready on Your Buzzers
Then came the morning we had prepared for several weeks. The team competition had multiple rounds that led to the finals—and ultimately $8,000 in prize money. We were all a bit nervous going into the first round.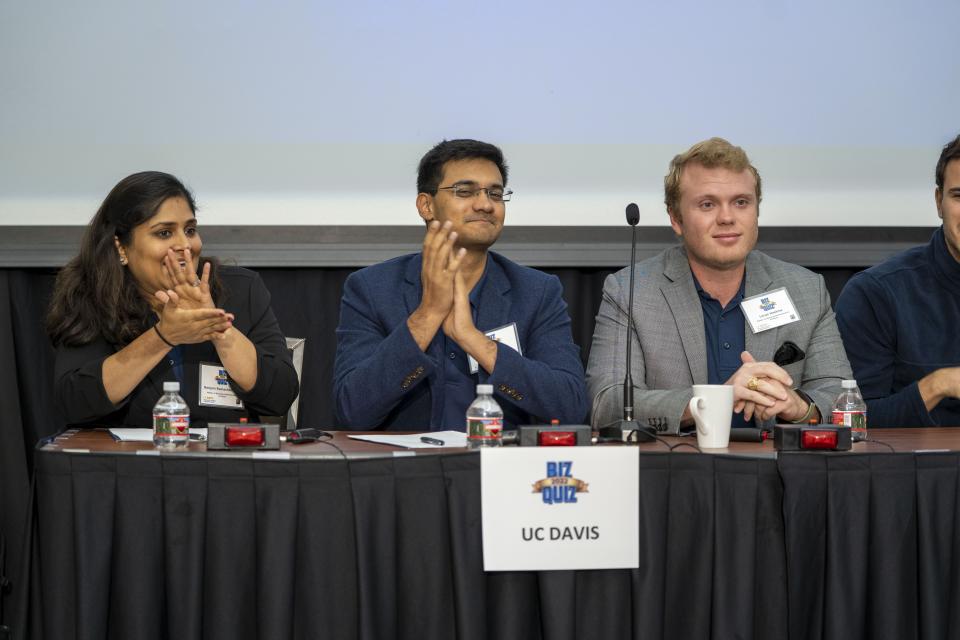 With our eyes fixed on and our hands ready to hit our buzzers, the host began reading the questions. We had to achieve a delicate balance. We were cautious because points would be deducted for incorrect answers, while at the same time, we quickly buzzed in when we knew the answer to accumulate points.
Professor Yasuda was super encouraging and kept inspiring our team spirit every time we answered correctly, which made us feel comfortable in those thrilling moments.
In the first round, we competed against UCLA and the other UC Davis team (Team GUM). It got more intense after the second round, as we were neck in neck with UCLA. Although it was unfortunate that our team did not make it to the finals, it was nail-biting to be in a tie with UCLA for two consecutive rounds. And we cheered on our UC Davis peers, who advanced to the finals and placed second in the competition.
I want to thank UC Davis for hosting such a fantastic competition, the Financial Times for sponsoring this event and our amazing coach Professor Yasuda for her motivation and encouragement.
And, a big thank you to my fantastic teammates, Lucas Haskins and Vaibhav Kumar, as I couldn't have asked for more. Lastly, I am so glad I got out of my comfort zone to experience something new and different.