Cultivating My Ag Roots with a UC Davis MBA
Bringing new perspective to my fifth-generation farming family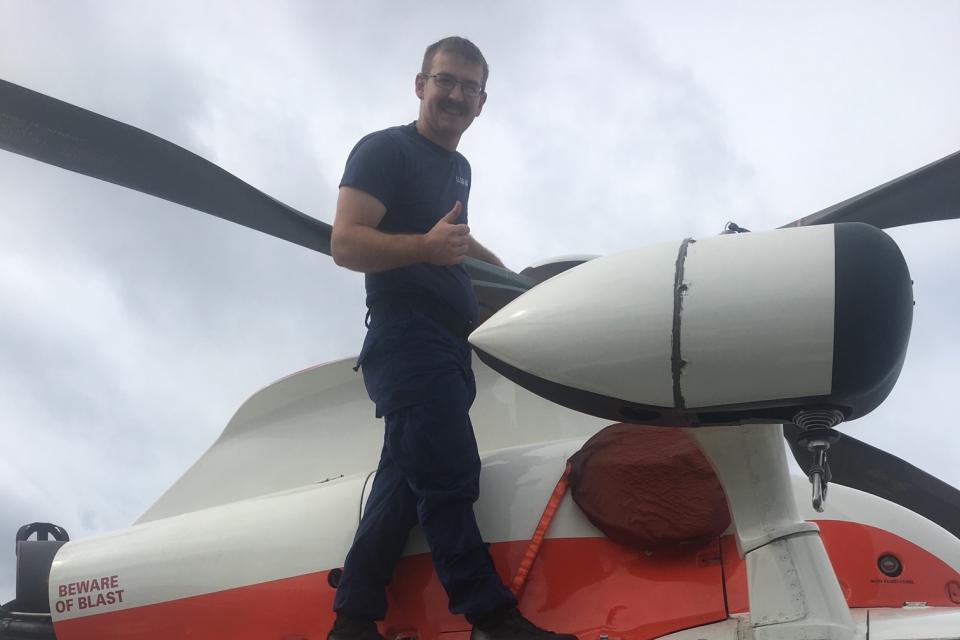 There is something I love about being a part of an ag ecosystem—it feels like no other and it's in my blood.
I have been in the Coast Guard for almost 10 years and before that I was a part of another big Aggies school, Texas A&M.
My family has property in the Sacramento area where we have grown pears for five generations. I spent my summers working along the Carson River doing conservation project to help the farmers and the growing community.
UC Davis Believed in Me
To say I believe in the culture and what UC Davis brings to the table is an understatement. I found the Bay Area Part-Time MBA Program because of a push from my family during a difficult time in my life.
I needed something new, something fresh, and something to get my mind working again in a way those striving to improve can only truly match. I applied on a whim, without very much hope as my circumstances were not the best at the time.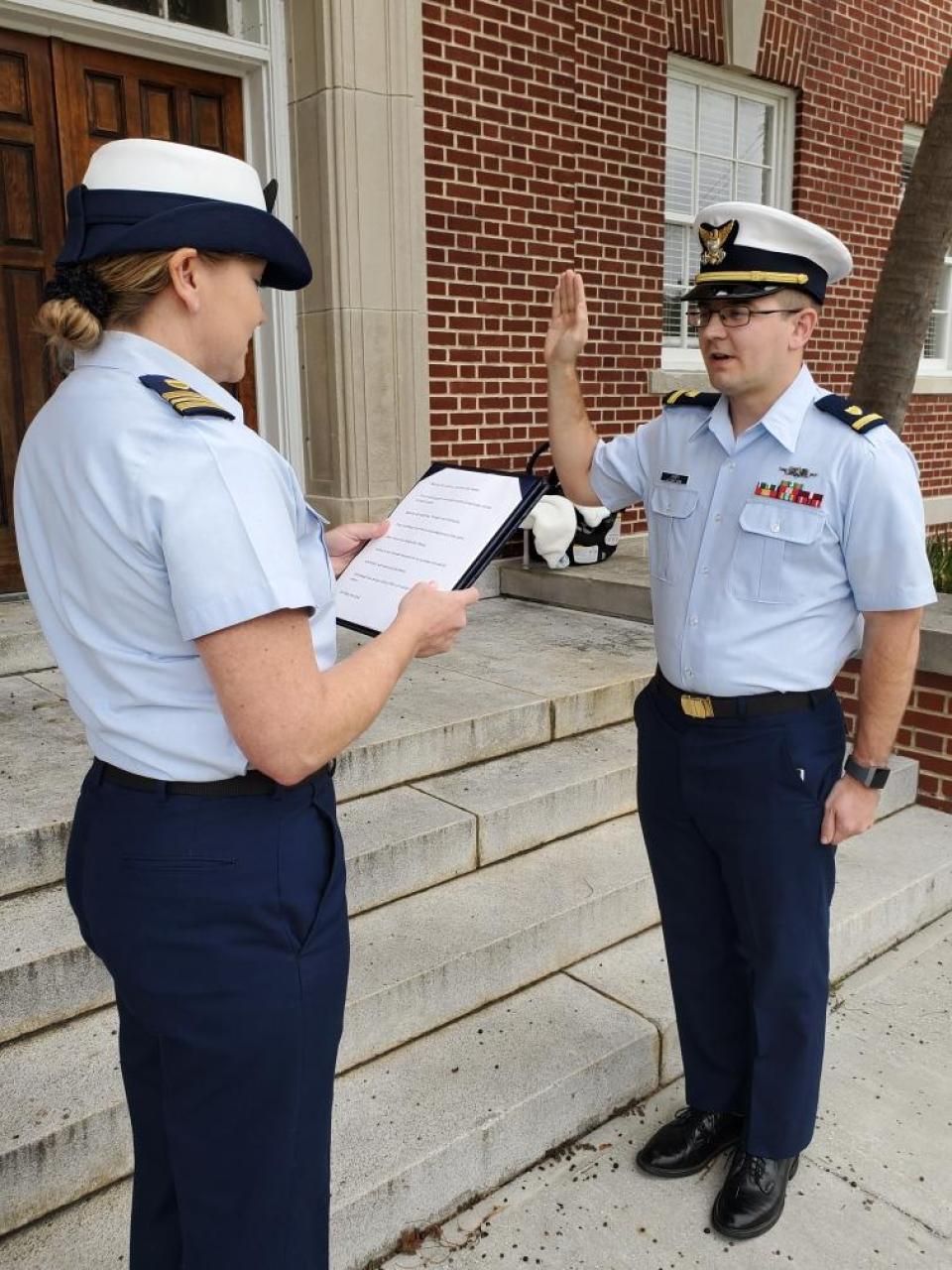 What I received was not just an acceptance, but also a challenge and a community I was sorely lacking. I became part of a group of people who saw potential in me when I didn't really see it in myself and were willing to take a risk on what I had to offer to this program.
Core Classes Challenged and Tested Me
The core classes put you to the test and make sure you want to be here to learn. With the core under your belt, the world is your oyster, and the opportunities are endless.
This quarter, I am taking Bay Area Council CEO Jim Wunderman's Executive Leadership Seminar. It focuses on hard questions that executives in the Bay Area are facing these days. We hear from speakers from diverse backgrounds who helped us cultivate a focus on how to help solve problems our community is facing. I loved the reflection the course put upon its students and the out-of-box thinking each group came up with for companies to take to help them better build a stronger work force in these uncertain times in which the pandemic has left us.
Taking Advantage of Every Opportunity
Even the one-unit courses offer distinctive skill-building, such as storytelling, data wrangling and international marketing. They give you a small taste of topics that you might be interested in but are hesitant to explore because of time, your discipline in life or whatever the case might be. Data wrangling helped me grow an understanding of coding through Python. Before, I always used to say that Wi-Fi was just two tiny wizards casting spells back and forth to connect you to the rest of the world.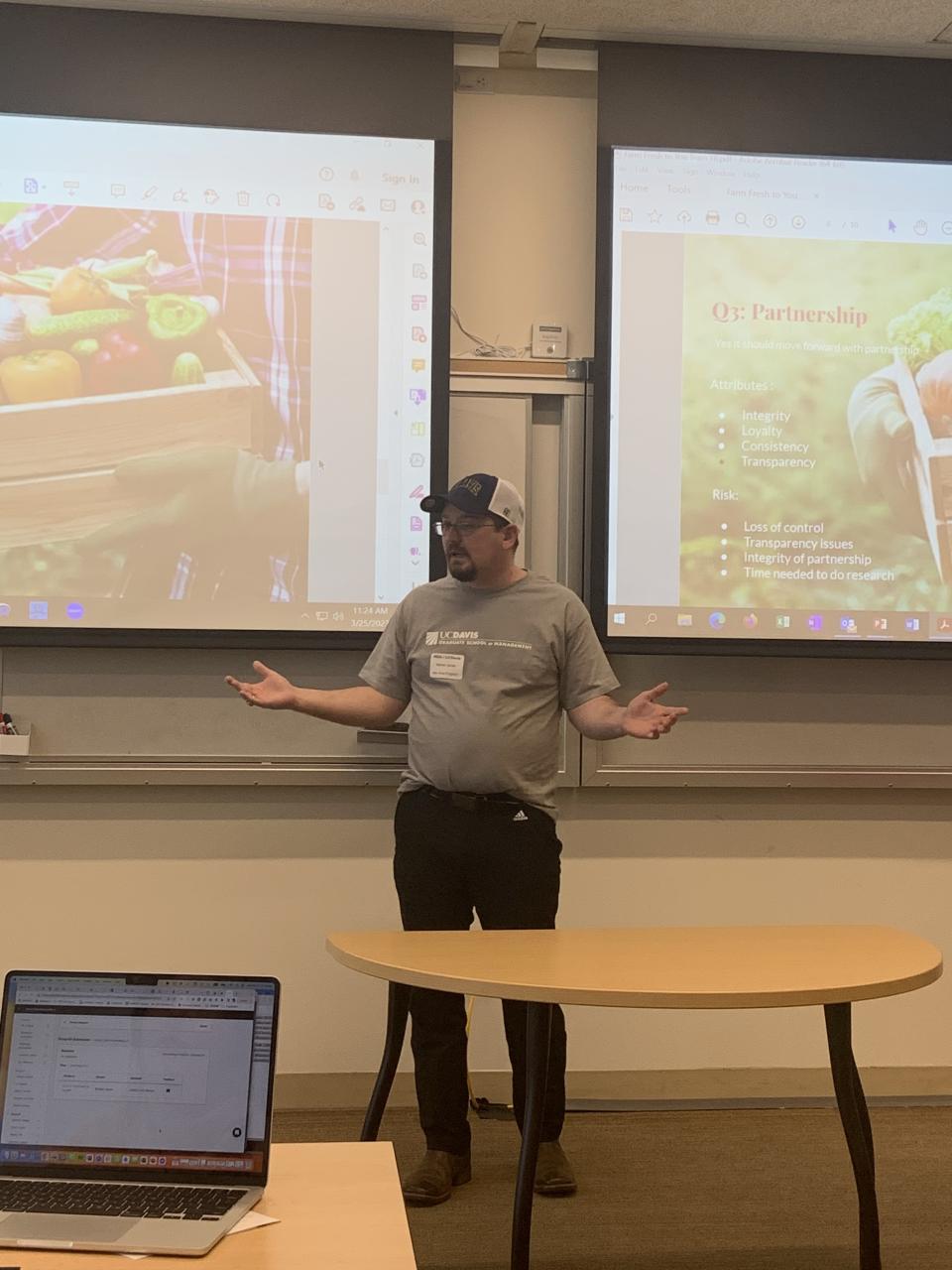 As I transition to civilian life from the Coast Guard while in the Bay Area Part-Time MBA program, I'm seeking supply chain management opportunities.
Growing My Horizons
One of the big advantages at the Graduate School of Management is you can meet, network and expand your horizons with fellow UC Davis MBA students in the Full-Time, Sacramento MBA and Online MBA programs in courses, events and residential programs.
Most recently, I attended the Food & Agriculture MBA Residential at the main UC Davis campus to help with my family's pear farm and see how technology of today can help us grow for generations to come.
The weekend summit of UC Davis MBA students featured several top executives who offered insights on sustainable agtech, produce delivery and operations complexities:
Marcus Meadows-Smith, Chief Executive Officer, BioConsortia
Freeman Barsotti, Co-CEO and Partner, Farm Fresh to You
Brian Keck, Founder and Master Distiller, J.J. Phister Distilling.
Doni Curkendall, Senior Vice President of Operations & Logistics, The Better Meat Co.